Dec 17, 2010
Happy Fridays: Christmas Treats!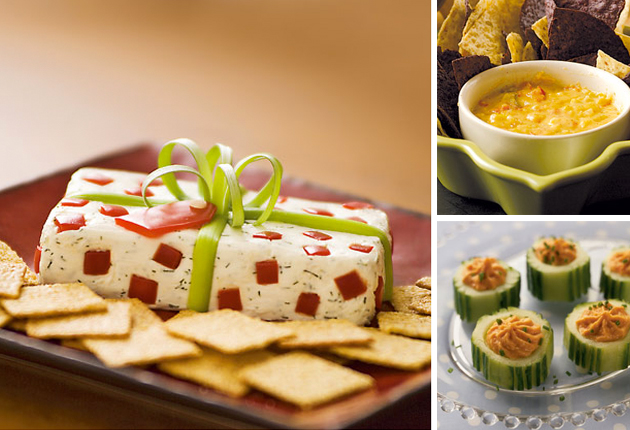 Christmas is almost here! Now that you have done all your shopping, decorating, and wrapping, it's time to relax. Or is it? Are you having a last minute holiday party that you're not prepared for? No worries…we've got you covered 🙂 If you are in need of some delicious dishes to serve at your next get together look no further! I have rounded up some tasty appetizers and desserts that are sure to please even the pickiest of eaters. Enjoy!
Appetizers –
Mini Bagel Wreaths (bottom right) –
Ingredients: mini bagels, cream cheese, peppers
To make these delectable treats, spread mini bagel halves with cream cheese (plain or tinted green with herbs or food coloring), then sprinkle on red, yellow, and green bell-pepper confetti. So easy! Similar recipes can be found here.
Desserts –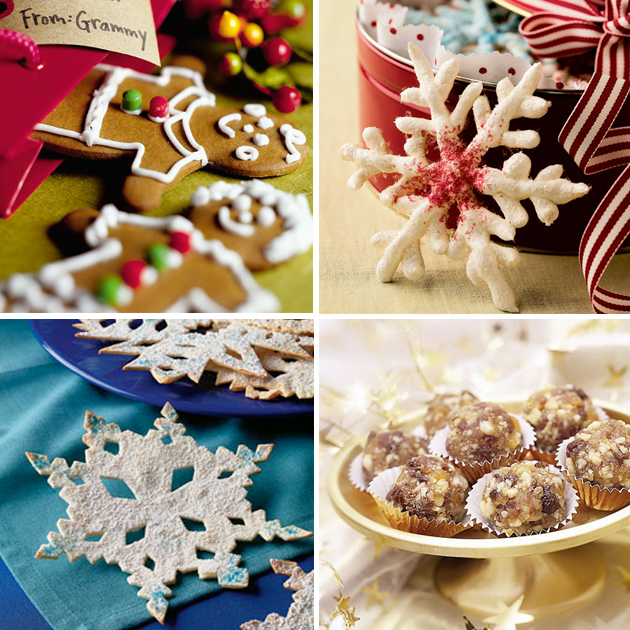 Tortilla Snowflakes (bottom left) –
Ingredients – flour tortillas, canola or vegetable oil, confectioner's sugar, edible glitter (optional)
1) Heat the oven to 400 degrees. Warm the tortillas (about 15 seconds) in the microwave.
2) Individually fold the tortillas in half once and then in half again, so that you end up with a shape that resembles a wedge of pie (it will be thick). Using clean scissors, cut triangle, circles, or squares out of the edges, as if you were making paper snowflakes. Unfold the tortillas.
3) Lightly brush the tops of the snowflakes with canola or vegetable oil and place them on a cookie sheet slightly apart.
4) Bake them until lightly browned and crisp (about 4 minutes). Sift confectioners' sugar on the snowflakes while warm. For an extrasparkly effect, you can sprinkle on a bit of edible glitter.
You can find similar recipes here. For a variety of other scrumptious holiday goodies visit the Family Fun site.
Happy Friday everyone!
napcp contributor
meet Kristen Smith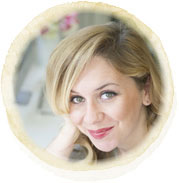 Website: www.napcp.com
Email: kristen@napcp.com
About the Contributor: Kristen Smith is a graphic designer and illustrator residing in Augusta, GA with her fiance Jon-Michael and two fur babies, Desmond and Penelope. She knew from a very young age that she wanted to do something creative and began taking design classes in high school. After receiving a BFA in Graphic Design from the University of Georgia, she worked hard to establish a freelance career and officially launched her own company in 2011. Kristen is an award-winning designer, a celebrated creative for Minted.com, and has been working with NAPCP since it's inception in 2009.  She has a passion for fresh and beautiful designs with subtle feminine hints and a dash of whimsy.   Her passion for design is rivaled only by her passion for animals. She has been an avid animal rights supporter for many years and presently works with a local rescue organization fostering and rehabilitating cats. When she is not designing or sketching, you can find her crafting or in the garden!  She is also an entertainment junkie and watches entirely too many movies and television shows. Kristen looks forward to the extraordinary possibilities each new day brings!
liked this post?
you might also like...
find a photographer
in your area
We are so delighted that you are here. The National Association of Professional Child Photographers is an association whose mission is to promote and support the artistry and integrity of professional child photographers. To accomplish this mission, NAPCP provides the most comprehensive resources for its members, bringing together a community of passionate artists committed to growth in their skills, their artistry, and their businesses.
NAPCP.com (formally pronounced "NAP-C-P") is a place where professional child photographers can come and connect, learn, teach, aspire and grow. It is also a valuable resource for parents who are looking for a professional child photographer in their area, and want to be inspired and educated about our specialized industry.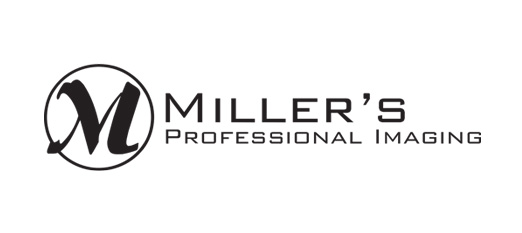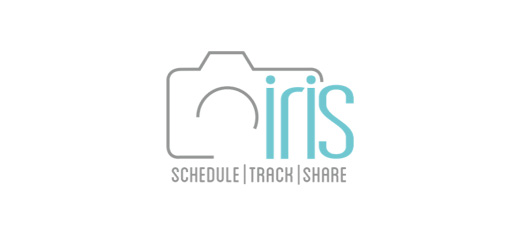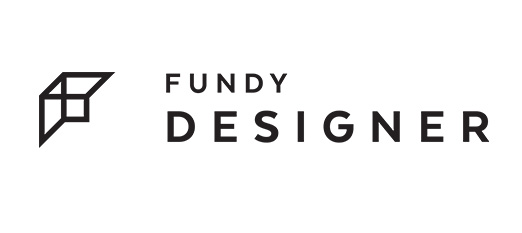 award winning photos
click here to view
latest napcp news
get up-to-date
most recent issue
vendors we love
napcp supporters
helpful articles
napcp resources
follow us on