Jan 28, 2011
Happy Fridays: Super Bowl Countdown!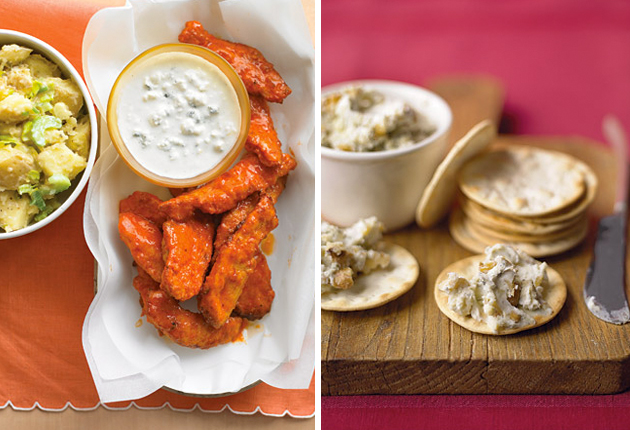 Superbowl Sunday is right around the corner which means you better be ready to serve some impressive dishes to eager and hungry friends and family. Well this year maybe you want to mix it up a little? Say goodbye to bland chips and salsa and hello to some new tasty treats! I picked a couple delicious spreads to share below 🙂
Dips and Spreads: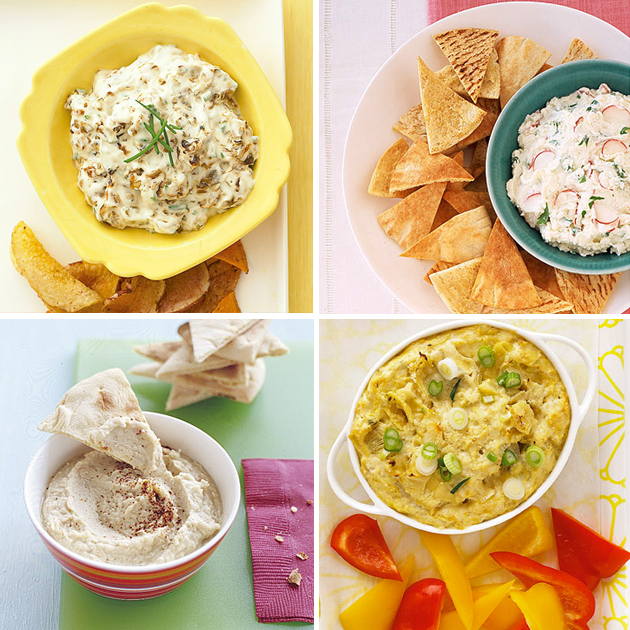 Clockwise from top left: Sweet Onion Dip, Feta Raddish Spread, Artichoke Dip, White Bean Dip.
Recipe: Feta Raddish Spread
Prep Time: 10 min, Total Time: 30 min
Ingredients:
– 5 tablespoons extra-virgin olive oil
– 2 pocket pitas, split open
– 1 package sheep's-milk feta cheese (8 ounces), coarsely chopped
– 1/4 cup plain whole-milk yogurt, preferably Greek
– 2 tablespoons fresh lemon juice
– 3 tablespoons coarsely chopped fresh flat-leaf parsley
– 4 radishes, quartered and thinly sliced (about 1/2 cup)
Instructions:
1) Preheat oven to 350 degrees. Using 2 tablespoons oil, brush insides of pita rounds. Cut each round into 6 wedges. Arrange wedges in a single layer on a baking sheet, oiled sides up; toast until golden brown and crisp, 7 to 10 minutes.
2) Meanwhile, pulse feta, yogurt, lemon juice, and remaining 3 tablespoons oil in a food processor just until mixture is thick and spreadable, about 10 pulses. Transfer to a medium bowl, and stir in parsley and radishes. Serve with pita crisps.
Tasty Wings: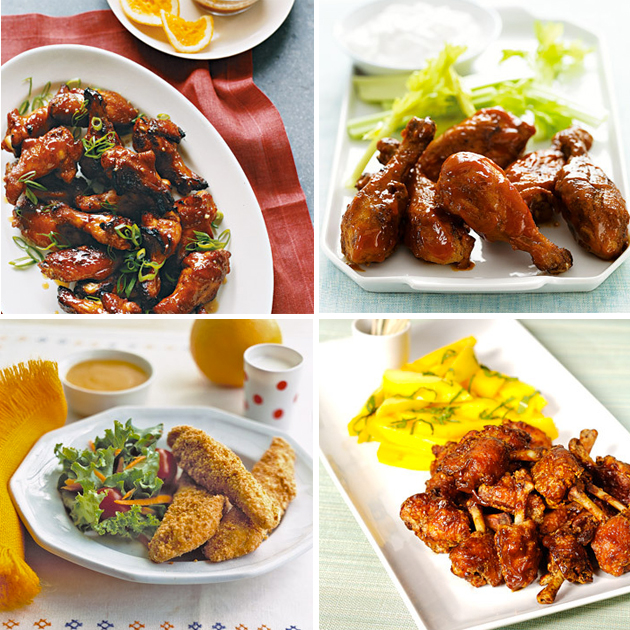 Clockwise from top left: Spicy Sweet Chicken Wings, Buffalo Chicken, Thai Fried Chicken Wings, Chicken Fingers with Orange Dipping Sauce.
Recipe: Buffalo Chicken
Prep time: 35min, Total Time: 35min
Ingredients:
– 1/3 cup all-purpose flour
– 2 teaspoons paprika
– coarse salt
– 8 skinless chicken drumsticks (about 2 pounds total)
– 1/4 cup vegetable oil
– 1/4 cup ketchup
– 1 tablespoon butter, melted
– 1 to 2 tablespoons hot sauce, such as Tabasco
– celery sticks, for serving
– Better Blue-Cheese Dip (above), for serving
Instructions:
1) On a rimmed baking sheet, combine flour, paprika, and 1 teaspoon coarse salt. Add chicken, toss to coat, and shake off excess.
2) In a large skillet, heat oil over medium-high. Add chicken, and cook, turning to brown on all sides, until cooked throughout, 15 to 20 minutes.
3) Meanwhile, in a large bowl, combine ketchup, butter, and hot sauce; season with salt. Add hot chicken, and toss gently to coat. Serve with celery sticks and dip.
4) In a small bowl, combine 1 ounce blue cheese (crumbled), cup plain low-fat yogurt, and 2 tablespoons fresh lemon juice. Season with coarse salt and ground pepper. Mix well with a fork, mashing cheese to combine.
Find these and several other delicious recipes from the Martha Stewart site. Happy Fridays everyone!
napcp contributor
meet Kristen Smith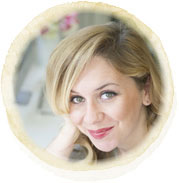 Website: www.napcp.com
Email: kristen@napcp.com
About the Contributor: Kristen Smith is a graphic designer and illustrator residing in Augusta, GA with her fiance Jon-Michael and two fur babies, Desmond and Penelope. She knew from a very young age that she wanted to do something creative and began taking design classes in high school. After receiving a BFA in Graphic Design from the University of Georgia, she worked hard to establish a freelance career and officially launched her own company in 2011. Kristen is an award-winning designer, a celebrated creative for Minted.com, and has been working with NAPCP since it's inception in 2009.  She has a passion for fresh and beautiful designs with subtle feminine hints and a dash of whimsy.   Her passion for design is rivaled only by her passion for animals. She has been an avid animal rights supporter for many years and presently works with a local rescue organization fostering and rehabilitating cats. When she is not designing or sketching, you can find her crafting or in the garden!  She is also an entertainment junkie and watches entirely too many movies and television shows. Kristen looks forward to the extraordinary possibilities each new day brings!
liked this post?
you might also like...
find a photographer
in your area
We are so delighted that you are here. The National Association of Professional Child Photographers is an association whose mission is to promote and support the artistry and integrity of professional child photographers. To accomplish this mission, NAPCP provides the most comprehensive resources for its members, bringing together a community of passionate artists committed to growth in their skills, their artistry, and their businesses.
NAPCP.com (formally pronounced "NAP-C-P") is a place where professional child photographers can come and connect, learn, teach, aspire and grow. It is also a valuable resource for parents who are looking for a professional child photographer in their area, and want to be inspired and educated about our specialized industry.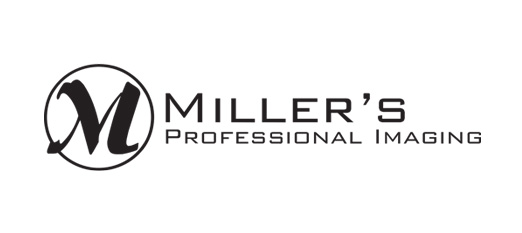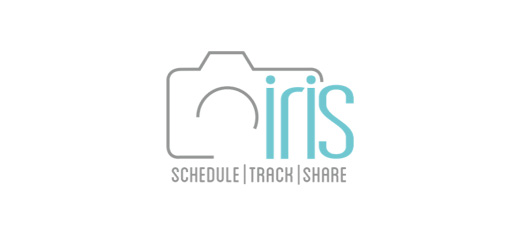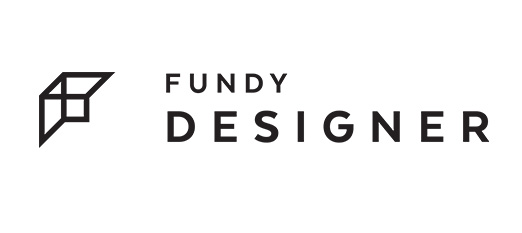 award winning photos
click here to view
latest napcp news
get up-to-date
most recent issue
vendors we love
napcp supporters
helpful articles
napcp resources
follow us on