October 25, 2012 | Posted by Kristen the designer
You may know Minted.com for their array of fine paper goods including their lovely holiday photo cards, all sourced from a global community of independent graphic designers, printed on their thick beautiful card stock. What you may not know of is how photographers can work directly with Minted for all of their photo card needs. Minted recently re-launched their Photographer Storefront Program just in time for the holidays.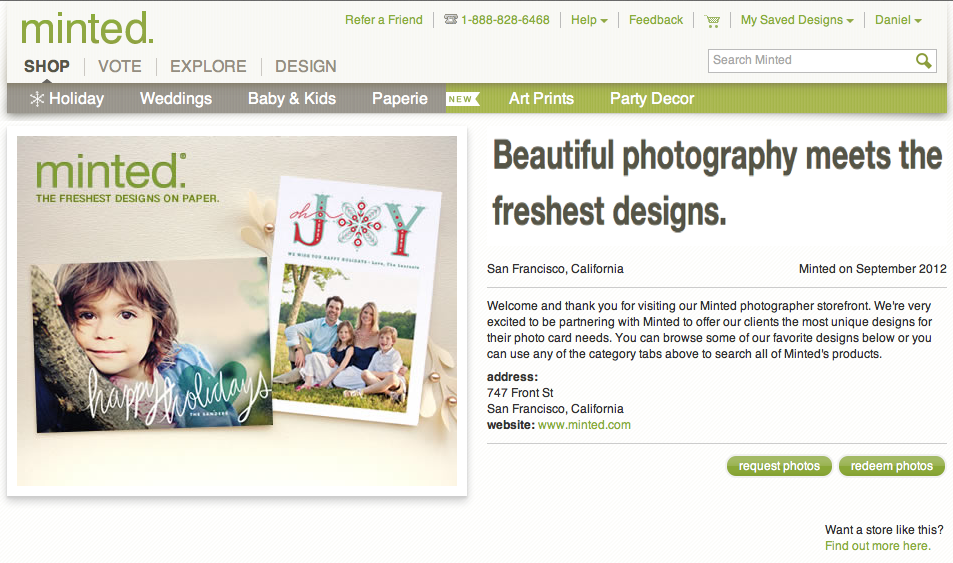 NAPCP member and Minted Photographer Affiliate, Allison Parker of Feather Nest Photography says "When it comes down to the Holiday busy season there is never enough time! No matter how much we plan ahead, the days just get shorter during that time. I started referring my clients to my storefront and minted.com last year and it was such a relief for me."
New to Minted this year is their Photo Bank Service, allowing you the ease of sharing your client's images without having to release the files directly. "We know how important it is for you to protect your images which is why we've created this service specifically for photographers" says Minted's Affiliate Manager, Danny Cuellar.
Leave your printing, card design, and customer service needs to Minted this holiday season. Your clients will love our unique designs and luxurious, premium paper and you will love the convenience and 13% profit for every sale you bring to Minted.
Find out more about the program here!
And stay tuned for some more goodies from Minted with a super awesome giveaway tomorrow. You won't want to miss it!