November 16, 2012 | Posted by Kristen the designer
Mmmmm I can almost smell the pumpkin pie…which can only mean one thing…Thanksgiving is just a few days away! As we prepare to gather with friends and family and fill our bellies with delicious treats, why not take a moment to do something a little different this year. Try out a new and unexpected dish…or maybe create a fun fall centerpiece to impress guests (and yourself of course!) To help encourage these new adventurous endeavors, we have put together a little inspiration of gorgeous goodies.
Centerpieces al Naturale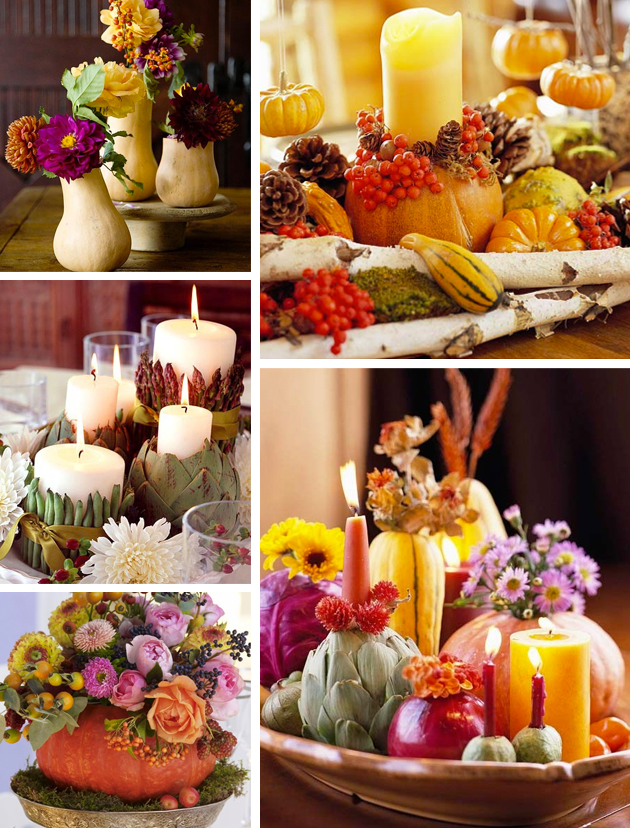 If you want to try something new, but also want to keep it cheap, a beautiful but natural centerpiece is the way to go. Hollowed out gourds and pumpkins look great when filled with flowers and berries. Or mix it up with some very non-traditional fall colors, like purples and greens! With so many fruits and vegetables to choose from, you could really get crazy!
Fabulous Foods to Try
Now the above recipes may not be your regular Thanksgiving staples, but they might be after this year! Surprise your guests with something a little different that is sure to put a smile on their faces. Above recipes: 1- Pumpkin Cream Cheese Muffins, 2 – Balsamic Green Beans, 3 – Coconut Almond Cream Cake, 4 – Sweet Potato Soup, 5 – Roasted Sweet Potato and Onion Tart.
Happy Fridays everyone!