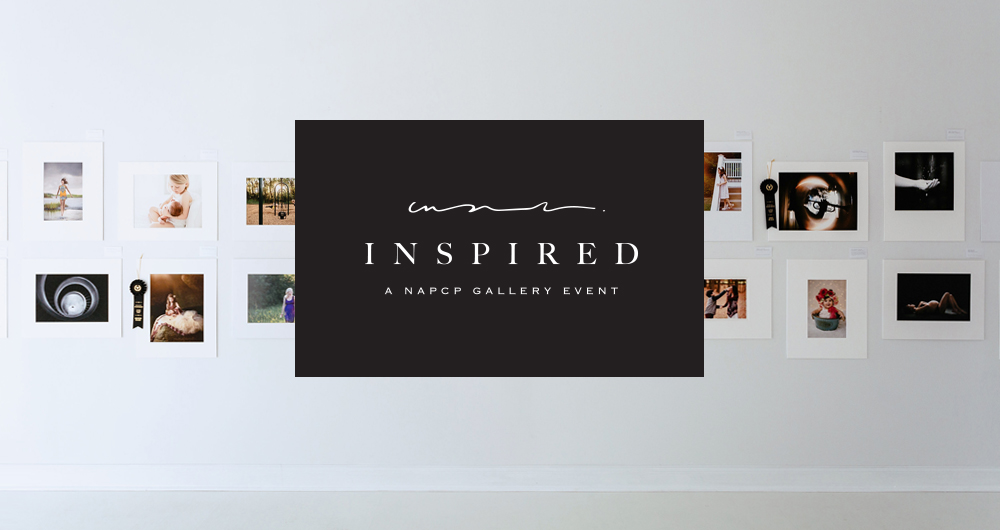 About The NAPCP Inspired Gallery Event
The NAPCP Inspired Gallery Event is an exclusive event dedicated to the art of photography. Since its founding, the National Association of Professional Child Photographers (NAPCP) has promoted and supported the artistry and integrity of professional child photographers. NAPCP has continued to grow and bring together a community of passionate artists committed to advancing their skills, their artistry, and their businesses.
The purpose of this event is to inspire the creativity of NAPCP members and photographers around the world, while also providing an environment of collaboration and education. Entering your work into the NAPCP Inspired Gallery Event & Print Competition provides you with the freedom to express your most creative self and elevate your craft.
An unlimited number of entries will be accepted by NAPCP for consideration in the final gallery. Please note: this is NOT a digital competition. Should an entry be accepted into the final 100 gallery images, entrant must send a matted print meeting the guidelines and deadlines listed below to be scored by our judges the day of the Inspired Gallery Event. You do not have to be present to win. Please see information below regarding the option of using our partner, Musea Lab, for fulfillment and shipping.

Entry Guidelines:
An unlimited amount of entries will be accepted by NAPCP for consideration in this exclusive Gallery Event, however, only 100 images will be included in the Final Round for live viewing and judging at the Gallery Event in Atlanta, Georgia on August 23, 2018. NAPCP members will receive 2 free entry credits and may enter an unlimited amount of entries, provided that each entry is different than the other (see guidelines below). Non-members may enter a maximum of 5 images for consideration. The entrant has sole discretion to choose the the creative category that best suits the image being entered. Each entry will be judged based on the category in which it is submitted.
Entries must be the complete and original photographic work of the entrant. This includes overall concept, posing, capture, exposure, and all post processing. Third party presets and actions may be used by entrant to enhance the quality of an image (color, contrast, skin tone, etc) as long as they do not add elements that did not exist in the original image. Purchased texture screens are allowed as long as entering the image in the competition doesn't violate the copyright of the artist who created the texture. Images that are a result of a workshop, seminar, or under the guidance of an instructor are not eligible for competition. Any eligible image may be entered with the exception of images that have previously placed or merited in any previous NAPCP Image Competition.
If any entry submitted is a result of multiple images to create a final composite image, all images used must be the original work of the entrant. No purchased elements or stock images that are not of the entrant's original creation (including skies, trees, buildings, or other objects) should be used by the entrant to create the final image (refer to #2 for additional details). All original image layers used for composite may be requested by NAPCP. Failure to submit all original images in a timely manner will result in immediate disqualification of the entrant's submission. No refunds will be given.
All entries must be unique compared to your other submissions. No two entries should resemble each other (with the same subject or scene, with a similar pose, location, lighting).
Images must NOT include entrant's name, logo, or signature. Judges will only see the title displayed with the image when scoring.
Images that violate copyright, trademark, or other applicable laws will be disqualified.
Entrant must have a model release for any recognizable person in submitted entries and submit said release to NAPCP upon request.
Mat Size Guidelines: Final print submissions must be presented in a mat measuring 16×20 inches (measured on the outside edge of the mat). The mat should be bright white or similar in color. The outer edge of the Mat must fit the 16×20 inch guidelines, no exceptions.
Print Size Guidelines: The final size of all entries must be 16×20 inches INCLUDING the mat. All prints should measure AT LEAST 8 inches on the shortest side. For example, an 8×12 print in a 16×20 mat would be acceptable, but 7×9 image would not. Also, an 8×8 printed image in a 16×20 mat would fit the guidelines, but a 5×10 image would not. Prints may be displayed in the mat however an entrant would like to creatively display them, as long as the mat fits the measurement guidelines (#8 above) and all layers of the mat are white in color. The depth of the final submission including all materials, should not exceed one half inch. Frames are not allowed.
Submissions should be saved in JPEG format for online submission online. Images must fit into canvas size of 2000 pixels (longest side) by 1000 pixels (shortest side). Any size image in this range will qualify. It is the entrant's responsibility to submit the MATCHING matted print to NAPCP by the print deadline. No refunds will be given if a submission is paid for online, and the subsequent matted print does not arrive by the deadline given for the event.
Non-Member Digital Submissions should be titled: CATEGORY_LastName_FirstName_CurrentYear_Title. For example: WATER_Doe_Jane_2018_SimpleThings.  Members do not need to list the category in the title. Judges WILL NOT see the digital files or artist names when judging.
Deadlines & Fees
Important deadlines are as follows:
a. July 2-19, 2018 – Digital Submission entry open
b. July 19, 2018 at 11:59pm EST – Online Submissions CLOSED
c. July 30, 2018 – Final 100 Images for Gallery Event Announced
d. August 7, 2018 @ 5:00 PM EST – Deadline for order fulfillment with Musea Lab (optional)
e. August 17, 2018 @ 8:00 PM – DEADLINE FOR ALL MATTED PRINTS TO ARRIVE ACCORDING TO SHIPPING INSTRUCTIONS. Prints MUST MATCH the digital images submitted. Changes or unmatched images will be disqualified.
Submissions are $25 each (member) and start at $50 each (non-member). Entry fee must be paid in full at time of submission. If selected for the final 100 images in the judged Gallery Event and Print Competition, the Matting and printing of the image(s) is the responsibility of the entrant and is not included in the submission price. NAPCP will not be printing or matting images. Please see below for information about our partner, Musea Lab, for your matting and printing service. Entrants will also have the option to have their physical images shipped back to them for a fee (domestic only). Entrants that attend the event may take their printed submissions home no earlier than Friday, August 24th at 2:00 PM EST.
Deadline for entries shall be published on the NAPCP website and listed above. Late entries will not be accepted.
The 100 Finalist Images will be displayed in the Inspired Gallery and scored by our judges in person prior to the Gallery Reception and announcement of winners. Judging is not open to the public and scores will not be published.
Judging Criteria
The 100 Finalist Entries shall be displayed in a gallery setting with only the title visible (no names). Three Judges, selected by NAPCP, will view them in person and score each image. Final scores will not be published or distributed to Entrants. The Inspired Gallery Event & Print Competition will be scored as follows:
Each image will receive a score from each of three judges in a range of 1 through 5. Total score possible for any image is 15.
A score of 1 would be defined as: No Impact, Seen Before, Technically Poor. A score of 5 would be considered Best in Show and defined as Highly Impactful/Creative, Never Seen Before, Technically Perfect.
Submission Categories are listed below. This is a creative competition, and the subject matter is at the sole discretion of the entrant.
Color
Water
Explore
First, Second, and Third place will be awarded for each category based on the highest scoring image for each category above. Honorable mentions may be awarded for up to three images in each category. Winners will be revealed and announced at the Inspired Gallery Reception. In the event of a tie, scores of all placed images in that category will be weighted for recalculation. Score of 5 will be weighted more than 4 (etc) for a new total calculation to determine the top three winners for each category. Any further tie will be decided at the sole discretion of the judges and NAPCP.
Winners will be featured in the NAPCP Inspired Magazine; winners will also receive a digital Winning Badge for their website, blog posts and additional social media promotion by NAPCP and sponsors.
Photographer of the Year (NAPCP Members only)
This prestigious designation will be awarded based on a point system that is cumulative from both the International Digital Image Competition and the Inspired Gallery Event & Print Competition. Entrants are awarded points based on the following criteria. All scoring for Photographer of the Year is done by NAPCP and awarded at its sole discretion.
Criteria Below is listed in order of scoring importance to be considered for Photographer of the Year:
(75%) Weighted points for all placed images and merit images (First place is weighted more than second place, etc). Points are also given for images that are awarded entry into the Inspired Gallery Event & Print Competition (more points are awarded for placed and honorable mention images).
Sharing Knowledge with NAPCP Community (Marketing Monday, Video Interviews, Blog Contributions)
NAPCP community involvement (includes Member Facebook Group, Ambassador Program, Survey Participation, etc).
Consistent portfolio of work and professional online presence. This includes Entrant's professional website and updated NAPCP Member Directory Profile.
Additional Details and Information
Finalist Print Submission Deadline – Prints must be RECEIVED by 8:00 PM EST on August 17, 2018
Shipping via FedEx or United States Postal Service (USPS):
Park Studios / NAPCP
690 Miami Circle NE
Suite #600
Atlanta, GA 30324
Shipping via UPS:
NAPCP
1119 Reeder Circle NE
Atlanta, GA 30306
Late print entries will not be accepted and no refunds will be given for entries not received in print by the entrant by the published deadline. NAPCP will not print or mat images for this event. NAPCP will not be responsible for lost, stolen, or damaged prints during shipping. It is recommended to use a trackable shipping service, or our partner, Musea Lab.
Matting & Printing Gallery Event Submissions
If chosen as a finalist, it is the responsibility of the entrant to print, mat and ship entries to NAPCP for this event. As a benefit and convenience to our members (International and Domestic), Musea Lab is offering a 15% discount on matting and printing services for the NAPCP Inspired Gallery Event. If your image is submitted to Musea Lab by the deadline listed and payment made in full to Musea, it will be produced and shipped for on-time arrival to NAPCP for this event. The cost of printing, matting, and shipping gallery entries is NOT included with the entry fee.
Image Release and Use
Legal Disclaimer: Entrants agree that any entered photograph may be used by the National Association of Professional Child Photographers (NAPCP), in any of its publications, printed materials or electronic media, such as but not limited to, any of its websites or its affiliates' websites. Model releases must be available for all recognizable individuals in submitted photos. Do not submit these releases unless requested.
Winning entries may be used in connection with the Gallery Event and by NAPCP for promotion in the future. Thus, winners grant a non-exclusive, royalty-free, perpetual, limited license to use, publish, reproduce, display, distribute, use for promotional purposes and cross-promotional purposes. Photographer retains all copyright for the images.
Matting with Musea