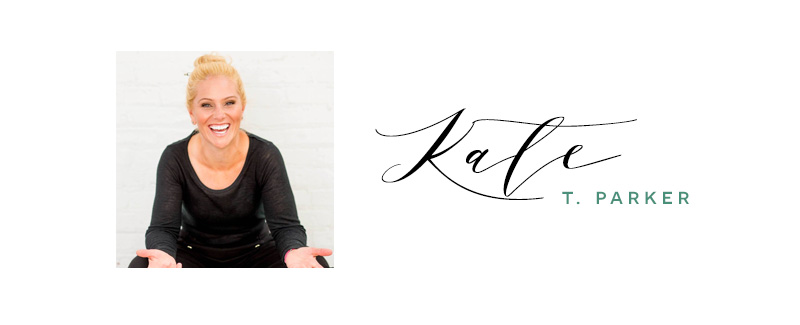 Kate T. Parker is a mother, wife, Ironman, and professional photographer who shoots both personal projects and commercial work for her clients. Her STRONG IS THE NEW PRETTY photo series led to collaborations with brands such as Disney, Athleta, Kellogg's, and NBC. It has also inspired Kate to launch a philanthropic arm of SITNP, partnering with organizations such as Girls on the Run, Girl Up, The Arthur Blank Family Foundation, Disney, Glam4Good, and The Bully Project by investing in girls' health and education. Strong is the New Pretty was also adapted for a book with Workman Publishing and became a national bestseller as well as selling overseas. Additional books will be published with Workman in 2018, 2019, and 2020.
In 2017, her work was featured in Huffington Post, O Magazine, A Mighty Girl, Vogue, Redbook, NY Magazine, People, Good Morning America, Shape Magazine, Buzzfeed, Self Magazine, DailyWorth, CNN, Vanity Fair Italy, Today Show, PDN, Atlanta Journal Constitution, and ESPN W.
Strong is the New Pretty was included in The Best Books of 2017 (Amazon), Books of the Year and Pick of the Day, 2017 (A Mighty Girl), Feminist Kids Books for Dismantling the Patriarchy (NY Mag), "Heather's Picks" Chapters/Indigo (Canada),
A list of her clients include Disney, REI, NBC, Girl Scouts of the USA, Athleta, American Express, Merck, Girls on the Run, AT&T, Kroger, IHG Group, Spanx, Nexcare, Children's Healthcare of Atlanta, Lululemon, Walgreens, GlaxoSmithKline, Biogen, Kellogg's, Verizon, NFL, Fernbank Museum of Natural History, Oxygen, Holiday Inn, Cigna, and Progressive Insurance.



Amy Tripple, an award-winning, Chicago-based child and family photographer since 2008, has spent the past eight years teaching local parents about photography through her Sweet Shots™ camera classes. Amy's work and experience in the field of photography education has been recognized as a successful model across the photography industry, including The Huffington Post, NAPCP's Inspired Magazine, and Professional Photographer Magazine. Amy's comprehensive Sweet Shots™ curriculum is used by photographers nationwide to strengthen their businesses through the inclusion of photography classes.



Since 2007 Heather Crowder has been delighting families, children and professionals with her style of contemporary portraiture. In addition to being a photographer, she is the owner of The Lightbox Studio, a multi-use portrait studio, creative space and venue in the heart of her town's arts district. A decade ago Heather put her twist on capturing children in the school setting, and turned traditional school photography on its side with the launch of her brand modernschoolpictures.com; since then she's photographed over 10,000 children! With 25 years as a self-professed "serial entrepreneur" under her belt, along with her business-first approach to photography, Heather is sharing all she's learned along the way to help other photographers be successful in this very profitable genre. Heather lives in her hometown of Annapolis, MD with her husband and 2 daughters.



Katie Rain is a lifestyle family photographer residing in Petaluma, CA with her husband, two kids, and her new puppy, Pixel. She graduated from New York University with a musical theater degree and started her photography business soon after. 6 years into running her business and reaching the burnout phase, she discovered Breathwork and it changed her life. She is now a certified Breathwork healer and leads a women's retreat once a year in Sonoma. Katie also contributes to Offset as a stock photographer and just launched audio courses for photographers with her business partner, Cristin More.



Tracy Sweeney, owner/photographer of Elan Studio in Bristol, Rhode Island, and author of Kids: Photos to Brighten Your Day, is an international award winning child, family and commercial photographer whose work has been featured on the Hallmark Channel, The UK Daily News, People.com, Today.com (Today Show) and in Click Magazine, Rangefinder Magazine, Professional Photographer, Digital SLR Photography Magazine, Digital Photographer Magazine and signage and packaging at Babies R' Us, Buy Buy Baby and Target Stores. Tracy loves capturing simple, candid moments, the indelible beauty of new beginnings and life. She is also an educator with a Masters Degree in Education and Doctoral work in Curriculum, Instruction and Technology. Each year, she teaches thousands of photographers through prestigious platforms, such as KelbyOne and Click Photo School, as well as the industry's leading conferences. Tracy lives and works by the sea with her husband and five children.



Meg Gonzalez, of Upon Waves, is a natural light photographer based out of St. Johns, Florida. She has been featured by Kodak and Shoot Along. Meg was a NAPCP Best New Emerging Child Photographer Semifinalist in 2017 and has since become a branding mentor for photographers and creative businesses across the country.