Meet Jenna Martin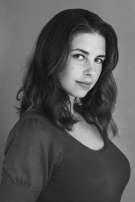 Jenna is a fine art and underwater photographer based out of Billings, Montana where she lives with her husband Chris, their two daughters and as many animals as she can bring into the house. After acquiring her Master's in Psychiatric Rehabilitation, she made a drastic career change into the field of photography.
2011 she built her own underwater camera housing, entered the world of underwater portraiture and never looked back. She now travels the globe to shoot, displays work in various art galleries throughout the country, and speaks to those looking to turn even their most outlandish dreams into a practical career path.
Jenna Martin has been sharing her ever-evolving knowledge of social media for several years, teaching from her experience. She has written, developed and produced workshops on social media marketing, as well as styled portraiture, and is a highly sought after photography coach and mentor. Jenna has presented at TedX, is a featured speaker for Shutterfest 2018, and is also speaking for Canon in January 2018.
When she's not taking pictures, she's usually spending time with her family, taking in stray animals and participating in general, all-around rule breaking.