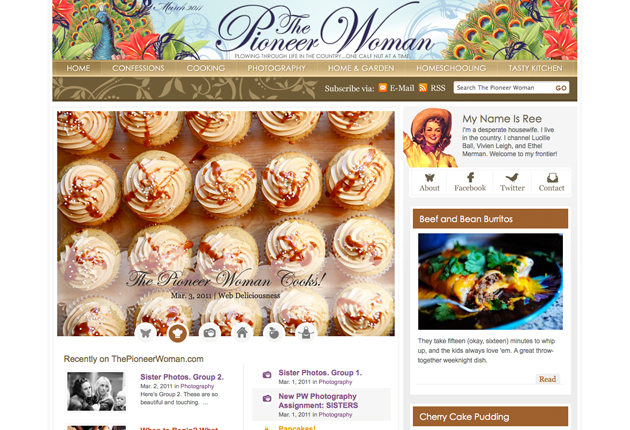 04 Mar

Happy Fridays: Blogs We Love – The Pioneer Woman!

W
So if you haven't stumbled across this blog yet, you definitely need to now! The Pioneer Woman is a wonderful little blog that covers just about everything you could hope for. Featuring topics in cooking, photography, confessions, home and garden, as well as many others. Ree Drummond, the creator of this wonderful blog, is so creative with her posts and I find myself with a huge smile while reading each one. Her Confessions section is definitely my favorite. The stories of her adorable Bassett hound Charlie are the best 🙂
W


W
The photography section is a great place for inspiration and gorgeous photos. Threads are started with certain themes and then readers submit photos that Ree sorts through and posts from. I love the range of images…some old, some new, color, black and white…and you definitely don't have to be a professional to submit. Ree also has a section called "High Res Downloads" where she contributes images of her own for download. To top it off, there is a "Photoshop" and  "Photoshop Actions" category perfect for new ideas and techniques.
Head on over to the cooking section for delicious recipes and yummy treats. One of her most recent recipes was for a dessert snack called a "Devil Dog." I had never heard of them before, but after examining the mouthwatering photos I knew I would make some soon 🙂 You can not go wrong with chocolate cake and whip cream…yum yum!
So go ahead and check it out for yourself…I promise you won't be disappointed! Happy Fridays!