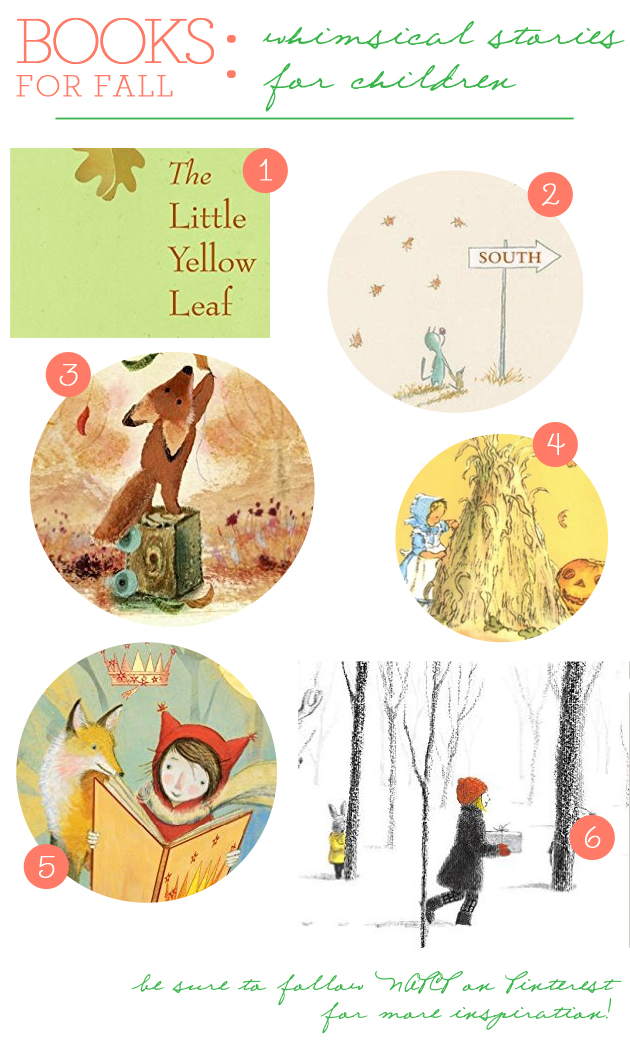 06 Oct

6 Whimsical Children's Books Perfect for Fall

Autumn is in the air, and it's the perfect time to curl up on the couch with your children, a stack of cozy reads at your feet. We rounded up some old, new, and sure-to-become favorite books to read in fall with our children. Here's our list of 6 wonderful books to read this season, along with brief reviews. We'd love to know your favorites, too!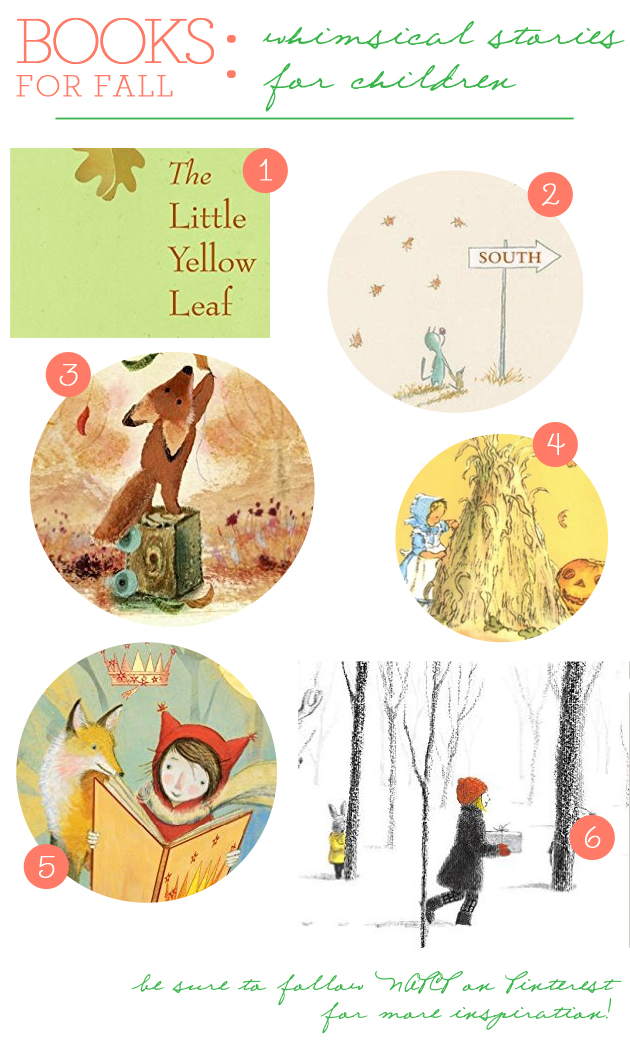 1. The Little Yellow Leaf, by Carin Berger. A tiny golden leaf isn't ready to leave its place on the strong branch of a tall oak tree. As fall unfurls around the leaf, it continues to hold on, uncertain about what the future may hold. Finally, the little yellow leaf spies something scarlet above – what will this change for the leaf? With amazing collage illustrations, Berger sweeps us into the "fury" of fall. Perfect for ages preschool through 2nd grade.
2. South, by Patrick McDonnell. The cartoonist behind Mutts tells a powerful story of friendship and helping others, in this wordless picture book. A small bird wakes up to find that his family and friends have gone south for the winter without him. Surprisingly, a cat named Mooch helps the bird find his way south. For adults and children, readers and non-readers alike, a profound tale … Peruse it with a tissue in hand!
3. Fletcher and the Falling Leaves, by Julia Rawlinson, illustrated by Tiphanie Beeke. Fletcher the fox is collecting the leaves falling from his favorite tree. As the leaves continue to fall, Fletcher is concerned that something awful is happening. Though his mother tells him not to worry, the seasons are changing as they always do, Fletcher goes to bed worried that the tree is very, very sick. Ah, but when Fletcher awakes, something magical has happened! Vibrant watercolor illustrations evoke Fletcher's emotions, and a special surprise at the end awaits the reader, too. Recommended for ages preschool through 3rd grade.
4. Pumpkin Moonshine, by Tasha Tudor. In the New England of yore, "moonshine" was commonly used as a word for jack-o'lantern, and Sylvie Ann found the largest, roundest pumpkin for her Halloween moonshine. In order to carve the pumpkin, though, petite Sylvie Ann has to get it home! Delicate watercolors and a gentle tale are perfect for those longing for a toned down Halloween story – one representative of the season, and the America of centuries past. For ages preschool through 3rd grade. If you were a Tasha Tudor fan as a child, you'll want to add this exquisite book to your collection.
5. The Whisper, by Pamela Zagarenski. Released today, this book promises magic. A girl in a red hood borrows a book from her teacher, only to realize upon getting home that the words have escaped. Oblivious to the fact that a fox has netted the words, the girl hears a whisper encouraging her to imagine the stories herself. This is the first author credit for Caldecott-winning artist Zagarenski, and the critics are raving. Fanciful storytelling, and warm, golden fairy tale scenery will make this book a new treasure. Best understood by ages 1st grade and up.
6. The Tea Party in the Woods, by Akiko Miyakoshi. Kikko, a little girl, notices her father forgot the pie he was supposed to bring to her grandmother's house. She runs to catch him, and, journeying through the snow, comes upon a strange house. Inside is a coat-wearing, purse-carrying lamb, who asks Kikko if she's there for the tea party! Children will love using their imaginations, and following along with the simple black-and-white illustrations, accented by brilliant gold and red. Recommended for ages kindergarten through 2nd grade.

We included age recommendations with our selections, but we know that these lovely titles would be at home on any bookshelf. We hope you have a wonderful time exploring this list!
Be sure to follow NAPCP on Pinterest for more autumn inspiration!