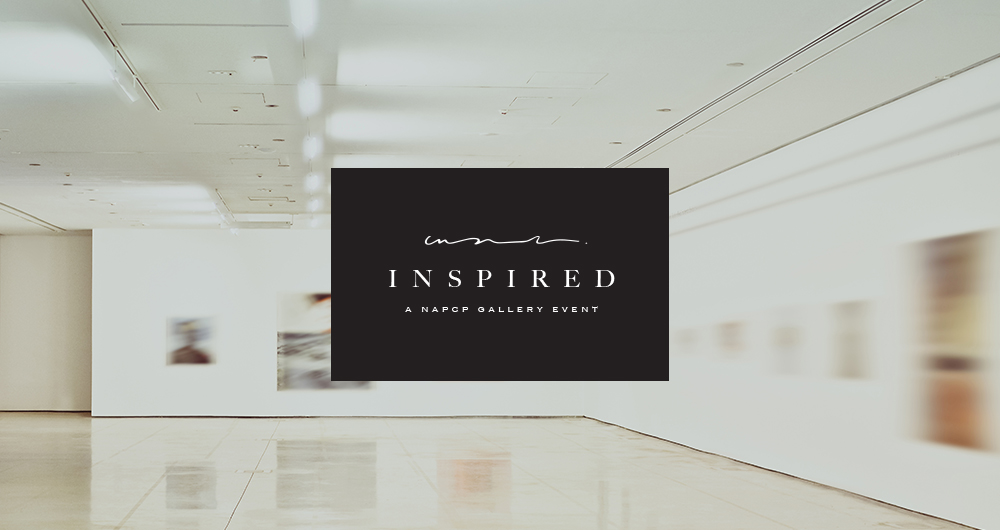 The National Association of Professional Child Photographers (NAPCP) recognizes the accomplishments and creative excellence of its child photographer members. In contrast to our bi-annual image competitions, the NAPCP Inspired Gallery Event will be creative in nature and will give both members and non-members the chance to place in one of three categories. The purpose of this event is to provide an opportunity for NAPCP members to explore their creativity in new ways. A gallery reception will be held on April 27th and all winners will be announced in person.
Following the gallery reception, NAPCP will be offering a  Business & Pricing Intensive Course. We will be giving an in-depth session focused around business costs and pricing your services to meet your business needs. We encourage everyone to come out for the gallery reception, stay for the learning, and enjoy the company of your peers!
Interested in submitting an image for the Gallery Event? Please click here for more details.


7:00PM-9:00PM – Gallery Reception At Park Studios & NAPCP Headquarters  – 690 Miami Circle, Suite 600, Atlanta, Georgia  30324
Come to see your stunning image displayed in our gallery, or simply come to celebrate with your fellow photographers.  All submissions will be on display for our judges to score prior to the Gallery Reception opening. Attendees will be allowed to enter the studio at 7:00PM to view the winning images and help us celebrate the winners! Reception Ticket Price includes beer, wine, soft drinks, and dessert. For more information about sending a printed submission, view the guidelines here.
9:00PM-11:00PM – Optional Meet-Up at Eclipse di Luna – 764 Miami Circle, Suite 138, Atlanta, Georgia 30324
We hope you will join us as we continue the celebration right down the street!

8:00AM – 8:30AM – Morning Mingle & Coffee
Meet at Park Studios and enjoy some time mingling with your peers.
8:30am-12:30pm – Make More Money for Photographers at ALL Levels with Liana Hall
As a small business owner, it's not always easy knowing the best way to manage finances, plan for sales, and know how to price for profit. Liana has over twelve years experience consulting with small businesses in the US and abroad, and specializes in teaching managerial accounting and finance for creative entrepreneurs. Simply put, she'll get you up speed on the "not-fun-stuff" you need to know in order to be successful in business! You will be learning the same great business principals taught at Harvard Business School and PPA.
We will cover:
• determining how much money you need to make personally and in business
• understanding and budgeting for the different types of expenses
• cost of sales analysis
• making sessions and sales goals
• business "housekeeping" items such as taxes, formation, banking, and cash flow management
• three different ways to price for profit
This is a nuts-and-bolts, hands-on class with plenty of time for questions. BONUS – this class includes the NAPCP Studio Calculator. You will create a personal budget and determine your salary, create budgets for your different business expenses, determine your income, and take a look at your sales goals and overall financial outlook for 2017.
What to Bring to Class – To Get the Most Out of It
A laptop is extremely helpful in completing the studio calculator portion of the class. Please bring your own or borrow one to use. Have a copy of the Microsoft Excel, Numbers for Mac, or Open Office Calc Spreadsheets (free download from online) installed and ready to use.
Also, if possible, please bring copies of the following so you can reference them during instruction when needed:
• current marketing & pricing materials
• household budget/expense information
• business expense/income information (ie Quickbooks reports)
• supplier information (ie price sheets and information from any of your suppliers)
You will not be required to share any personal or business information, however having these things available for your own sake will be very useful.
TESTIMONIALS:
"After a few days with Liana I now have a plan of action and goals for moving forward. One of the most important things I am taking away is the start of a long journey of self discovery; of why I do what I do and what makes me different. Finally, after all these years I am able to see who I am."
"Honestly, I would have paid three times what I did for this experience. Liana guides with a strong mind and a sensitive spirit – everyone in my class came from different walks of life and were at a different point in their business and without hesitation she seamlessly advised and coached with grace and ease. Hands down one of the best investments I have ever made for my business."
"Maybe the most important thing that I learned from Liana was that even if I do not consider myself a CEO, I am. I have a responsibility to myself and to my clients to be running a sound business and making intelligent and informed decisions. Understanding my choices from a small business owner perspective will allow me the joy of continuing to do what I love as well as live my life for from financial worry…"
"It was an eye-opener: allowing me to take a look at my goals and what kind of photography I'll be focusing on going forward."
12:30pm-1:30pm – Light Lunch & Networking


A lifelong student, portrait artist Willy Wilson is interested in art in all its forms. Starting as a fine art major in college, she focused on drawing and ceramics, later in life participated in a two-year fashion design program, has experimented with weaving, textile design, and eventually attended film school where her love of cinematography led her to her career in photography. In the growing world of professional photographers, Willy tries to be a voice that encourages self-expression and creative awakening. She is passionate about helping others stimulate their spirit and hunger as photographers and to push themselves to new levels. Challenging the status quo, Willy is constantly asking creative questions of herself and others, with the intent to bring freshness and individuality to the work we create.
Willy's diverse interests have given her imdb credits for several short films, her "wearable art" and photographic work has been shown in galleries, she worked in the wardrobe department for Mikhail Baryshnikov's White Oak Dance Project, she has a feature length film registered with the Writers Guild of America, and has won awards from five different photography organizations. Willy is co-founder of the Light Entwined project, a collaborative writing and photography project that will soon be found in print. She is also working on her sixth 100 day project and has created the 100 Days of Ten community which inspires artists of all disciplines to push their work to another level through daily practice.

Rya Duncklee is an award-winning childrens portrait artist based in Jacksonville, Florida who specializes in first year milestones and video storytelling. She has been recently awarded as one of the Top 20 Newborn Portrait Artists in Jacksonville, and has been the recipient of seven NAPCP International Image Competition Awards.
Rya is a proud member of the National Association of Professional Child Photographers (NAPCP) and is the interviewer for the NAPCP Video Interview Series. She is also an accredited member of the Professional Photographer's Association (PPA).
When Rya's not documenting moments in time for families, she enjoys traveling, cooking and DIY projects with her hubby in their new home.

Anne Simone is an Atlanta, GA, photographer and blogger. In 2001, she graduated from Hallmark Institute of Photography with a Top Ten Portfolio, and is a very proud member of the Wedding Photojournalist Association. You can find her wedding images in The Knot, Weddings Unveiled, Rock'n'Roll Bride, Southern Weddings, and Brides (to name a few), as well as beloved blogs Offbeat Bride, Style Me Pretty, and Elizabeth Anne Designs.
She crafts empathetic lifestyle images for families and woman-powered businesses, and writes for reformed creatives through her own blog. Her essays appear on Huffington Post and DEDPXL, and Anne develops learnspirational articles for ShootProof's emerging photographer community.


Liana Lehman Hall is a creative entrepreneur that has been in business for over 18 years and is passionate about teaching the "not fun stuff about running a business." She is most known for her destination wedding photography but also photographs families and children. She and her husband have more recently branched out and are growing two other small businesses that deal with service, manufacturing, AND retail sales.
Liana is a Certified Professional Photographer (CPP) of which less than 8% of all professional photographers qualify for and a seven-time award-winning photographer for the Wedding Photojournalist Association. She has been featured in Professional Photographer and American Photo Magazines, The KNOT, Style Me Pretty, Grace Ormonde Wedding Style, Modern Wedding Photography Book by Amherst Media, and on NBC!
Liana LOVES to see the change that comes with working ON your business not just IN your business and truly understanding the "story that the numbers tell." She has taught over 30 Business Boot Camps in the US and Australia and received the prestigious Photographic Craftsmen degree in recognition of her service to the photographic profession as an orator, author and mentor.
Liana lives in the Atlanta, GA area with her husband Mike and there three kids ages 4 and under.