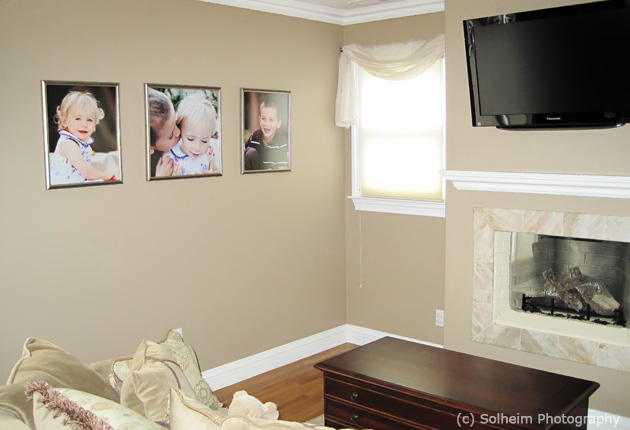 29 Aug

Clients' Photo Displays

Besides the actual photo shoot, one of the things I love doing with my clients is sitting down with them to whittle down the many fabulous images to the favorite few. This is a process that generally takes about one hour, sometimes longer, sometimes less. This particular client knew exactly where she wanted to put her favorite images – on her bedroom wall near the sitting area. This is a space reserved for complete relaxation after a long day at work or running around with her kids. She wanted to be able to look up at her wall, see her children and smile.
We started with ideas for a mix of portraits and storyboards as there were so many images she wanted to display. But as we filtered through the photos, she realized that what she really wanted was a simple, uncluttered look on her wall. With large portraits of her favorites, she would be able to enjoy each one more fully. Since she has two children, we decided on the best single image each of her daughter, son and the kids together. In the chosen image of her daughter, she loved the gleeful look in her eyes as she shoveled yet another pile of sand into the bucket. In the photo of her son, she loved how the image displayed his natural exuberance and playful spirit. And the middle image of her son and daughter together touched her heart because it shows how close the two of them are. (The side portraits are 16″ x 20″ and the middle portrait is 20″ x 20″)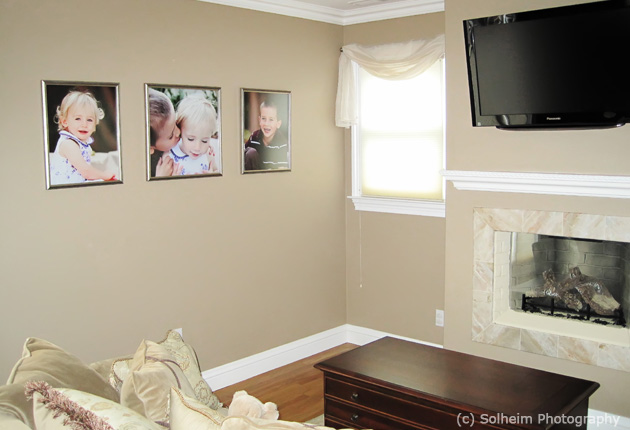 In fact, each of her kids really wanted to have a photo of them together in each of their rooms. Since it would be in her kids' rooms, Mom decided to make them extra special and went with 1.5″ deep canvases. The one in her daughter's room (left, yellow wall) is 16″ x 16″ and the one in her son's room is 16″ x 20″ (right, blue wall).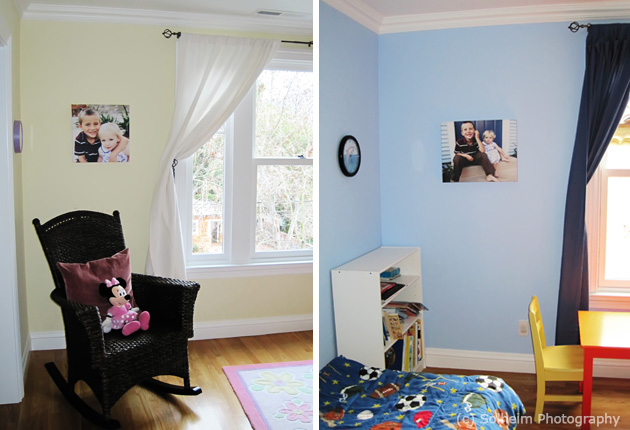 Another client of mine just happened to be an interior designer. This was obvious when I saw how she set up her twin sons' nursery. It looked like a room straight out of Pottery Barn. It is beautiful, to say the least. She reserved the wall above the cribs for baby photos. She loved the baby parts storyboard idea but wanted to somehow include her and her husband's images in there as well since someday, she plans to give her sons their storyboards. I thought it was a fabulous idea (how I would have loved to have photos of my own mom and dad when I was born!). These storyboards are 16″ x 16″.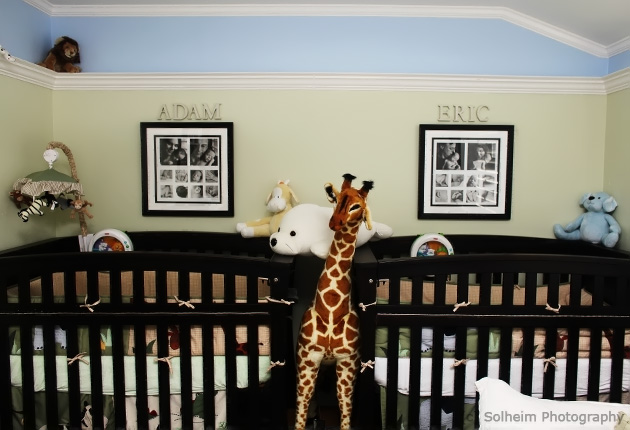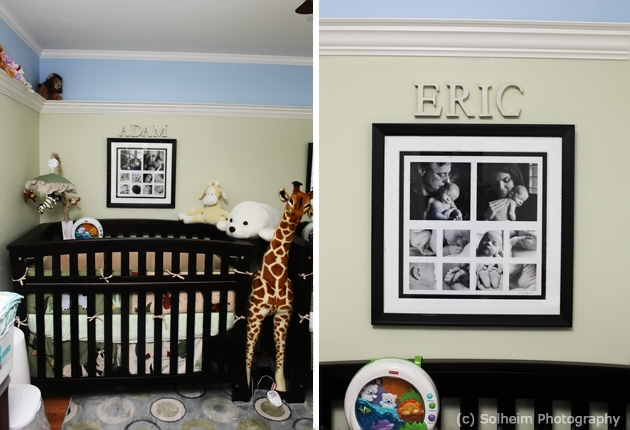 I love it when my clients send me photos (or have me come over to take some photos) of how they displayed their images. Not only does it warm my heart to see art I created on their walls, it gives other families ideas to consider when they have their photos done.