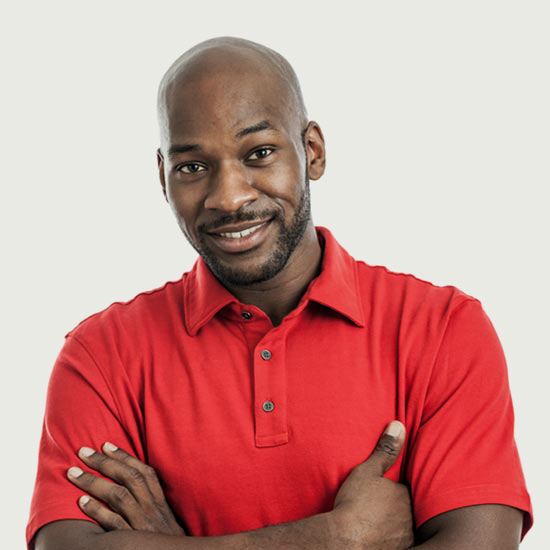 10 Nov

Moms Buying Guide: Top 5 Point & Shoot Cameras!

We are here with Adorama Learning Center today to bring you their list of the Top 5 Point & Shoot Cameras in season!  Perfect timing for your holiday gift giving.
For those everyday moments you want to capture at home, on vacation, and just to document, check out these amazing cameras and the reasons why they made our Top 5 List!
1) Olympus E-PL1
Price: approximately $550 (body only).


Micro Four Thirds lenses have a shorter flangeback (back of lens to sensor distance), allowing for camera makers to make both lenses and cameras smaller and lighter while using full-sized Four Thirds sensors—the same found in Olympus DSLRs.  With the E-PL1, however, Olympus focused on value, trimming away the less used features, simplifying the body build, and lowering the price without sacrificing image quality or performance. Our field test showed the image quality to be outstanding, with very little shutter lag time. In the lab, the Olympus EP1 delivered a very good overall performance for a camera its size and good overall image quality for a camera with a Four Thirds sensor
The Juicy Details: 12.3 MP Four Thirds sensor, Micro Four Thirds lensmount, live view, 2.7-inch LCD monitor, built-in pop-up flash, 720p HD movie recording with high-quality audio, multiple exposure, art filters (Pop Art, Soft Focus, Pale & Light Color, Light Tone, Grainy Film, Pinhole), mechanical and ISO boost image stabilization, digital leveler, dust reduction, face detection, shadow adjustment technology, 4 aspect ratios (4:3, 3:2, 16:9, 6:6), iAuto chooses best scene mode,. Shutter speeds 2-1/4000 sec, 3-inch LCD, Manual focus, ISO range 100-6400.
2) Panasonic Lumix DMC-GF1
Price: approximately $675 body only.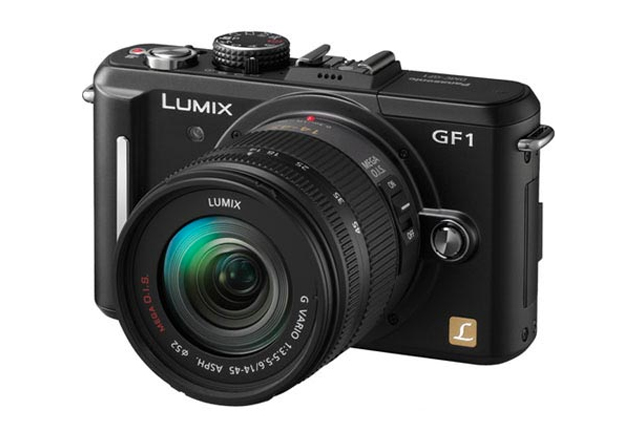 Panasonic didn't waste any time stealing Olympus's thunder, introducing the GF1 as the smallest, lightest interchangeable-lens camera on the planet (so far). The third member of Panasonic's growing micro-four-thirds camera family (the slightly larger G1 and GH1 have built-in EVF viewfinders), the GF1 is said to have a quick autofocus and a responsive shutter release, two big concerns for anyone interested in shooting active subjects. It also manages to squeeze in a small built-in flash. The camera will accept any Micro Four Thirds lens made by Panasonic or Olympus, plus it has a slip-on optional electronic viewfinder, and can record HD Video, allowing aperture adjustments so the shooter can control depth of field.
The Juicy Details: 12 MP Micro Four Thirds Sensor, 720p HD video in AVCHD Lite, JPEG and RAW, Face detection, AF tracking, 23-area AF, shutter speeds 60 sec-1/4000 sec, ISO 100-3200, up to 7-frame auto bracketing, color temperature settings 2500-10000K in 100K increments, flash synch 1/160 sec, 460K dot LCD monitor, outlet for plug-in EVF finder with 1.4 Million dots. Pre-set color quality My Color modes, choice of manual or autoexposure, choice of manual or autofocus.
3) Sony NEX-5
Price: Approximately $650.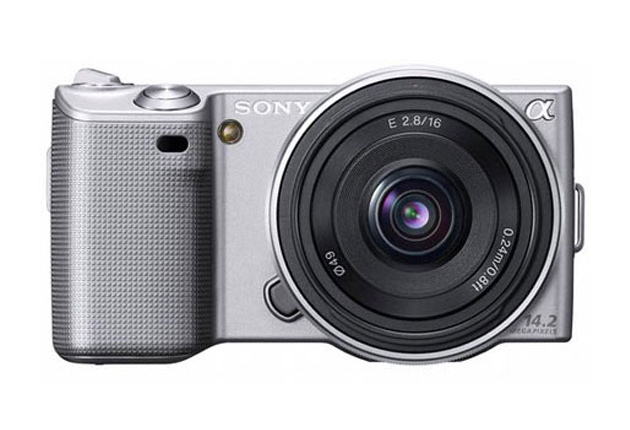 Sony has just started shipping the NEX-5 and at the moment, it's the lightest MILC on the market. And yet…it's the first in its class to utilize the larger DSLR-sized APS image sensor, and Sony is promising an entirely new level of image quality and performance from this camera. A newly-designed NEX mount series of lenses will be introduced. The camera borrows high-end features from its DSLR siblings, plus ease-of-use controls from Sony's extensive line of point-and-shoot cameras such as an on-screen Help guide.
The Juicy Details: 14MP APS CMOS sensor, new E-Mount lens system. Records on Memory Stick and all SD cards. 1080p AVHD and MP4 HD video at 60 or 30p, respectively. 25-point contrast AF system; 80 expert advice shooting tips; sweep panorama up to 23MP; 3-inch, 920K LCD; 6-image layering anti-motion blur, auto HDR, 49 segment meter, Dynamic range optimizer, creative color filter, noise reduction can be manually controlled. Up to 7fps burst rate, shutter speeds 30 sec-1/4000, bulb. Flash sync 1/160 sec. JPEG & RAW image capture. Sony claims unlimited burst buffer capacity in JPEG.
4) Canon Powershot G12
Price: Approximately $500.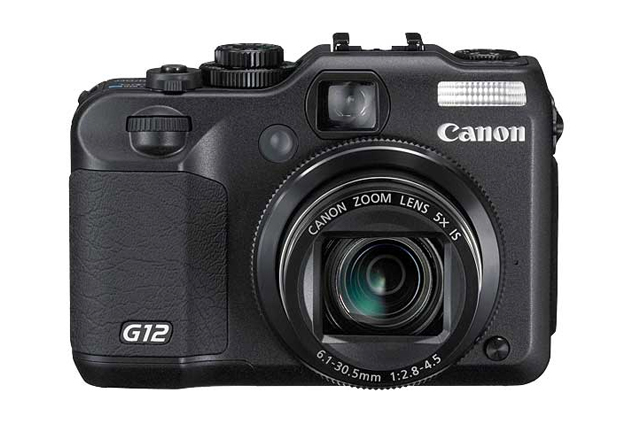 Canon overhauled G11, and the new G12 represents a tweaking, relatively speaking. In the G11, Canon took the gutsy, marketing-unfriendly step of reducing the pixel count to 10MP instead of the 14 MP found on its predecessor, the G10, and that resolution carries over to the G12. Fewer pixels mean there's more room on the sensor and the individual pixels can be made larger, making the camera better able to record low-noise images in low-light situations.  The camera is also said to be faster, with a reduced lag time. There are dials that control aperture and shutter speed that should be comfortable for traditionalists, as well as an optical viewfinder! The big news? Canon added 720p HD video to the G12!
The Juicy Details: 10MP CCD sensor, 720p HD video and stereo on-board mic, image stabilization (optical and digital), 28-140mm (35mm equiv) f/2.8-4.5 optical zoom lens, 2.8-inch flip-out LCD with 461k dots resolution, focus to under an inch in Macro mode. Shutter speed range 15-1/4000 sec, ISO range 80-3200, RAW and JPEG image files, HDR scene mode combines multiple shots, manual exposure controls.
5) Nikon P7000
Price: Approximately $440.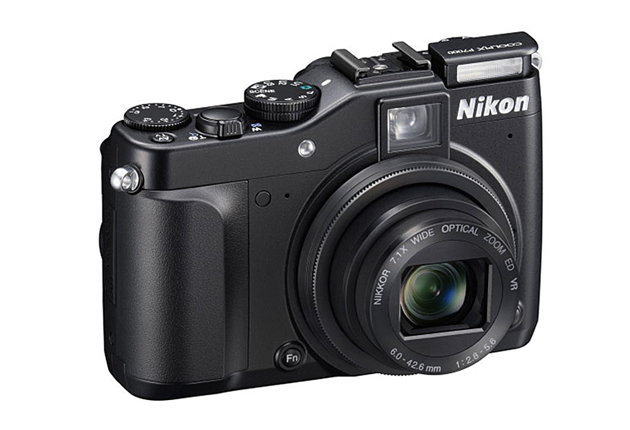 A full-featured, self-contained premium compact camera, the P7000 is designed to appeal to traditionalists and DSLR owners who want a small, near-pocket-sized alternative to their big rigs. The P7000 represents a major overhaul over its predecessor, the P6000, with redesigned controls and a look that echoes classic rangefinder cameras. However, it is up to date with full HD video recording capability (it even has an external microphone jack—a first for a camera in this range), and a hot shoe providing access to the entire lineup of Nikon strobes.
The Juicy Details: 28-200mm (35mm equivalent) f/2.8-5.6 lens, 921k dot LCD monitor, optical viewfinder, 1/1.7-inch, 10MP CCD sensor, ISO range 100-6400, boostable to 12,800. RAW NRW file capture, macro focus to within and inch, horizon indicator, vibration reduction, subject tracking, in-camera image editing, auto scene selector, subject tracking, face-priority AF, 18 scene modes, . 720p HD video at 24 fps, external microphone jack.
Thank you so much to Adorama's terrific Learning Center for this great article!