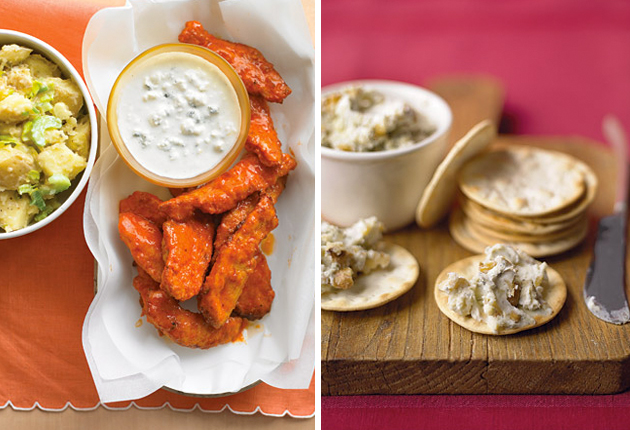 28 Jan

Happy Fridays: Super Bowl Countdown!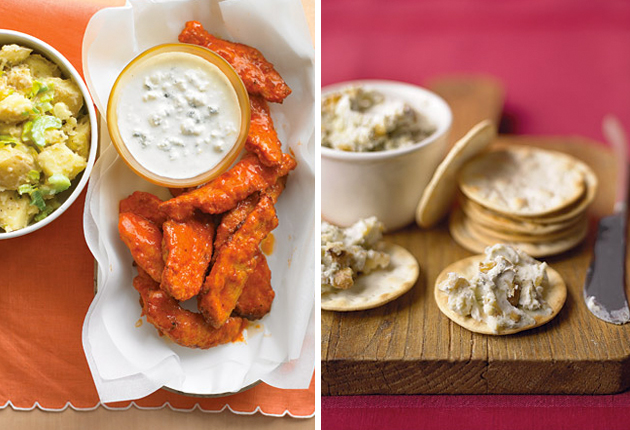 Superbowl Sunday is right around the corner which means you better be ready to serve some impressive dishes to eager and hungry friends and family. Well this year maybe you want to mix it up a little? Say goodbye to bland chips and salsa and hello to some new tasty treats! I picked a couple delicious spreads to share below 🙂
Dips and Spreads: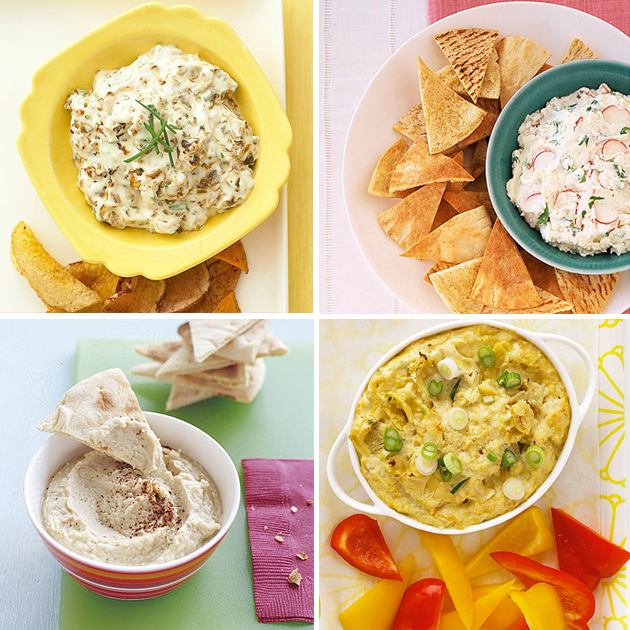 Clockwise from top left: Sweet Onion Dip, Feta Raddish Spread, Artichoke Dip, White Bean Dip.
Recipe: Feta Raddish Spread
Prep Time: 10 min, Total Time: 30 min
Ingredients:
– 5 tablespoons extra-virgin olive oil
– 2 pocket pitas, split open
– 1 package sheep's-milk feta cheese (8 ounces), coarsely chopped
– 1/4 cup plain whole-milk yogurt, preferably Greek
– 2 tablespoons fresh lemon juice
– 3 tablespoons coarsely chopped fresh flat-leaf parsley
– 4 radishes, quartered and thinly sliced (about 1/2 cup)
Instructions:
1) Preheat oven to 350 degrees. Using 2 tablespoons oil, brush insides of pita rounds. Cut each round into 6 wedges. Arrange wedges in a single layer on a baking sheet, oiled sides up; toast until golden brown and crisp, 7 to 10 minutes.
2) Meanwhile, pulse feta, yogurt, lemon juice, and remaining 3 tablespoons oil in a food processor just until mixture is thick and spreadable, about 10 pulses. Transfer to a medium bowl, and stir in parsley and radishes. Serve with pita crisps.
Tasty Wings: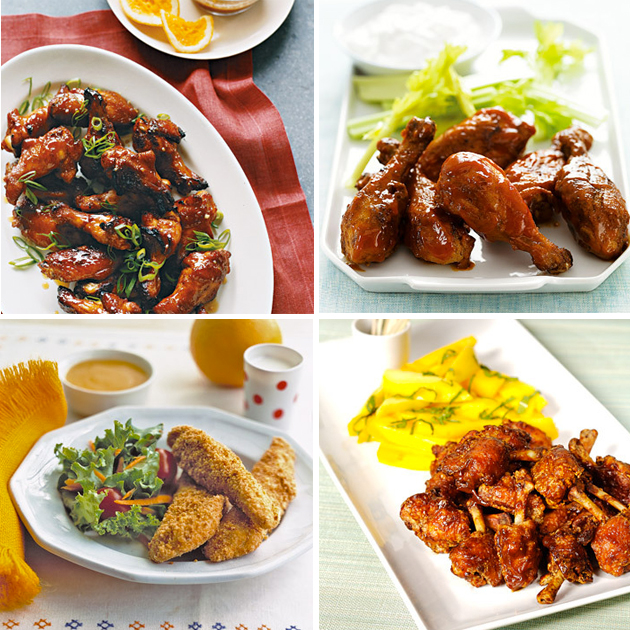 Clockwise from top left: Spicy Sweet Chicken Wings, Buffalo Chicken, Thai Fried Chicken Wings, Chicken Fingers with Orange Dipping Sauce.
Recipe: Buffalo Chicken
Prep time: 35min, Total Time: 35min
Ingredients:
– 1/3 cup all-purpose flour
– 2 teaspoons paprika
– coarse salt
– 8 skinless chicken drumsticks (about 2 pounds total)
– 1/4 cup vegetable oil
– 1/4 cup ketchup
– 1 tablespoon butter, melted
– 1 to 2 tablespoons hot sauce, such as Tabasco
– celery sticks, for serving
– Better Blue-Cheese Dip (above), for serving
Instructions:
1) On a rimmed baking sheet, combine flour, paprika, and 1 teaspoon coarse salt. Add chicken, toss to coat, and shake off excess.
2) In a large skillet, heat oil over medium-high. Add chicken, and cook, turning to brown on all sides, until cooked throughout, 15 to 20 minutes.
3) Meanwhile, in a large bowl, combine ketchup, butter, and hot sauce; season with salt. Add hot chicken, and toss gently to coat. Serve with celery sticks and dip.
4) In a small bowl, combine 1 ounce blue cheese (crumbled), cup plain low-fat yogurt, and 2 tablespoons fresh lemon juice. Season with coarse salt and ground pepper. Mix well with a fork, mashing cheese to combine.
Find these and several other delicious recipes from the Martha Stewart site. Happy Fridays everyone!