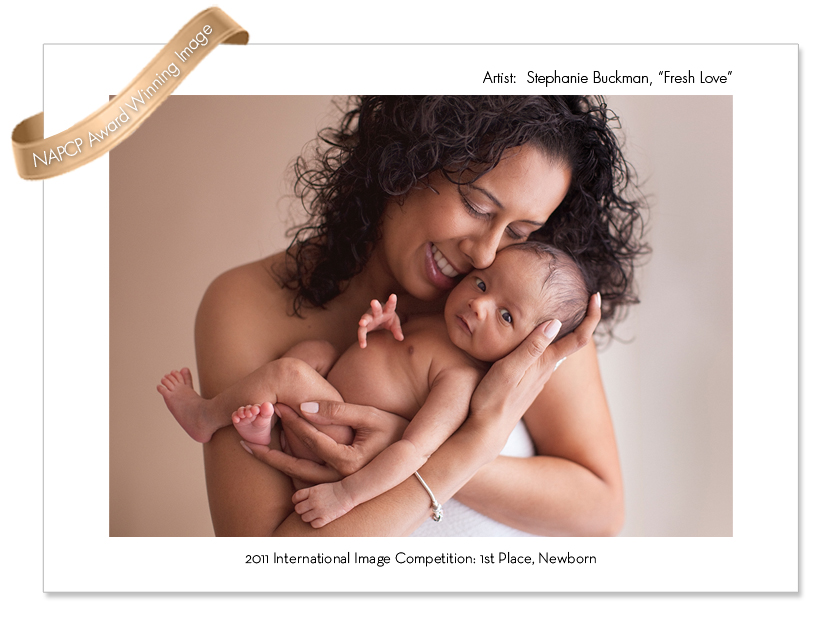 23 May

NAPCP Announces Photographer of the Year: 2011!

The National Association of Professional Child Photographers (NAPCP) is thrilled to announce its 2011 Child Photographer of the Year, Stephanie Buckman of Stephanie Robin Photography! A winning image from Stephanie was featured on an electronic billboard in New York City's famed Times Square.
Based in in Burlington, Ontario, Stephanie specializes in newborn and child photography, creating timeless portraits through her mastery of light, the lens and a true connection with her subjects. Known for her custom fine art portraiture, Stephanie has been offering newborn mentoring and group sessions since 2009. Stephanie is also a strong advocate for newborn safety and continues to promote knowledge and awareness to the child photography industry. You can read her featured article on the subject here!
With interest and participation growing each year, this latest NAPCP competition attracted images across a new range of category subjects, including maternity, newborn, baby, child, sibling, tween, seniors and family. A panel of photography experts and luminaries critiqued the thousands of image submissions for impact, technical merit, composition and creativity. The overall NAPCP Child Photographer of the Year winner was determined by total number of points scored in both 2011 NAPCP Image Competitions. "In reviewing the results of NAPCP's fourth image competition, we continue to be amazed by the creative passion and specialization of our dedicated child photographer community," said Alice Park, co-founder and president, NAPCP. "We congratulate Photographer of the Year Stephanie Buckman and the other winners for their stunning work and artistic ability which brings so much joy to families and loved ones around the world."
The biannual NAPCP Image Competitions reward its winners with medallions, priority listing on the NAPCP directory, vendor endorsements, and membership points.
"Given the quality evident in all of the submissions, it was not easy choosing winners," said Dana Pugh, a NAPCP image competition judge and NAPCP's 2010 Photographer of the Year. "Those talented photographers being recognized in this competition should be extremely proud of their work."
Congratulations to Stephanie on her fantastic accomplishment!
Check out the press release here!