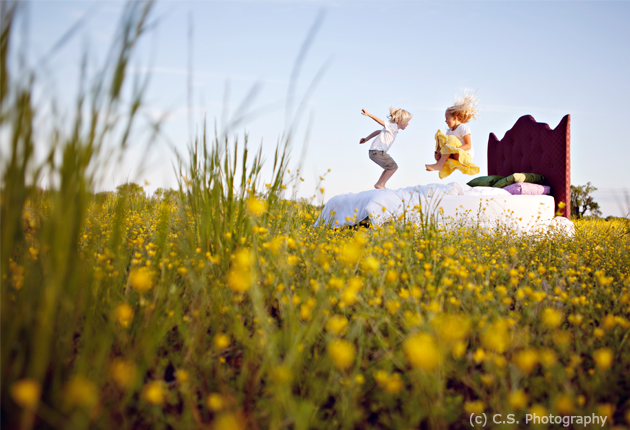 29 Aug

Session Share: Jump!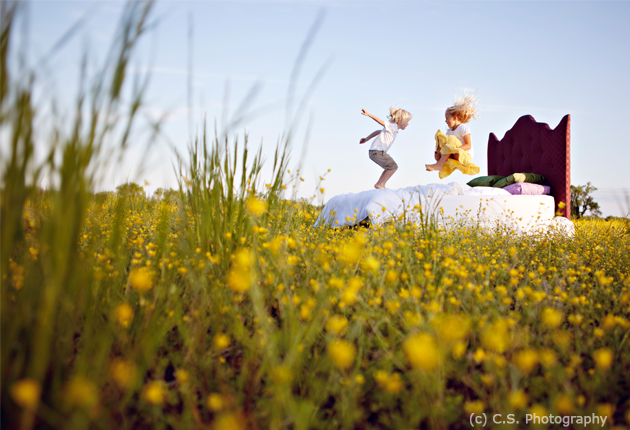 Inspiration: My inspiration was this color palette. We had gorgeous mustard fields in bloom and I knew they would be the perfect element to start with. Getting a farmer to agree to let me bring a bed into his field was a different story. I had to do some sweet talking with his wife. 🙂
Favorite Element: That would have to be the headboard that I handmade. The deep purple played off my color palette and I brought in the remaining colors through accents on pillows and the blanket.
Biggest Challenge: The scope of the shoot was bigger than most and was probably the biggest challenge. It took time to handmake the headboard and pillowcases, but I just took one element at a time and focused on the colors. Everything just seemed to come together. Lugging a queen size bed out into a field of flowers was also a bit difficult. We had quite the crew out there helping me set up and take down.
What the Client Said: Mom and Dad had a great time watching the kids out in the field. It felt like a play session rather than a photo session. They ended up hanging a 24×36 canvas of the kids jumping over their bed.
Photographers' Final Words: Don't be afraid to take creative risks or to add homemade elements. Break each project down step by step. Making a headboard seemed daughting. But it really was straightforward. My husband did the cuts in the wood for me so I wouldn't saw off a finger (although I probably could have handled it.) Find a great tutorial online and just get started!