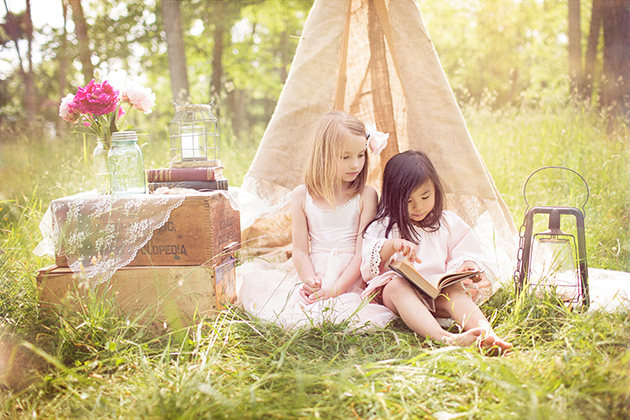 30 Jul

Session Share: Summer Teepee!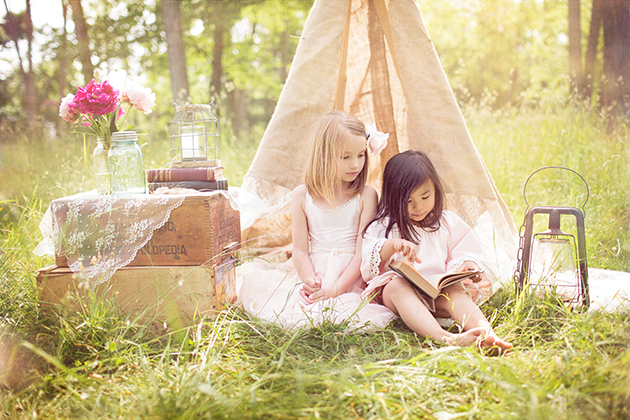 My models are my daughters. Both of my girls are adopted, Sarah adopted domestically and Reagan is from China. While waiting for my daughters, I started an adoption blog and that is where my love of photography began. I started my blog with a Kodak Point and Shoot and then I began reading other blogs and viewing these GORGEOUS photos. I wanted photos like that as well, so I got my first DSLR and as they say, the rest is history. It was an immediate PASSION…..and I have not stopped since I turned the dial of my first DSLR to manual in 2009.


Inspiration
My biggest inspiration comes from my children. This particular session sort of spiraled from a late night cruise on Etsy, where I found this lace and burlap vintage teepee. I love etsy and I am always looking for unique things that will add an element of fun to my photo sessions. Once I saw that teepee, I immediately had a vision and set out to find clothing, head pieces and other props that would make that vision come to life. It took me several weeks and a few returned clothing items, but in the end, the dresses were worth the wait…..they were exactly what I had in mind and matched the feel of the teepee. The last thing I did to finish up this look was take a trip to a local antique market. I spent a couple of hours on a Saturday morning looking through lots of very cool antiques and that is where I found the lanterns and old boxes. At home, I already had the mason jars and old books. I just added some fresh flowers and the stylized session was complete.
The location is very close to our home and it is a beautiful open field with tall grass. It only took me about 15 minutes to set up and get the girls in place. I am not the sort of photographer that gives a lot of direction, I like to let kids be kids, and capture the moments as they unfold naturally. When shooting, I like to get the full picture of what is gong on and also capture some of the tiny details. I want the photos to tell a story so the viewer feels as if they were right out there with us.
Favorite Element
I would say it is a tie between the teepee and the dresses the girls are wearing. The tepee was made by and purchased from Kayla O'Rourke Shop. The dresses were from Dollcake and the headpiece Reagan was wearing was from Love Crush Bowtique. Sarah's flower in her hair was actually part of her dress, I took it off and put it in her hair instead.
Final Thoughts
Stylized sessions take some thought and a little extra legwork, but when you see it all come together, it is worth every minute that you put into it. Not only does it add a little bit of the WOW factor to your photos, it gives small children something to do and the will be themselves. They might even forget that you are there with the camera:) I was always a little afraid or intimidated by the use of props, but not anymore!