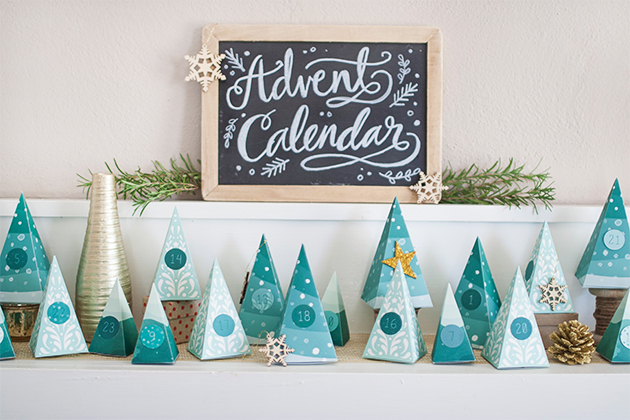 24 Nov

DIY Mini Tree Advent Calendar!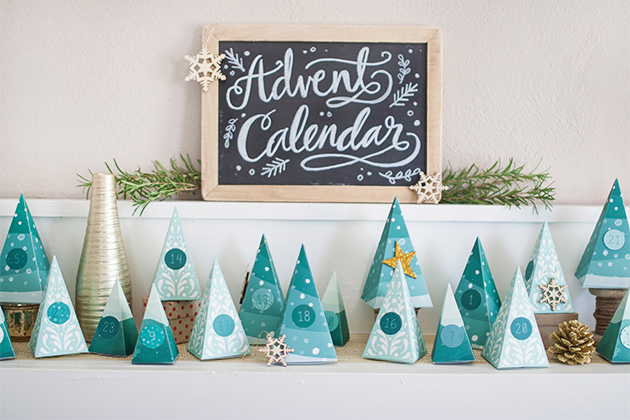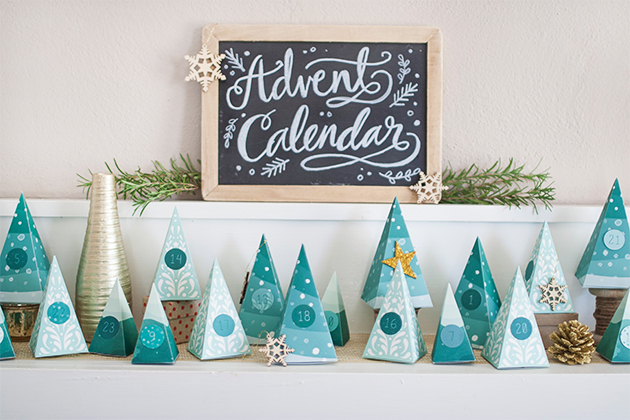 This adorable advent calendar is the perfect way to count down to December 25th! The little trees come in 3 sizes and open on the bottom like a box so goodies can be stored inside. The larger trees are perfect for knick knacks and toys, where as the tiny trees can store tasty treats. The templates for the trees are FREE to download and the detailed instructions are below!
What You Need
• Scissors/Exacto Knife
• 1″ Circle Punch (optional, but helpful!)
• Double Sided Tape/Glue
• Bonefolder/Pen
• Cardstock (white, 18-20 sheets)
STEP 1 – Print out the templates below. Print 8 copies of the small/medium tree template and print 9 of the large tree template. This will give you 25 trees total.
STEP 2 – Print the Advent Numbers file onto a sheet of cardstock. Here is where the 1″ punch is very very helpful, but you can use scissors if need be. With the punch just cut the sheet of numbers into strips with space above and below each row. Slide the punch upside down so you can see how the circle lines up on the under side of the punch. Once lined up correctly punch number out.
STEP 3 – Assemble! Cut out and score all trees. You need to score along each line highlighted so that the template can easily fold once cut out. This can be done with an exacto by lightly grazing the surface, but not trimming through. You can also use a bonefolder or the back of a pen to fold. Once trimmed and folded, glue or double stick tape along the edge marked "glue."
STEP 4 – Glue or tape numbers to the front of each tree.
STEP 5 – Fill with goodies and close the bottoms to each tree.
Click below to download each template you need and enjoy! Happy Holidays!
Advent_Numbers_WIP
AdventTree_LargeDieline(new)
AdventTree_SmallMedium_Green(new)
Click here to see our free printables and DIY projects or visit the NAPCP store at www.napcp.com/shop!