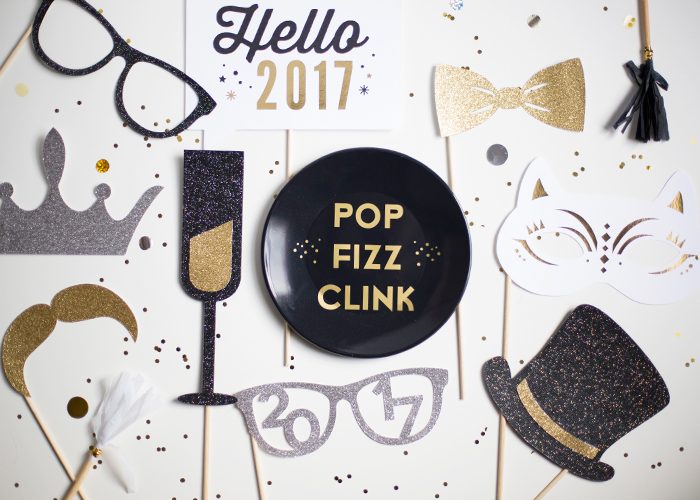 29 Dec

DIY – New Year's Eve Photo Props!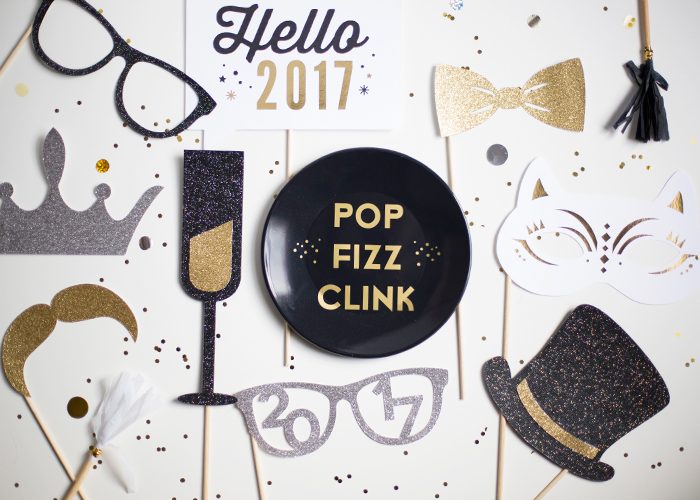 It's hard to believe, but it's already time to say goodbye to 2016 and hello to 2017! With New Year's Eve just a few nights away, we wanted to give you a few essentials to make your festive affair one to remember!
These DIY photo props are a super easy way to add a little glitz and glamour to your camera roll. There are a range of designs (mustaches, top hats, tiaras, oh my!) that can be traced and trimmed out of the paper of your choosing. We chose to use some sparkly card stock from Michael's Crafts, but any sturdy paper stock will do!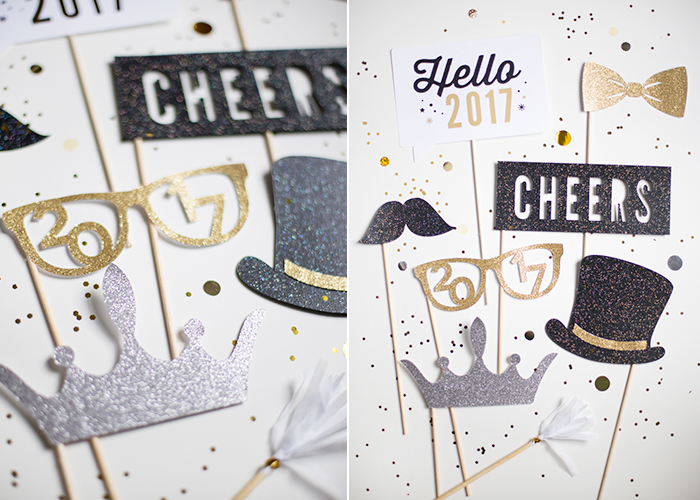 Supplies we used:
• Gold glitter card stock (2) 12×12 sheets – $1.29
• Silver glitter card stock (2) 12×12 sheets – $1.29
• Black glitter card stock (2) 12×12 sheets – $.99
• 1/8″ wooden dowel rods (4) – $.35
• Plain white 65# card stock (2) 8.5×11 – $.49
• Hot glue gun (already had!)
• Exacto knife/scissors
Truthfully I only needed 1 sheet of each card stock listed above, but I always buy an extra in case there are any trimming disasters! I traced each shape on the back of the desired color (the glitter papers are plain on the back) and used an Exacto knife to cut them out. For larger shapes you can definitely use scissors, but for the smaller shapes I would recommend an Exacto!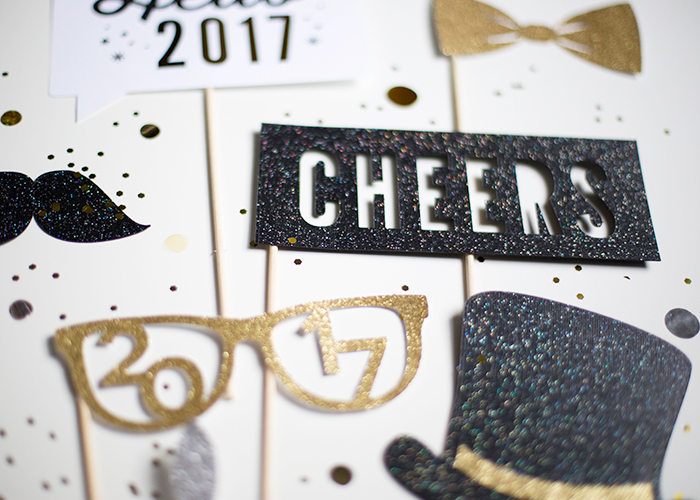 I included several options, some trickier to cut then others, so feel free to skip a couple if they seem a bit too complex. The top hat and champagne glasses require a second piece to be cut so be sure to see the included notes!
After everything has been cut out, take a 9″ piece of dowel and hot glue about an inch of one end to each prop.  I found that adhering to the back right side of the props looked the most natural when being held. If you would like the dowels to be longer be sure to grab a few extra to have enough for the entire set of photo booth props!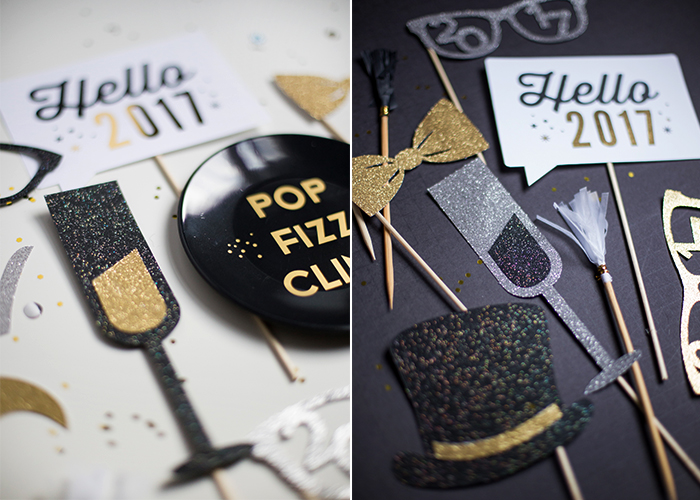 Below you will find a zip containing various files for different printing types. One file contains outlines for all shapes to be traced and trimmed while the other has files to be printed and trimmed if you so choose.
We also threw in a couple bonus files for those hardcore craft-aholics out there! If you have a Cricut machine there are .svg files for you, as well as a separate .jpg for those with a Minc Foil printer looking to add even more sparkle and shine!
Happy crafting … and have a safe and Happy New Year!
NYE Photo Props
Click here to see more free printables or visit the NAPCP store at www.napcp.com/shop!
Save