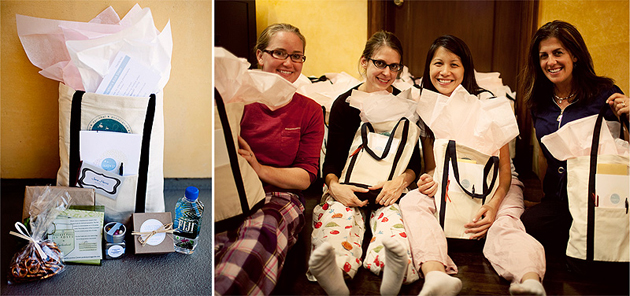 07 Jul

NAPCP Retreat 2010: A Full Recap

On June 20th – 23rd, 2010, NAPCP members gathered together to for our first annual Retreat in Napa. We emerged with a renewed commitment to our craft and forged lifelong friendships with the individuals who attended. This was an experience that celebrated who we are. We laughed, cried, shared, and opened our hearts…

The retreat is still very much a haze to us. We are so humbled by the 50 attendees who flew cross country to join us in Napa. Our speakers were phenomenal, the wine and atmosphere – perfection, and the late night bonding with new & old friends was priceless.

One of our members, Tanya Alexis, writes:

I have never been to any sort of photographer retreat/expo/convention, and I had no idea what to expect. I knew I was looking forward to meeting some faces who had been a large part of helping me shape my business during my first year, but other than that I was curious to see how things would end up. The retreat exceeding my expectations above any beyond anything I could have ever imagined. It was the perfect combination of fun and information. I have already starting implementing information that I learned during my days in Napa. Alice & Kyu are amazing. They put their heart and soul into this retreat, and it showed in spades! The attention to detail and to those at the retreat was above and beyond anything you would expect.
I know that I have forged life long friendships with people that I only met in person for a couple of days. I cannot think of another situation where you would be able to get so close to people in such a short period of time. A huge thank you to everyone who helped make this retreat possible. I am very proud to have been apart of the first NAPCP Retreat 🙂
Thank you, Tanya…. 🙂

On our first night, Whitney, Sara, Tanya and I stayed up until 2 am or so putting together our member swag bags.  Swag stands for "Stuff We All Get." Every time you attend a workshop, convention or event, Swag is usually given as a thank you at the end. For our first retreat, we wanted to make the entire experience extremely memorable – starting with our gift bags.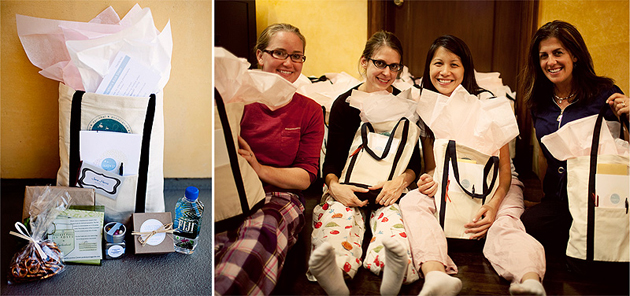 Each contained hundreds of dollars in gifts from our sponsors. Sponsors included:  Album Crafters, Custom Photography Blogs, Easy as Pie Pricing, Big Folio, J Lee Albums, Bay Photo
A special thanks to our contributors who provided goodness to our Swag Bags and over $5,000 in raffle prizes for our attendees:  Simply Canvas, Adorama, Design Aglow, Kubota Action Tools, Asuka Books, Skye Hardwick's Workshop Workbook, Pocket full of Poses, Kelly Moore Bags, Brand Camp, Totally Rad Actions, Studio Cloud, Luxcetera, BorrowLenses, Photographer Cafe, Loktah, Jolie Wraps, Buckeye Photo, Designer's Concept, Photographers Kick Start & Simply Edits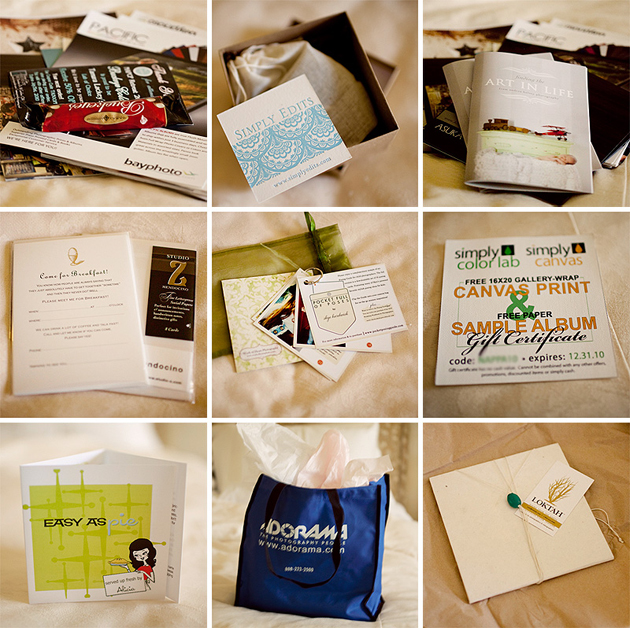 And one of our top sponsors, my good friend Zida of Studio-Z, created the most gorgeous letterpressed programs, table cards, stationary, and business cards we've ever seen. The below photos honestly do not do the pieces justice. You really need to hold them to appreciate them….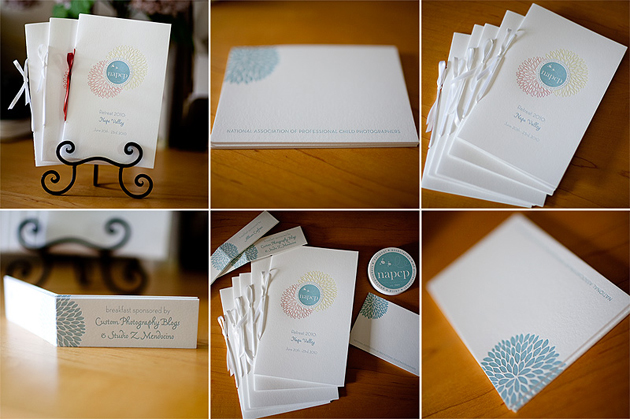 My absolute favorite part of the experience = the connections that were made.  Online friends who were able to meet for the first time, share a glass of wine, and really bond….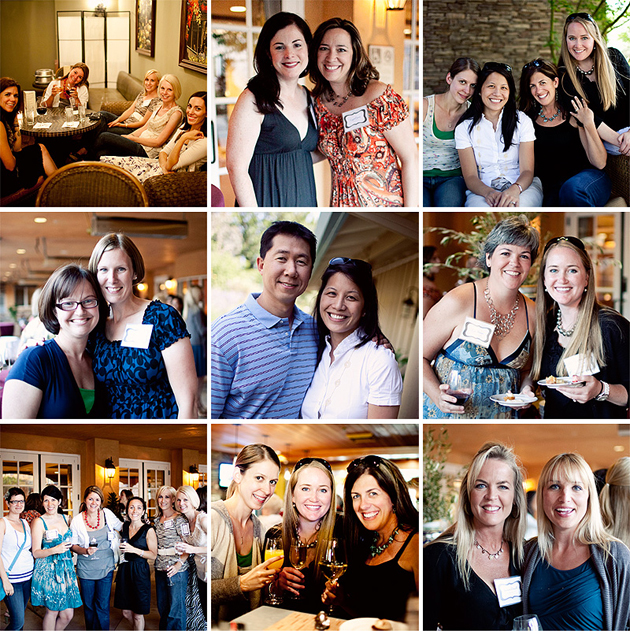 Our keynote speaker, Tamara Lackey, discussed the importance of Photographer-Life Balance. This is a constant struggle for many working child photographers.  How do we balance work, family, and living our own lives to its fullest?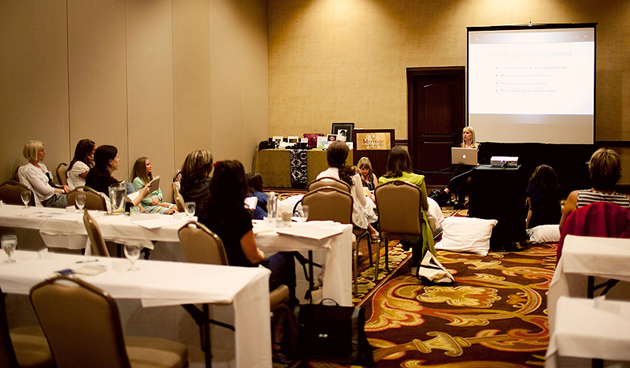 Along with being an incredibly gifted speaker, photographer, all-around awesome person, Tamara is also a pretty brilliant group therapist.  Lots of digging deep inside, prioritizing and, real & practical tips for balancing it all.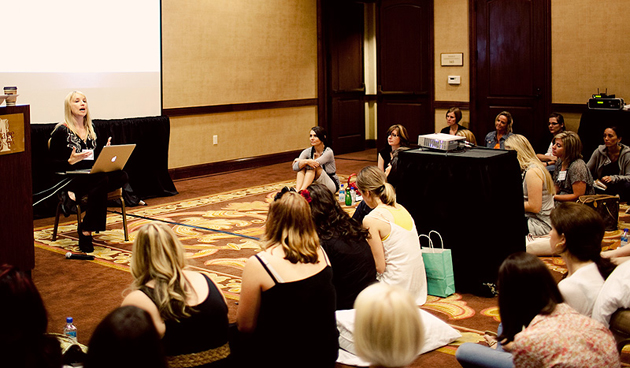 We also welcomed Dane Sanders to the floor – the celebrated author of Fast Track Photographer, a new and innovative approach that allows photographers to get clear on the gifts and talents "you" have as an individual.  Dane shares with the group:  "Start with your most powerful resource: You."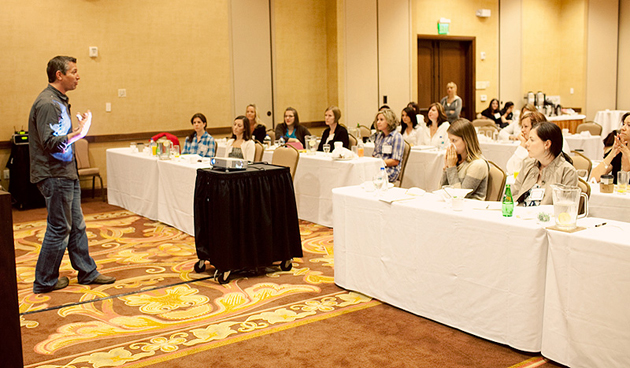 We were so blessed to have such phenomenal speakers at our first Retreat.  Dane absolutely mesmerized the group.  Fans lined up for their autographed copy of Fast Track Photographer.
We also were able to get the inside scoop of his newly announced Fast track workshops! This workshop is a collaborative experiment aimed to do nothing short of transforming photographer's businesses into exactly what they were made to do as a creative.  It promises to be intense, challenging, rich and relational.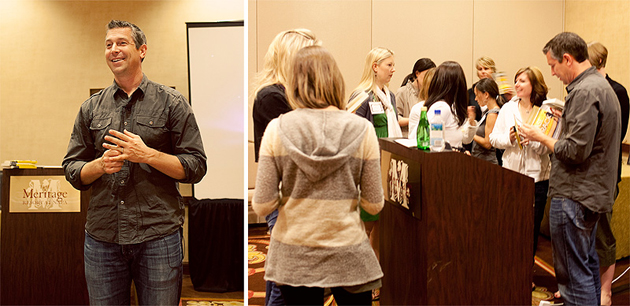 Fellow attendees stepped up to lead group discussions:
Lisa Thomas: "What is Community?"
Jane Johnson: "Photoshop Tips & Workflow
Brandy Anderson: "Fusion Videos"
Andrea Halsey: "The Client Experience"
They all did an amazing, amazing job….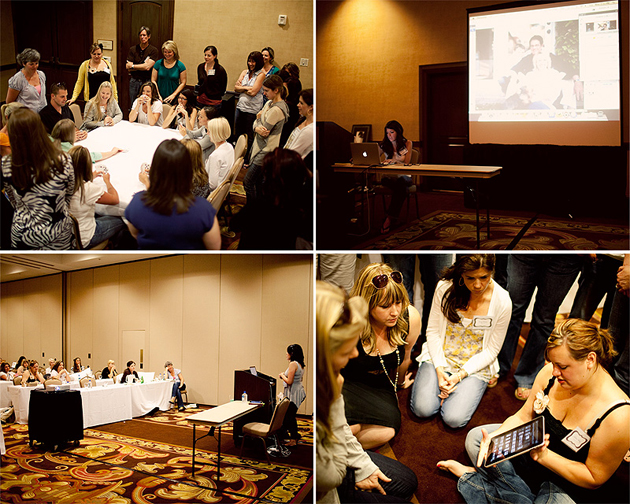 Afterwards, the group ventured outside at the Resort's private vineyard and joined 15 child models from San Francisco for our Shooting Clinic.
Armed with our gear 🙂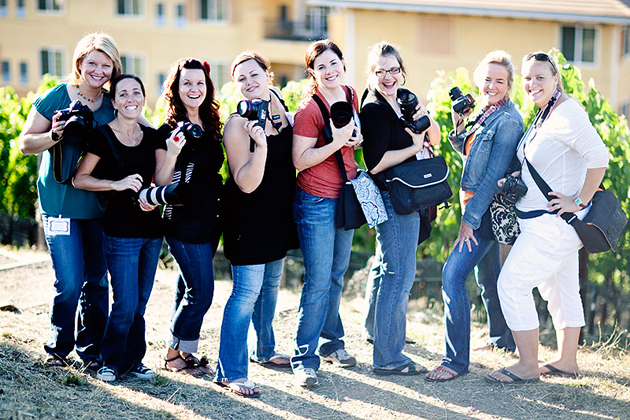 Dane is providing the group fill light with his 17″ macbook pro. Awesome.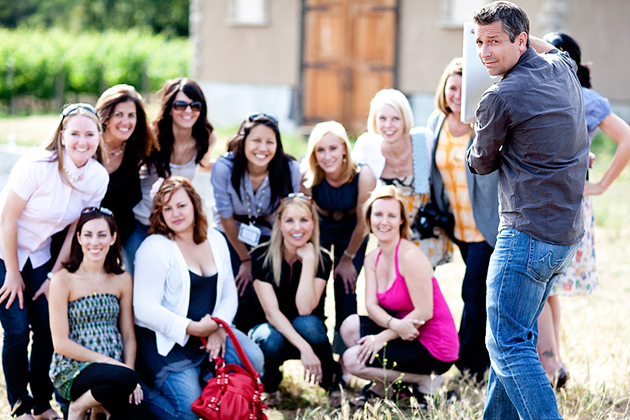 The shooting clinic was a huge success! The challenge: finding beautiful light, connecting with our subjects in such short amounts of time, and producing stunning images.
All without any instruction….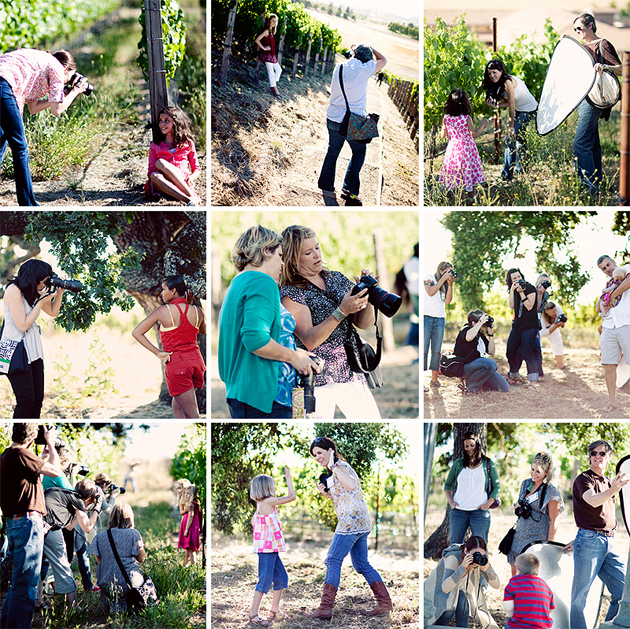 Those that remained til the very end. sunset after our shooting clinic… What a great group.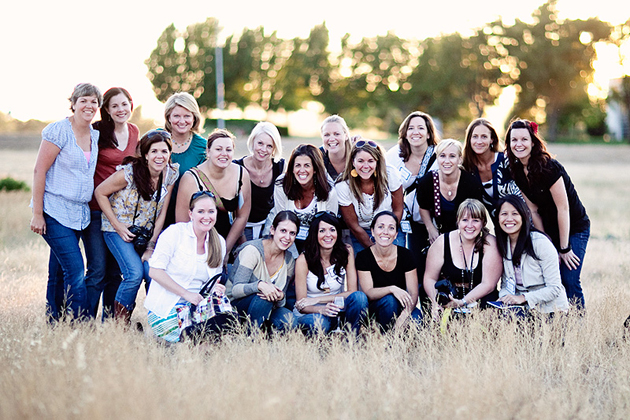 The next day, we set out for our wine tasting experience! So fun singing "Hey Soul Sister" on the bus with everyone.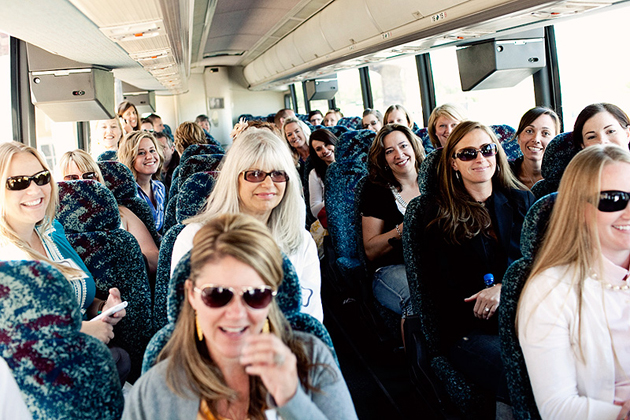 Merryvale had a lovely spread prepared for our first wine tasting experience… The wine-cheese pairing was amazing.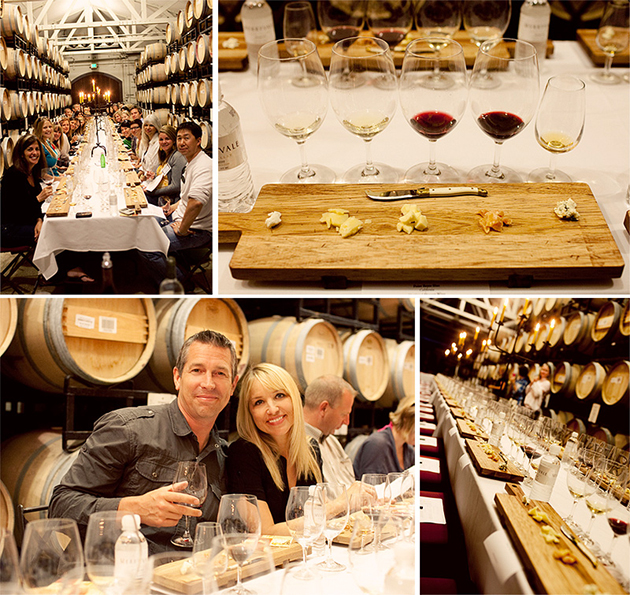 At Judd's Hill, we were fortunate to have been able to sit in on Dane's askdane.com with Tamara as his guest.  Tamara recapped her presentation discussing Life and Work Balance.  She shared some great tips with Dane and his viewers on being able to single-task (not multi-task) and structure your day to get more accomplished.  Their podcast is available online here.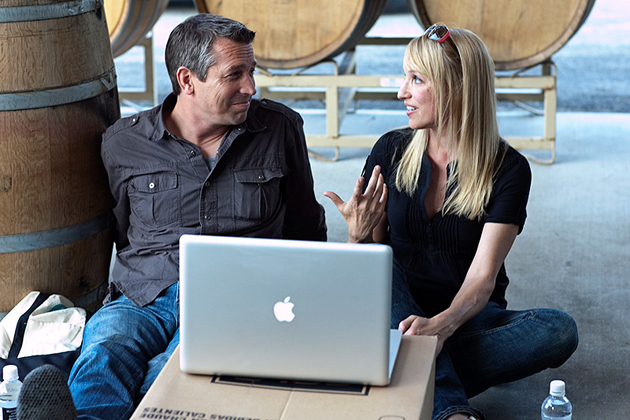 In the end, we all left with 45 new friends, a lot of inspiration, and a better sense of who we are… (not to mention some good sun and some good wine)  We are so thankful to be part of such a warm and soulful community of child photographers.  Crystal James writes, "I left the retreat with renewed enthusiasm in my business and personal life, as well as a long list of trusted advisers and friends."
Thank you, from the bottom of NAPCP's hearts, to all who attended.  We can't wait until next year!!