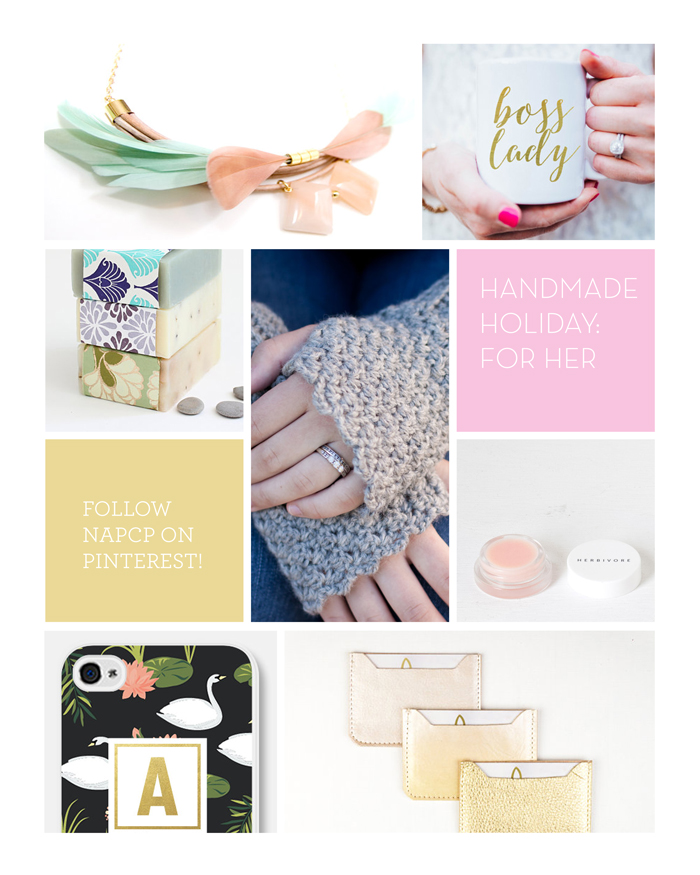 16 Dec

NAPCP's Handmade Holiday Gift Guide: For Her

We all have that friend or family member … the girl who has everything. Can't figure out what to get her this year? We've rounded up a few of our favorite gifts for the trendiest girl on your list. (We won't tell if you snag a few of these items for yourself, too!)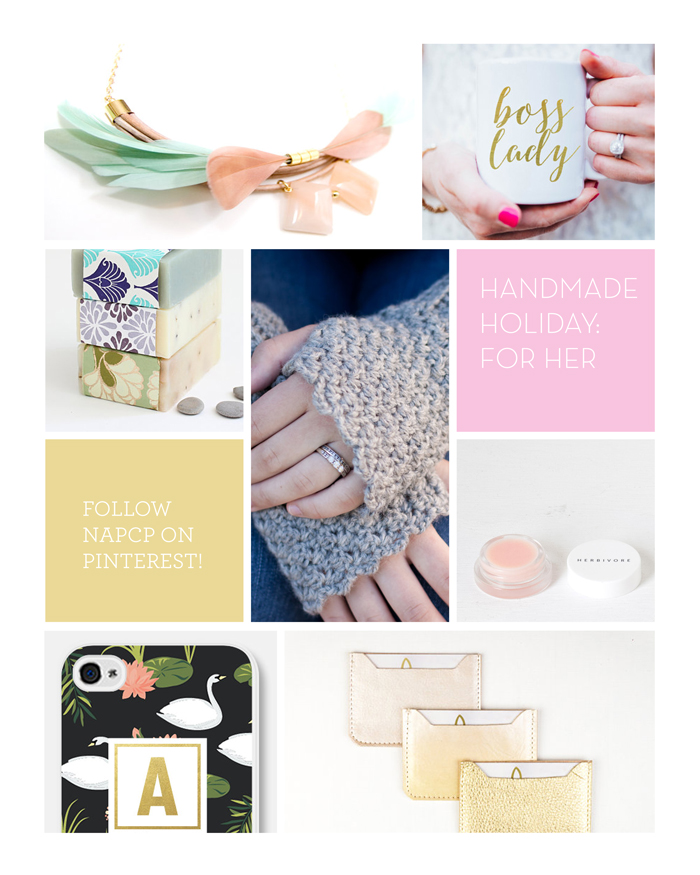 Statement Flower Bloom Feather Necklace | Noemiah: The hues featured on this necklace couldn't be more perfect for the upcoming NAPCP Retreat! Elegant and soft, and it ships in pretty gift wrapping, too. Peruse Noémie Vaillancourt's shop in full for more garden-inspired pieces.
Gold Boss Lady Coffee Mug | Sweet Water Decor: A rarity in the world of mug and tumbler making, owner/designer Melissa sublimates Sweet Water Decor's mugs herself. We'd love to see this mug on the desks of our members in future office tours!
Handmade Soap Set | Little Flower Soap Co.: A fabulous gift for anyone, these natural soaps are made in Michigan, using only completely natural colorants such as French pink clay. Select from seasonal scents such as Comfrey Spearmint, and Pink Grapefruit.
Fingerless Gloves | Meredith Avenue: Crocheted from 100% wool of the softest variety, we love Meredith Avenue's nod to vintage style with these cozy fingerless gloves. NAPCP loves supporting small business owners who are also mothers, and the attention to detail given to these hand-warmers is unparalleled!
Coco Rose Lip Conditioner | Herbivore Botanicals: Cult favorite Herbivore Botanicals hits another product out of the park with this nourishing lip treatment, made from Bulgarian Rose Absolute and organic virgin coconut oil. A NAPCP team favorite!
Floral Monogram iPhone Case | Field Trip: Studio created and made in Vancouver, Canada, this iPhone case is swathed classic yet perfectly current swans. Select a monogram for a personal touch.
Leather Card Case | Gift Shop Brooklyn: Perfect for holding the business cards of NAPCP members. Or, let a beautiful, shimmering case hold your ID and credit card without adding any bulk to an evening clutch, for a night out. Handmade in Brooklyn, New York.

Follow NAPCP on Pinterest for these, and other carefully selected, gift ideas!
Visit the first in our Handmade Holiday Gift Guide — For the Kids!, here.