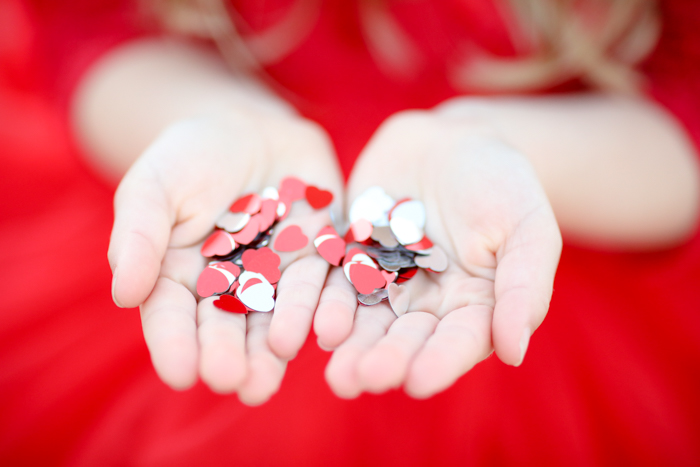 09 Feb

14 Valentine's Day Pictures to Take

I can hardly believe it's already February! I'm super excited to be on the blog today with 14 ideas for Valentine's Day pictures! I was thrilled to take on this challenge because I think this will be great inspiration for photographers and parents alike. In planning this project, I really spent some time thinking about what direction I wanted to go with this. There are so many cute themed ideas for this sweet holiday and I decided I definitely want to share a few of those with you but I want to take this a little further! Beyond the pink and red, the hearts, and the cupids, I hope there is a bigger message on Valentine's Day. In this list, I'm going to challenge you to capture THE CUTE, THE MEMORABLE, and THE MEANINGFUL.
THE CUTE
#1 Hearts Everywhere!
We're going to start with the cute ideas! I love a simple bag of heart confetti (available just about anywhere, unless you live in the middle of the desert like me – and then you'll have to order on Amazon!). This is perfect for a cute detail shot or even a confetti toss!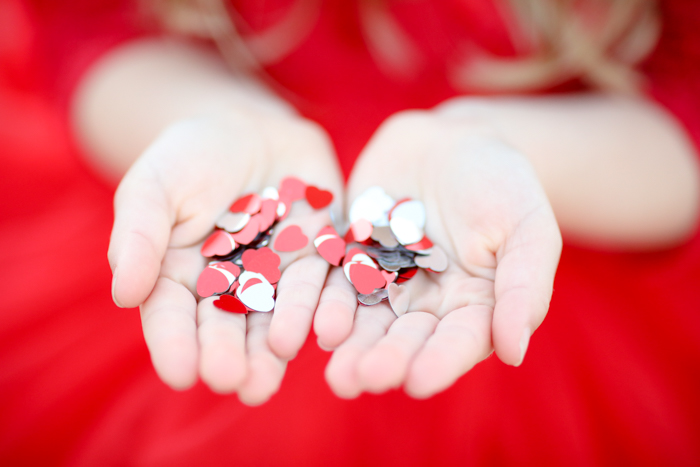 #2 Blow a Kiss
Now that you've got that cute heart confetti, might as well blow a kiss!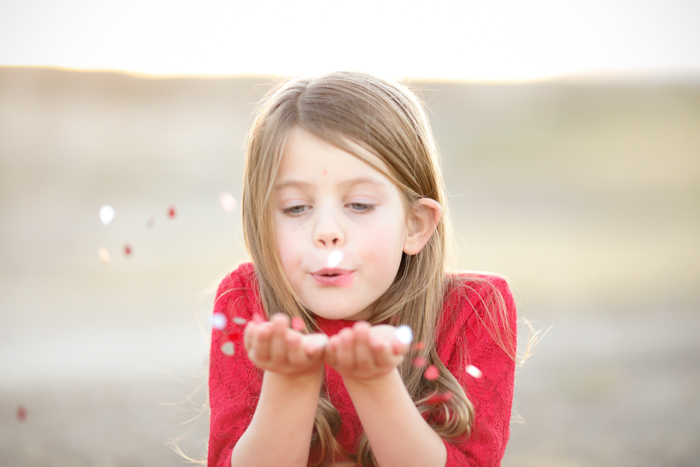 #3 The Big Red Balloon!
Nothing says Valentine's Day like RED and I think these oversized balloons make that statement loud and clear. This is a fun way to keep the kids moving while still capturing your Valentine's Day message!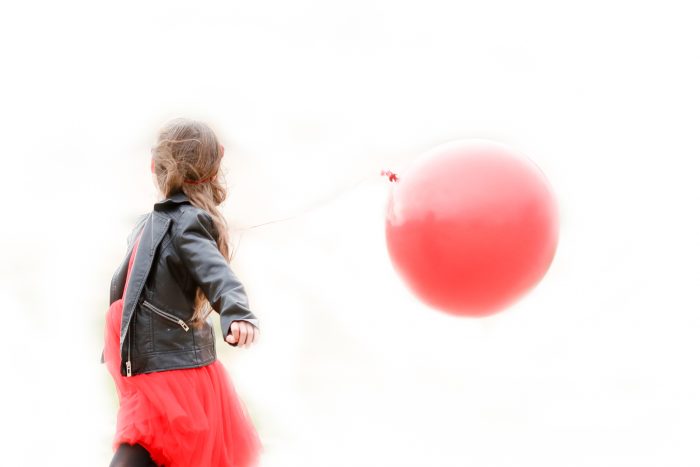 #4 Tattoo
I'm a "boy mom" and there is no way my boys are going to have anything to do with hearts, unless … I make it a tattoo and ask them to show off their muscles! These cute little heart tattoos (also from Amazon) are perfect for my fellow boy moms who want a cute Valentine's picture of their sweet little men!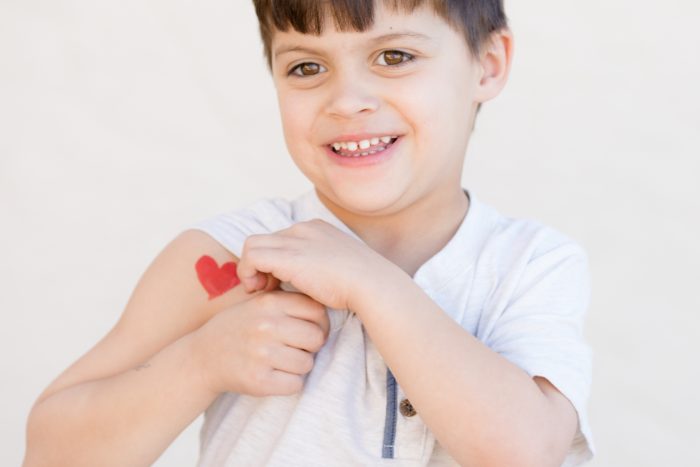 #5 Props
Do you have a little one with personality to the max? These simple cardboard props are the perfect accessory for some adorable Valentine's pictures (and a whole lot of fun and laughter too)!
#6 A Picture and a Gift!
Turn your cute pictures into your child's Valentine's Day card with a mustache prop and a cleverly worded greeting: "I must-ache you a question. Will you be my Valentine?" Friends will be sure to love the personal touch!
THE MEMORABLE
#7 Card Making
Whether you go with a personalized picture valentine or store bought, this is a great time to document the moments of your life. This idea is still focused on the cute themes of Valentine's day but starts to get into the more memorable aspects of the holiday as you start capturing the real everyday love around you. When it's time for your kids to prepare valentines for friends, family, or classmates, document that process! Snap a shot of their little hand writing or decorating or assembling the valentine. Take a picture of the finished product. Maybe even a picture of them handing the valentine to a friend? Do they need help? Hop in the picture with them and make it all the more special!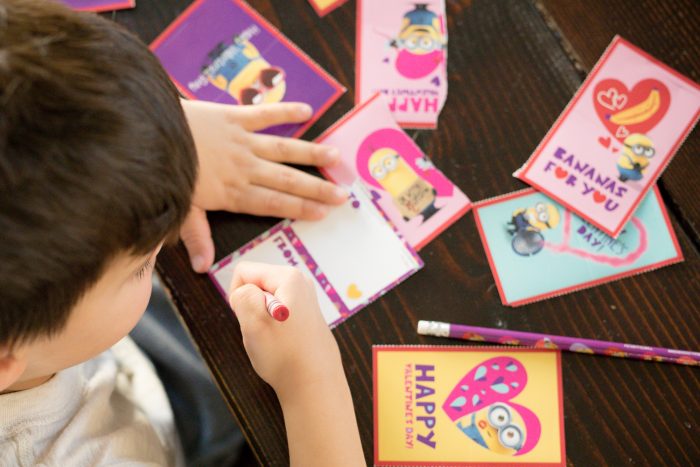 #8 Story Time
Photographers could easily incorporate a sweet Valentine's Day book into a session. Parents, plan for a special story time and plan ahead for a photo op! If you need inspiration, my favorite valentine themed book is "Love and Kisses"!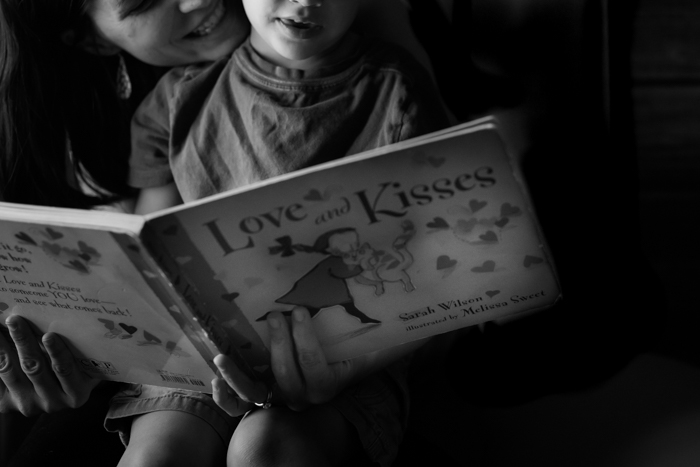 #9 Special Snack
We all love all the cute treats surrounding holidays. Why not turn them into a memorable picture-worthy moment? I loved this heart cookie and mug (both from Starbucks) and they were perfect for a memorable Valentine's Day snack with one of my loves. Photographers could bring along a heart mug or cookie to a session for another way to create fun moments and connection with your clients.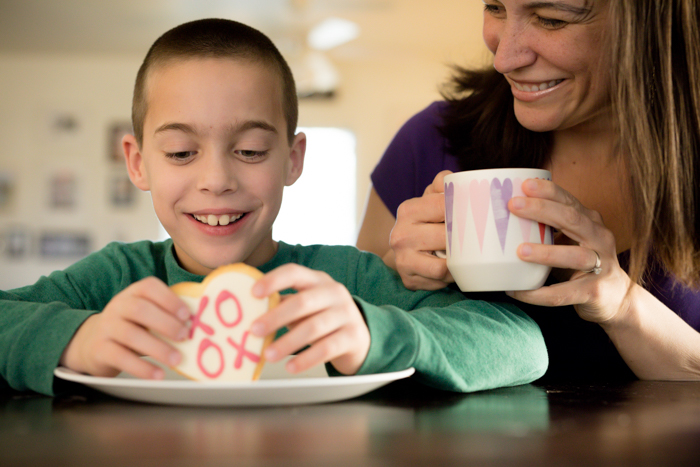 #10 Just Be!
Plan a special date with your valentine and make sure to grab a selfie or hand the camera to a friend!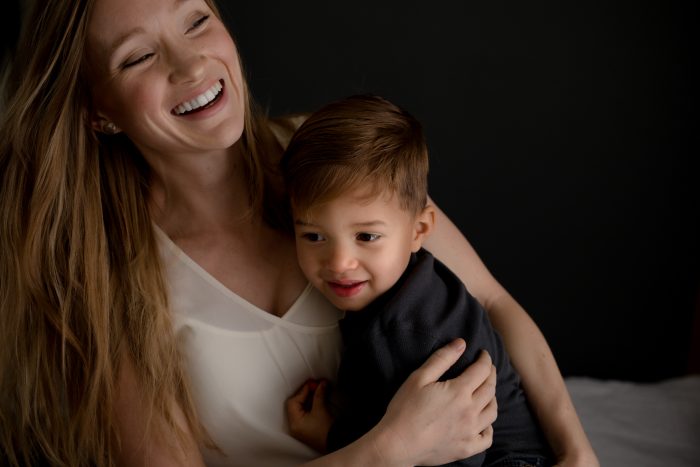 THE MEANINGFUL
#11 Siblings
I definitely kept a little bit of the "cute" in this one but I couldn't resist! Valentine's Day is the perfect time to get a sweet shot as proof that they actually do love each other sometimes. Fun themed props might just be the way to bring out their love for each other!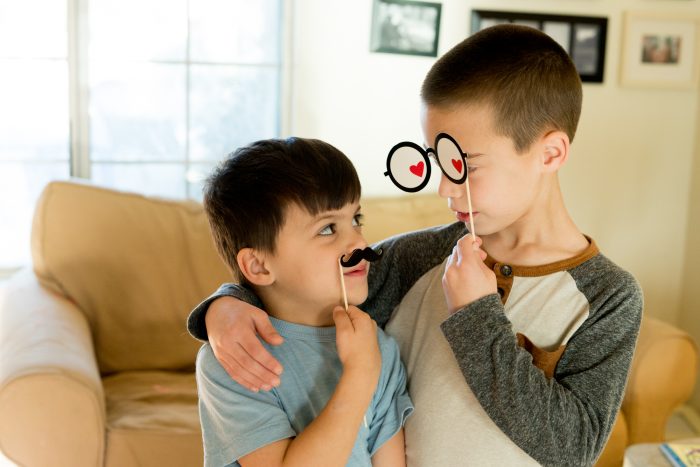 #12 An Excuse for Glamour!
If you have a little girl who loves getting dressed up and all things glamorous, Valentine's day can be the perfect time to turn it into the gift of her own special photo session. An extra special red dress is the finishing touch. You know she is beautiful inside and out … let her see herself the way you always have!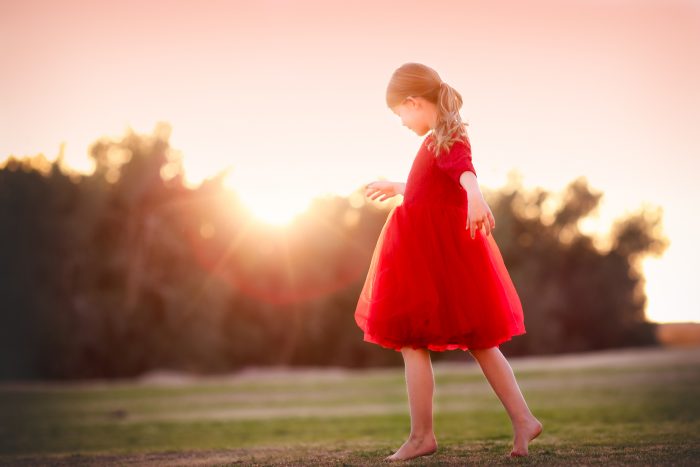 #13 Hand Holding
Find ways to capture the love in a family in big ways and little ways. Sometimes the little details like hand holding are what tugs at your heart and speaks volumes about the amazing love you can barely put into words.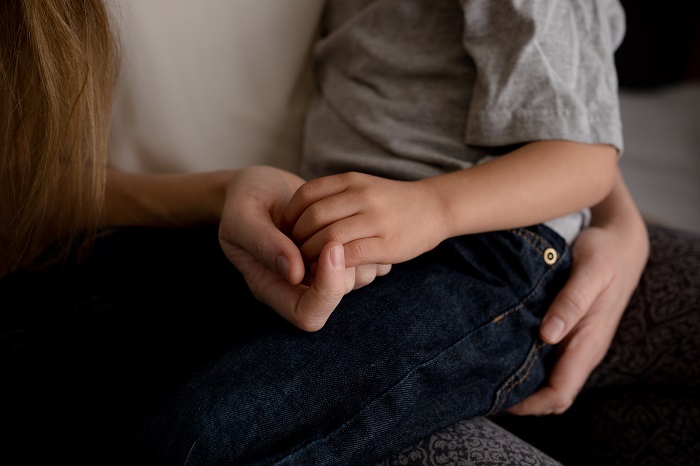 #14 Snuggling
Last but not least, capture a sweet hug or snuggle. I love to focus in close as if the picture is of the hug itself and not the people. Nothing tells the story of love like a sweet snuggle.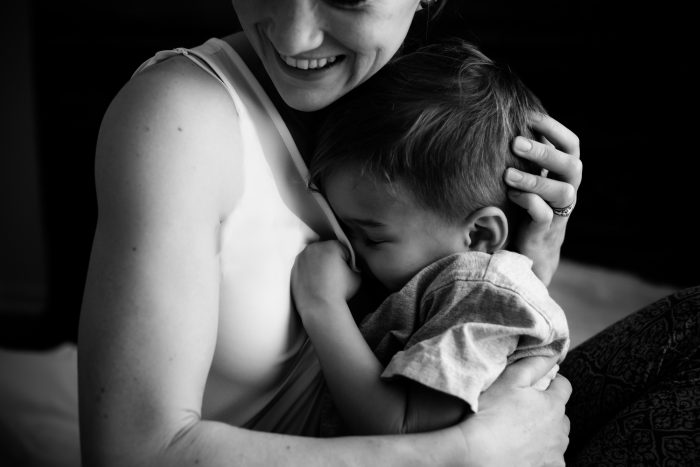 After you take some cute shots with hearts and balloons and lots and lots of red, let Valentine's day serve as your reminder to notice, capture, and appreciate the real, every day love all around you. Don't forget to share your images with NAPCP by using #napcp!

Southern California photographer Marisa McDonald loves to make beautiful images that reflect your unique personality! It is her goal that your photography session will capture you and your loved ones in this unique moment in time. She is also passionate about helping her clients display these beautiful photographic memories in their homes so they do not languish on a CD in the junk drawer for years to come!
Save
Save