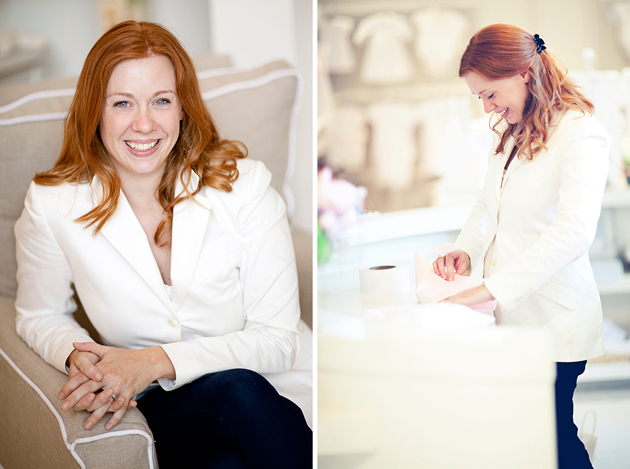 25 Jul

Guest Contributor: Chaffee Braithwaite of b braithwaite

We are so delighted to introduce one of our absolute favorite baby boutiques and the amazing lady behind it.  b braithwaite was started five years ago by Chaffee Braithwaite and her mom – renowned interior designer Nancy Braithwaite – in the hopes of bringing a new shopping experience for expecting parents to Atlanta.  They believe that the experience is just as important as the service and product selection. Expecting parents are excited and nervous, and they aim to create a calming environment where they can personally guide them through their purchases and registries.
When photographing my little subject's nurseries, I often look for the same clean, sophisticated design that I see inside of Chaffee's store.  Every single detail – from the gorgeous packaging, to the light-filled, modern aesthetics, to the full selection of ultra-chic baby products – make shopping, registering, and browsing such a joy there.
Chaffee and her mom have redefined chic nursery design and created the ultimate one-stop destination for clients who want a boutique shopping experience with hands on customer service.  We are so thrilled to have Chaffee join us…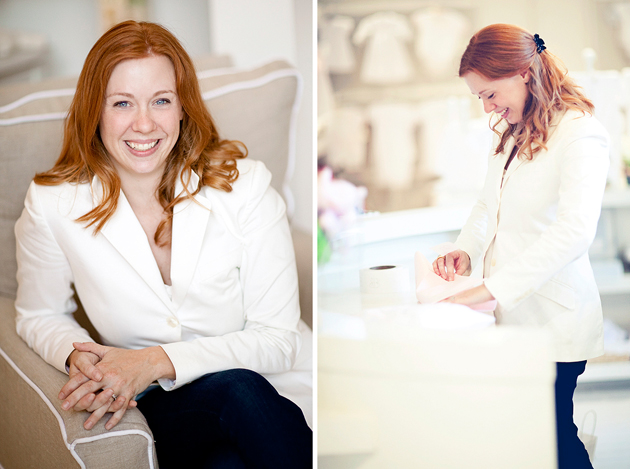 You have a gorgeous storefront.  Tell us about what was involved in designing your space and all of the little details.
My mom, Nancy Braithwaite, is a renowned interior designer- so she is fully responsible for the beautiful store design. When it came to designing the space, she had a vision of an all white space. Inside she created several individual rooms, which she continuously creates new vignettes. We both get bored easily and enjoy changing the displays. My mom loves big visuals and we thought the bunny and bear topiaries would be a charming way to welcome our clients to the store. We bought small stuffed animals that local artists recreated in small clay sculptures. We tweaked their positions in the smaller form. They then created the larger versions out of fiberglass and hand covered them in the topiary.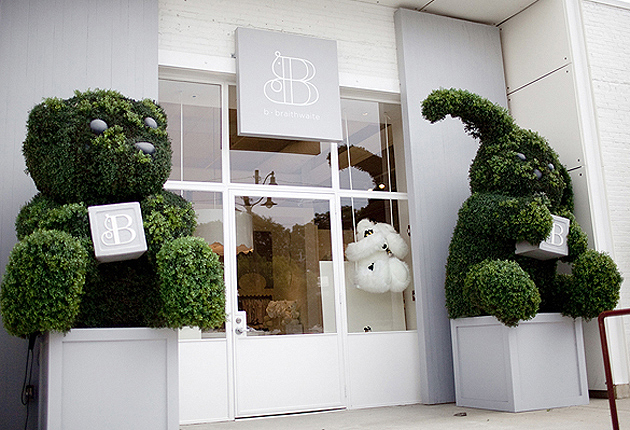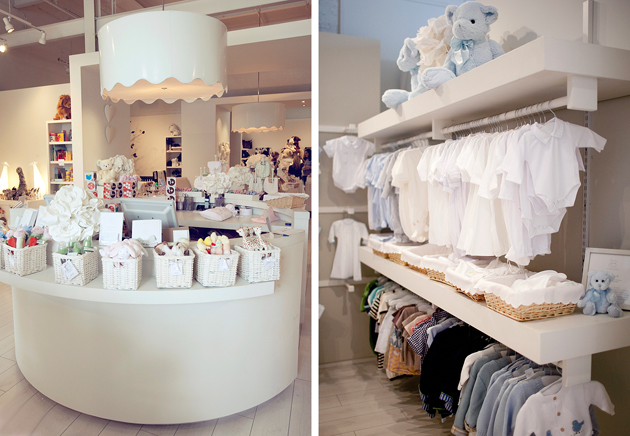 What are some of the names that you carry?
Stokke, Bloom, Serena & Lily, Kissy Kissy, Rachel Riley, Angel Dear, Monte Design, Orbit Baby, Graco, Uppa Baby, Storksak, Boon, Nourish and the list goes on and on!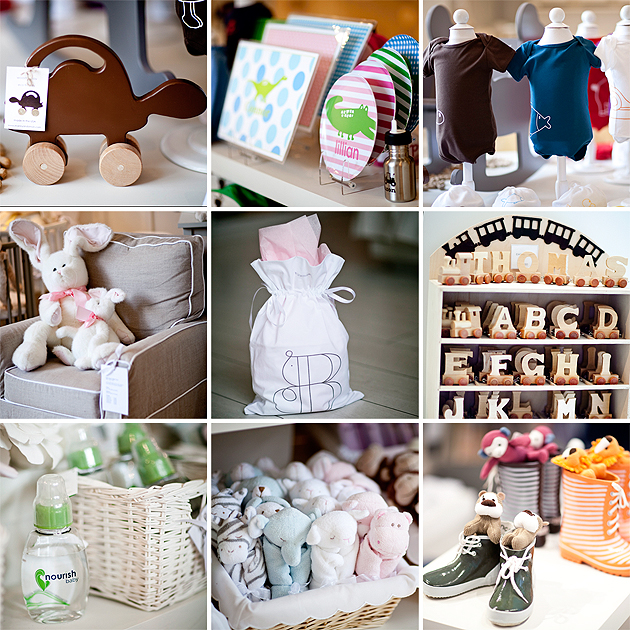 What products are your clients gravitating most towards these days?
Strollers are a very important decision for our clients. Strollers today are not what our parents used! They are multi-functional, and offer lots of options. We spend a lot of time walking them through their options and helping them select a stroller that suits their needs.
They are also looking for special and unique gifts. We work hard to bring items to the store that are otherwise not easily found- beautiful mobiles from France, musical animals from Germany, even customized gifts we create in store.
Which toys are the most popular amongst your babies and children?
There are several top sellers depending on the age. Sophie the Giraffe teether, which has been around for years, is one of our best-sellers for the infant category.
The Bilibo is a great seller- I love this product because it's all about a child's imagination- parents look at the toy and always wonder what it does; but if you hand it to a child, they are off and thinking of new things to do with it- it's the old concept of a cardboard box. Perfect for children age 2-7.
For boys, I love the Playsam collection– great as a gift or they can be used for decoration.
And one of my favorites are the plush animal houses. All the animals are removable and there are lots of choices. Kids of all ages, and adults, love them!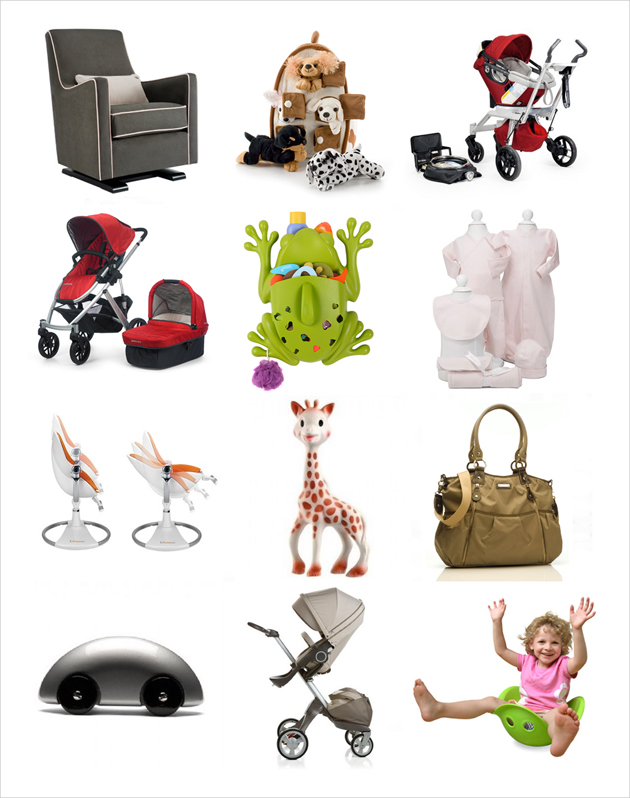 What advice can you give parents when decorating their new baby's nursery?
Enjoy the process and remember there are no rules! Parents are so overwhelmed with all the choices and decisions to make- and it can sometimes take away from the excitement of the actual pregnancy. This is a wonderful time in their lives. They should stick with their instincts, and not let others over-influence their choices. I also suggest investing in pieces that will last a while. For instance, always buy a crib that converts into a toddler bed. Buy a great dresser that you can use forever- you can put a tray or a changing pad right on top.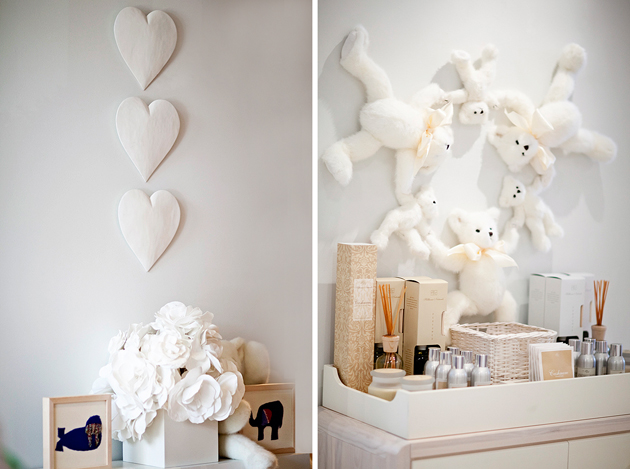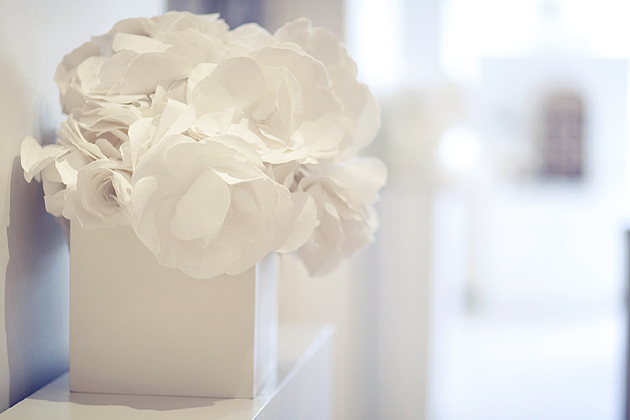 We'll be visiting with Chaffee and b braithwaite again in the near future to find out more about their fabulous finds and sophisticated philosophy on nursery decor.  Meanwhile, stay tuned later this week!  You may just find a sweet giveaway from this beautiful boutique!
To find out more about b braithwaite, here's how you can find them:
online:  http://www.bbraithwaite.com
facebook:  http://www.facebook.com/pages/Atlanta-GA/b-braithwaite/82119979784?ref=search
twitter:  http://twitter.com/babybraithwaite