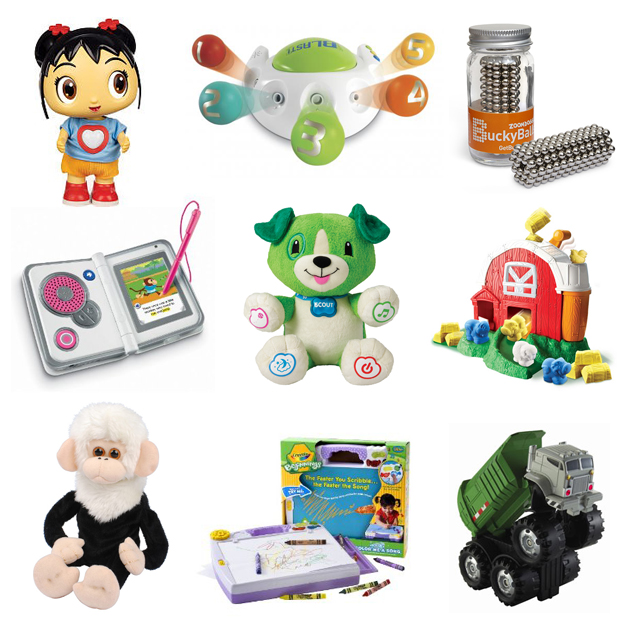 09 Sep

Happy Fridays: Cool Toys for Fall 2010

So for the past week I've been scouring the internet for the best toys of 2010. Some have already been top sellers and some haven't even hit the shelves. I know it's only September, but it is never too early to be in that Christmas state of mind. With the way toys sell out today, you may need to buy one now just to be safe!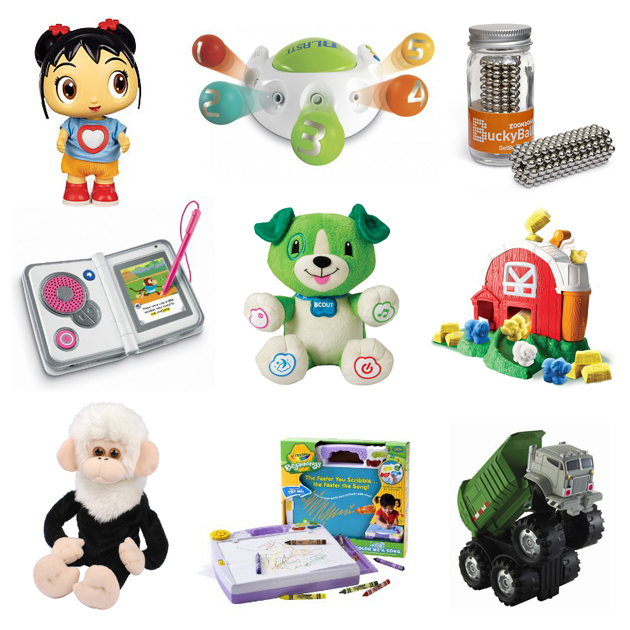 From left to right and top to bottom:
1) Ni Hao Kai Lan  doll – Hold Kai Lan's hands and watch her head rock back and forth and her heart change colors as she thinks about what emotion she is feeling! Let her hands go, and Kai Lan will play out one of 6 different emotions, colors & eye movements. Kai Lan's arms can move up to her heart and up to the sky as she asks the child to hug her, dance with her and more!
2) Hyper Blast – Hyper Blast is a numbers game that gives players a physical and mental workout.
3) Bucky Balls – I have seen these everywhere recently, and have to admit they are quite addicting. Each set contains 216 powerful rare earth magnets that can be shaped, molded, torn apart and snapped together in UNLIMITED WAYS.
4) iXL Learning System – The iXL Learning System is a learning and entertainment center for preschool kids. The iXL Learning System comes with six applications: Story Book, Game Player, Note Book, Art Studio, Music Player and Photo Album.
5) My Pal Scout (Leap Frog) – Give learning a personal touch with this soft, cuddly green puppy named Scout! Scout connects to the computer so you can customize the music and personalize the learning with your child's name and favorite food, animal and color.
6) Moon Dough – Much like their great Moon Sand, Moon Dough is a non-drying, non-stick, hypoallergenic play substance that will provide endless hours of fun. Moon Dough is reportedly marshmallow-like, but it isn't sticky and doesn't leave any stains, and it never dries out.
7) Dave the Funky Monkey – Dave the Funky Monkey has been designed to interact with people in several different ways, displaying a number of individual mannerisms. For example, if someone shouts at Dave the Monkey, you will make him sad. He is brand new and doesn't have a release date yet, but a lot of hype has already been built up about this toy.
8 ) Crayola Beginnings Color Me a Song – Helps build toddlers' creativity, confidence and independence through creative experiences. Helps develop fine and gross motor skills. Allows toddler to create original music with their scribbles. Music will change based on speed of coloring, the faster you scribble .. the faster the song.
9) Stinky the Garbage Truck – All boys love garbage trucks, it's a fact of life. And now they can play with their own: Stinky the Garbage Truck! Stinky is a real working garbage truck that boys can drive around, load and unload. But Stinky the Garbage Truck also talks and tells jokes, eats, sings, and even has a few fun surprises that kids love.
And the toy that I am most excited about for 2010….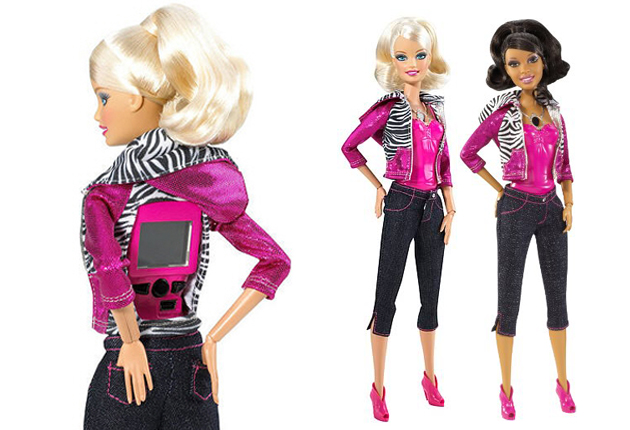 This is Video Barbie Girl, the newest in a long line of Barbie toys from Mattel. I have to admit when I saw this at first I didn't think it was real. The idea seems kind of crazy, but is actually pretty cool for kids. The doll features a video camera built directly into Barbie's necklace with a LCD video screen on her back, so you can record and view everything that Barbie's seen and experienced. You can record video and then watch an immediate replay with the LCD screen on her back. Or you can plug a USB cable into Barbie herself and view your video masterpiece on the big screen like a TV or computer. Record videos up to 30 minutes long and even edit videos (add music and sound effects) on Barbie.com. The Barbie Video Girl Doll costs around $50 and became available in July 2010.
This new Barbie is nothing like the Barbies I remember. I felt a little nostalgic when I saw it though!
So that's the list! Hope everyone saw a toy or two they know their kids would love. I am amazed these days with the innovations in the toy industry. So many types of creative outlets for children of all ages. Stay tuned next week for a brand new Happy Fridays post!