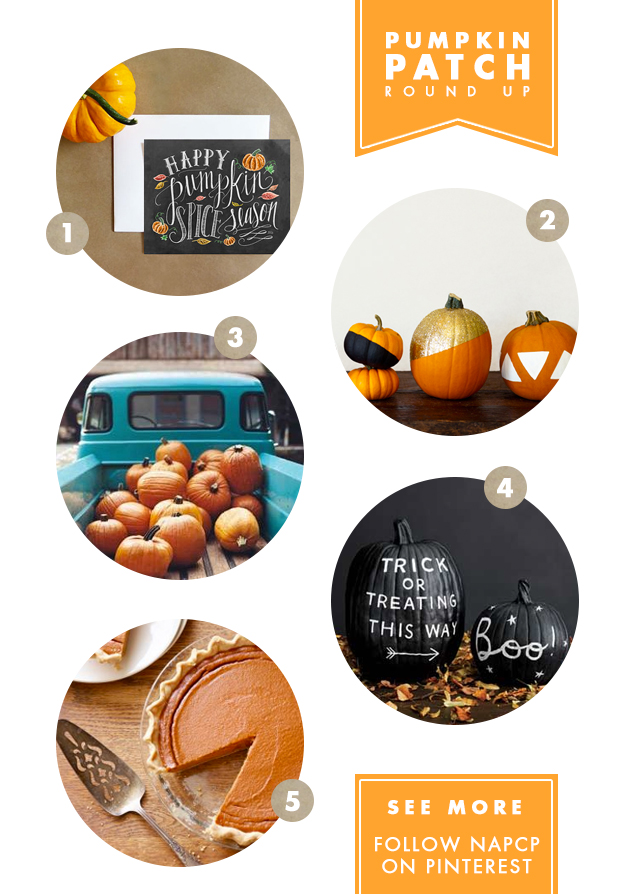 10 Oct

Happy Fridays: Pumpkin Patch Round Up!

With the weather getting chillier, the days getting shorter, and the re-emergence of the elusive Pumpkin Spice Latte, we can only say one thing: "October is here!". October means parties, cozy scarves, hot drinks, and – of course – a good old trip to the pumpkin patch with your family. 'Tis the season for Pumpkin Everything and we've got a great round up with some wonderful ideas on how to celebrate this month.



1. We just love these awesome chalkboard cards from Lilly and Val on Etsy. What a great card to send! Mom would be proud.
2. If you have little ones, no-carve pumpkins are just as versatile and fun as carving, and they're a little safer. We love this Painted Pumpkin DIY from Ciera Design Blog! Maybe Glow-in-the-Dark paint?
3. The best part of the season is getting all bundled up in your scarf and taking the family to the pumpkin patch for picking, scarecrow stuffing, and gathering all of those fall decor must-haves. We've found a helpful website that will show you – by State – where the best pumpkin patches are!
4. These Chalkboard Pumpkins are a fun and easy way to decorate your front porch or yard!
5. And if you have a lot of leftover pumpkin, don't forget to make a fabulous Pumpkin Pie. Yum!
* Be sure to follow NAPCP on Pinterest for more Fall and Halloween themed ideas, DIYs, and recipes!!