Dec 10, 2010
Happy Fridays: Fun Holiday Ornaments!
One of my favorite things about this time of year is decorating! Of course there are certainly other holidays to decorate for, but Christmas is the big one! The whole house gets a gorgeous new holiday makeover just for the month of December, and possibly January if you're like me and never want to take it back down 🙂 Christmas decor is also great because a good many of the adornments you can make yourself. And who better to consult for DIY projects then the one and only Martha Stewart! I have assembled some photos of my favorite ornament crafts from her site, along with the instructions on how to make a few. Enjoy!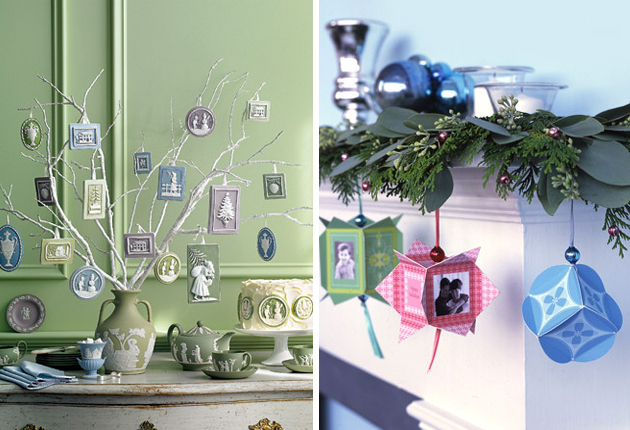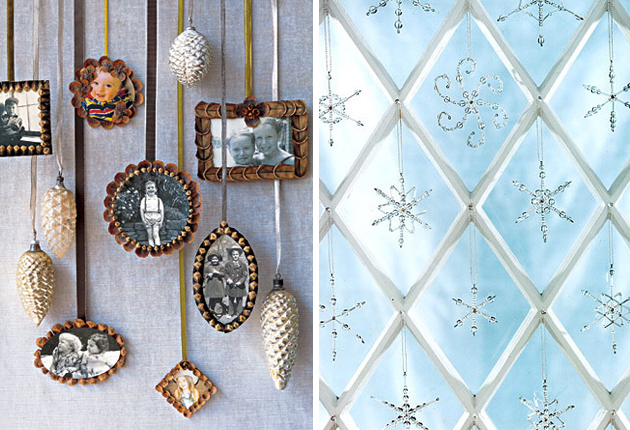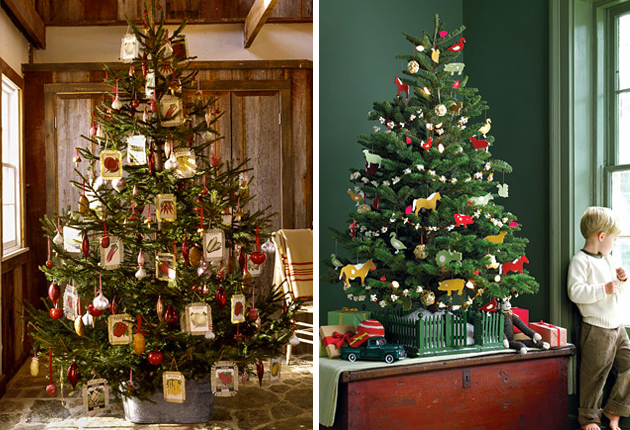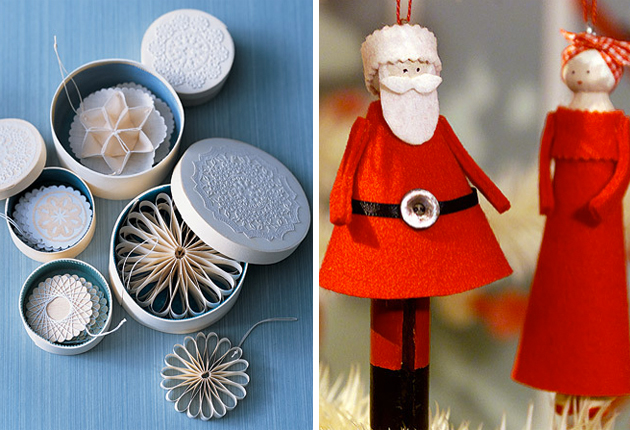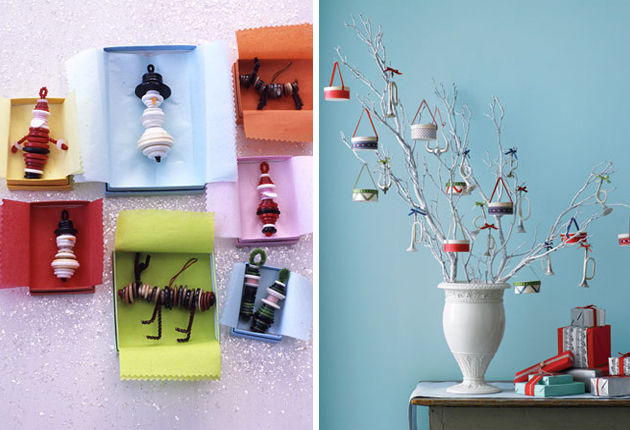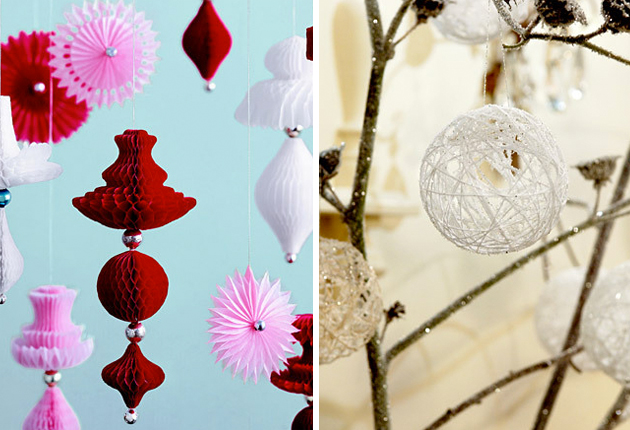 These last two are my absolute favorites! Here are the instructions:
Project 1 (pictured left) -Tools and Materials: pencil, pins, wire, scissors, tape, honey comb paper, tweezers, glue, glass (or weigh of some kind)
1. Trace templates (
download
them here) onto honeycomb paper; position paper so that its lines are perpendicular to dotted lines on templates. Place double-sided tape on 1 side of cutouts. Unfold to make shapes; pinch taped seams closed with tweezers.
Project 2 (pictured right) – Tools and Materials: balloon, ball of cotton string, craft glue, clothespin, dowel, glitter, pin, tweezers, metallic thread, spray mount, evergreen branch
1. Blow up the balloon until it's slightly smaller than your fist. Tie the end of the cotton string to the end of the balloon.
2. Thin the glue slightly with water and brush some on the bottom of the balloon to tack down the string. Begin wrapping the string vertically around the balloon. When 3/4 of the balloon is covered vertically, begin wrapping the string horizontally. To change direction, wrap the string around the tied-off end of the balloon. Continue until 3/4 of the balloon is wrapped horizontally.
3. Cut the string and secure it with a dab of glue. Brush the watered-down craft glue all over the string-covered balloon. Pinch the top of the balloon with a clothespin and thread the clothespin onto a dowel that you've suspended between two points. Allow to dry for several hours.
4. Once dry, pop the balloon with a pin and remove it, using tweezers, if necessary. Add a loop of metallic thread and brush the balloon with glue again. Working over a bowl, spoon on glitter and set aside to dry.
5. Spray the branch with spray mount and spoon on glitter. Allow to dry. Affix the ornament to the branch.
Happy ornament making – and Happy Friday!
napcp contributor
meet Kristen Smith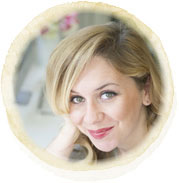 Website: www.napcp.com
Email: kristen@napcp.com
About the Contributor: Kristen Smith is a graphic designer and illustrator residing in Augusta, GA with her fiance Jon-Michael and two fur babies, Desmond and Penelope. She knew from a very young age that she wanted to do something creative and began taking design classes in high school. After receiving a BFA in Graphic Design from the University of Georgia, she worked hard to establish a freelance career and officially launched her own company in 2011. Kristen is an award-winning designer, a celebrated creative for Minted.com, and has been working with NAPCP since it's inception in 2009.  She has a passion for fresh and beautiful designs with subtle feminine hints and a dash of whimsy.   Her passion for design is rivaled only by her passion for animals. She has been an avid animal rights supporter for many years and presently works with a local rescue organization fostering and rehabilitating cats. When she is not designing or sketching, you can find her crafting or in the garden!  She is also an entertainment junkie and watches entirely too many movies and television shows. Kristen looks forward to the extraordinary possibilities each new day brings!
liked this post?
you might also like...
find a photographer
in your area
We are so delighted that you are here. The National Association of Professional Child Photographers is an association whose mission is to promote and support the artistry and integrity of professional child photographers. To accomplish this mission, NAPCP provides the most comprehensive resources for its members, bringing together a community of passionate artists committed to growth in their skills, their artistry, and their businesses.
NAPCP.com (formally pronounced "NAP-C-P") is a place where professional child photographers can come and connect, learn, teach, aspire and grow. It is also a valuable resource for parents who are looking for a professional child photographer in their area, and want to be inspired and educated about our specialized industry.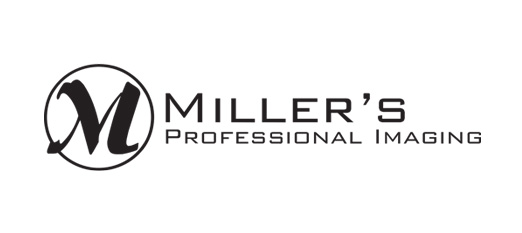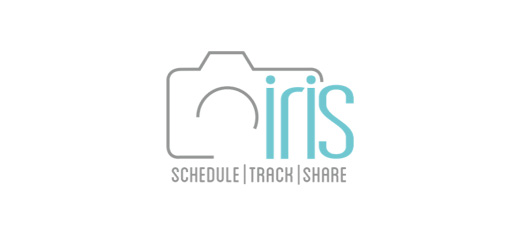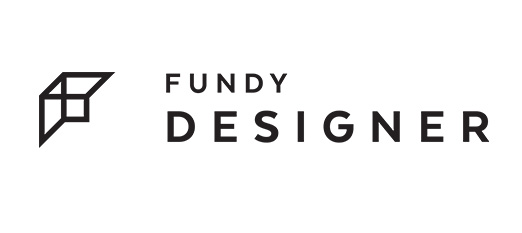 award winning photos
click here to view
latest napcp news
get up-to-date
most recent issue
vendors we love
napcp supporters
helpful articles
napcp resources
follow us on