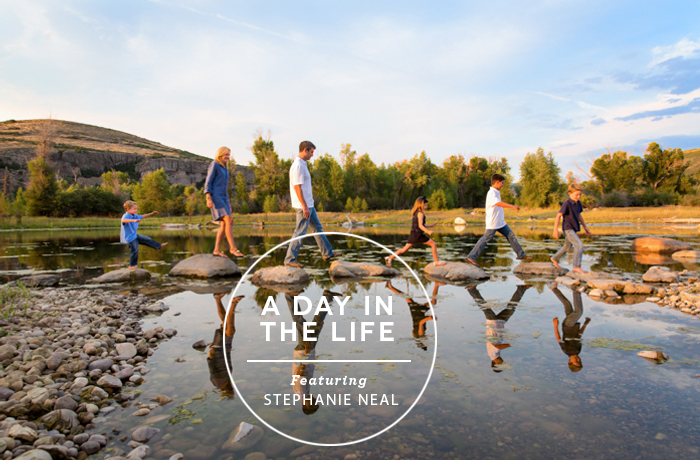 01 Jul

A Day in the Life of Stephanie Neal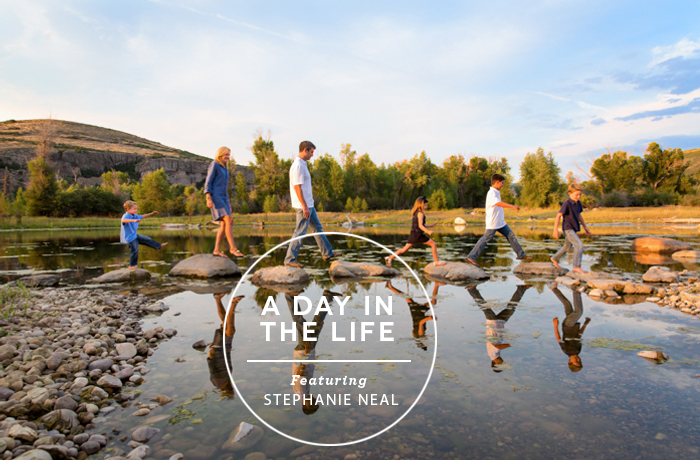 I loved Leigha Graf's introductory A Day in the Life post last month; her priority on putting family first really resonated with me. It's something we all struggle with, and as I was asked to do this during the first week of summer break … it's especially timely now! Trying to juggle my two extremely active boys being home all day and get any work done at all is a challenge. Somehow my motivation goes out the window right around the time the neighborhood pool opens up.
We are enjoying 2 weeks of full-on summer fun before the boys start a variety of camps this summer, so there isn't really a 'typical' day right now. I'm doing a few sessions and a couple of ordering appointments in the next couple of weeks, but will save the real workload (editing) until they're off at camp. Like Leigha, I'm a very low volume photographer. I would rather pour my heart and soul into 4-6 amazing sessions a month (my happy place) than do a "good" job with twice that many. I've gotten better at saying no to jobs that don't seem like a good fit, and have developed a pretty keen sense for identifying my ideal clients. This has kept my averages exceptionally high and my workload manageable. I've gotten closer than ever to finding that often elusive 'balance.'
A Day In The Life of Stephanie Neal
I am lucky enough to have an amazing husband that also makes great coffee (win-win)!! I wake up to a warm pot, and if it's clean, hopefully fill my favorite cup (favorite because it is industrial sized). My kids pretty much know not to talk to me until I've had at least a ½ cup … then they jump on me and start talking over each other and asking questions, and this pretty much doesn't stop until bedtime.


After I'm somewhat awake, the boys and I make a smoothie. I have a favorite recipe, but the boys like to experiment and take turns trying to top one another's concoctions from the day before.


Next it's time for hair-cuts! I've been cutting their hair since they were babies … not because I have any particular talent for it … I just like doing it, and they both have pretty forgiving hair when I make mistakes.


I try and hike every day that the weather is nice. The beauty of the mountains never gets old, and it clears my mind for the day ahead. Sometimes I can talk the kids into going with me … if not, I put on my favorite mix and get a good workout.


Next I settle in to answer emails and return phone calls. Pre-session consultations, ordering appointments, and indoor sessions are the only times that I'm at my studio … pretty much everything else I do at home in a little sitting area in our bedroom. I'd much rather be home in my jammies, with Real Housewives on in the background (don't judge), than sitting in my office all day.


After a quick shower and lunch, I head out to scout locations for a session next week. I take my locations pretty seriously … they are a huge part of my style. I try and mix it up as much as possible, so each session truly feels customized and my images don't get stale. I spend several days each season scoping out new scenery. I'm usually drawn to rustic woods and metals, grasses, trails, water, rocks, and of course mountains … anything that capture's the rustic elegance of the West.


Next up is an ordering appointment at the studio. I use my MacBook Pro, Canon projector, ProSelect software, and Ariana Falerni Wall Display guides to do the selling for me.


I head home for some play time at the pool, football in the backyard, Lego wars, and a baseball game. Sometimes our days feel like back to back triathlons!!


When everyone is good and exhausted, I head out to my evening session. This beautiful 14 year old, Tara Moser, is training at the Utah Olympic Park to be an aerial ski jumper. She needs head shots to use for press, as well as some images for her modeling portfolio. She's great in front of the camera, and we quickly move through several locations and clothing changes before the sun goes down.


I head back home, get the kids to bed, and watch a little TV with my hubby. Then off to sleep to rest up for another full day of summer fun.
Stephanie's Favorites

Smoothie: Food Babe's Ginger Berry Anti-Inflammatory Smoothie (I add a bit of Grade B maple syrup to sweeten it.)
Sunblock: The Utah sun can be brutal — I use this on my face when I'm shooting. Not too heavy or greasy.
ProSelect Software
Wall Displays: Ariana Falerni. I use these all the time with ProSelect, to do in person sales … cute, stylish, effective.
Apple Watch: I just got this, so I am still figuring out all the bells and whistles, but I can wear it while I'm hiking or working out and it tracks my progress. It also gives me a little reminder to get up and move if I've been sitting for more than an hour … which I do all the time when I'm editing)