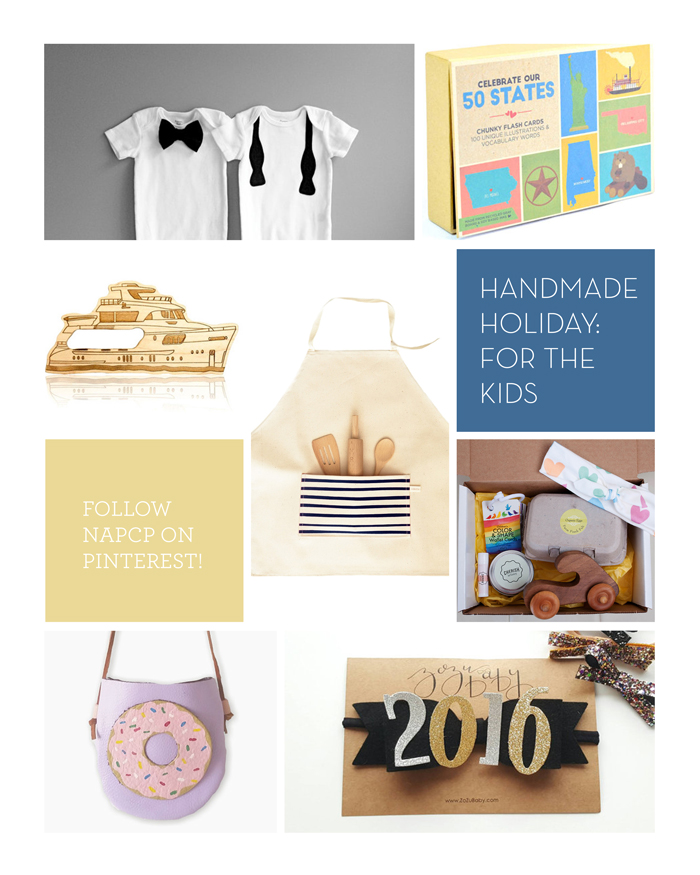 07 Dec

NAPCP's Handmade Holiday Gift Guide: For the Kids

Happy Monday, and Happy Hanukkah!
For all you parents, parents-to-be, godparents, grandparents, and everyone in between, add these to your holiday shopping list! We're here to help — these products are the cutest, trendiest items for your little ones, and your purchases will support small businesses here in the US of A.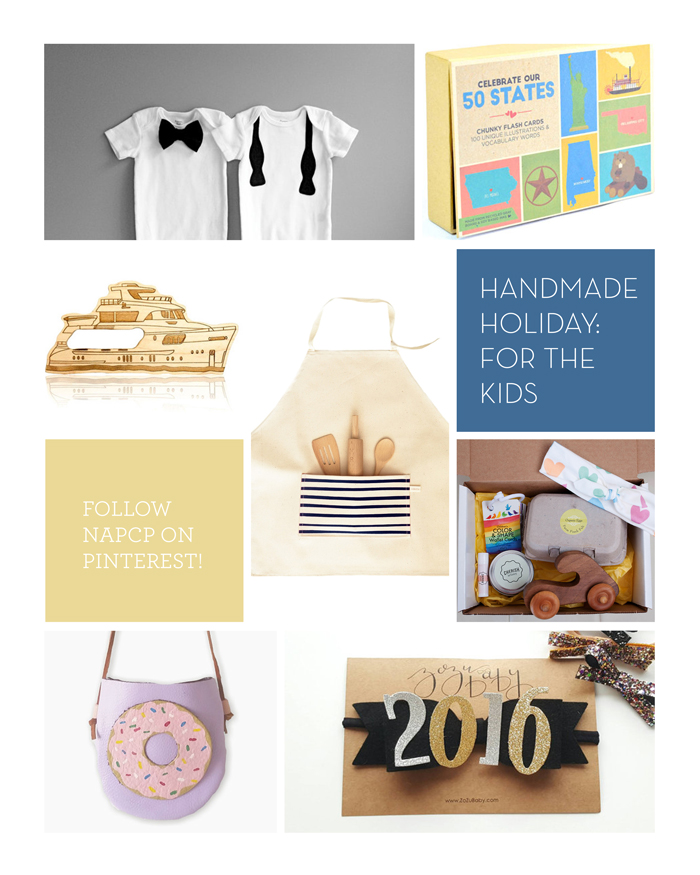 New Years Eve Bowtie Bodysuits | The Wishing Elephant: This hilarious set is fantastic for your little up-all-nighter (or twins!). Available in custom colors and combinations, too!
Celebrate Our 50 States Flashcards | Bright Eyed Baby: Chunky flashcards made from recycled materials, and printed with soy-based inks. We also love their state-specific sets!
The Cameron Eco Yacht | Lexypexy: Made in New York City, Lexypexy eco toys are free of all chemicals and toxins, and crafted from sustainable maple wood, which is non-splintering and naturally antibacterial. Bonus for our international NAPCP-ers: Lexypexy ships worldwide!
Kids Apron | Odette Williams: Purchase one alone or with wood utensils. Have it monogrammed, or keep it clean (for now).
Mom 'n Tot Box: These curated boxes are created monthly, based on the child's age and gender, and are filled with items made by small businesses in the United States. A 3 month subscription makes a fabulous gift.
Sprinkles Donut Bag | Willow & Fig Leather Co.: Though it isn't edible, it certainly looks scrumptious! Hand painted leather, featuring one of the 'it' desserts of 2015.
2016 New Years Bow | ZoZu Baby: It's almost the new year! Get baby girl off to a trendy head start with this handmade felt bow (available in Jumbo or felt circle, nylon hair tie, or clip options).

Follow NAPCP on Pinterest for these, and other carefully selected, gift ideas!