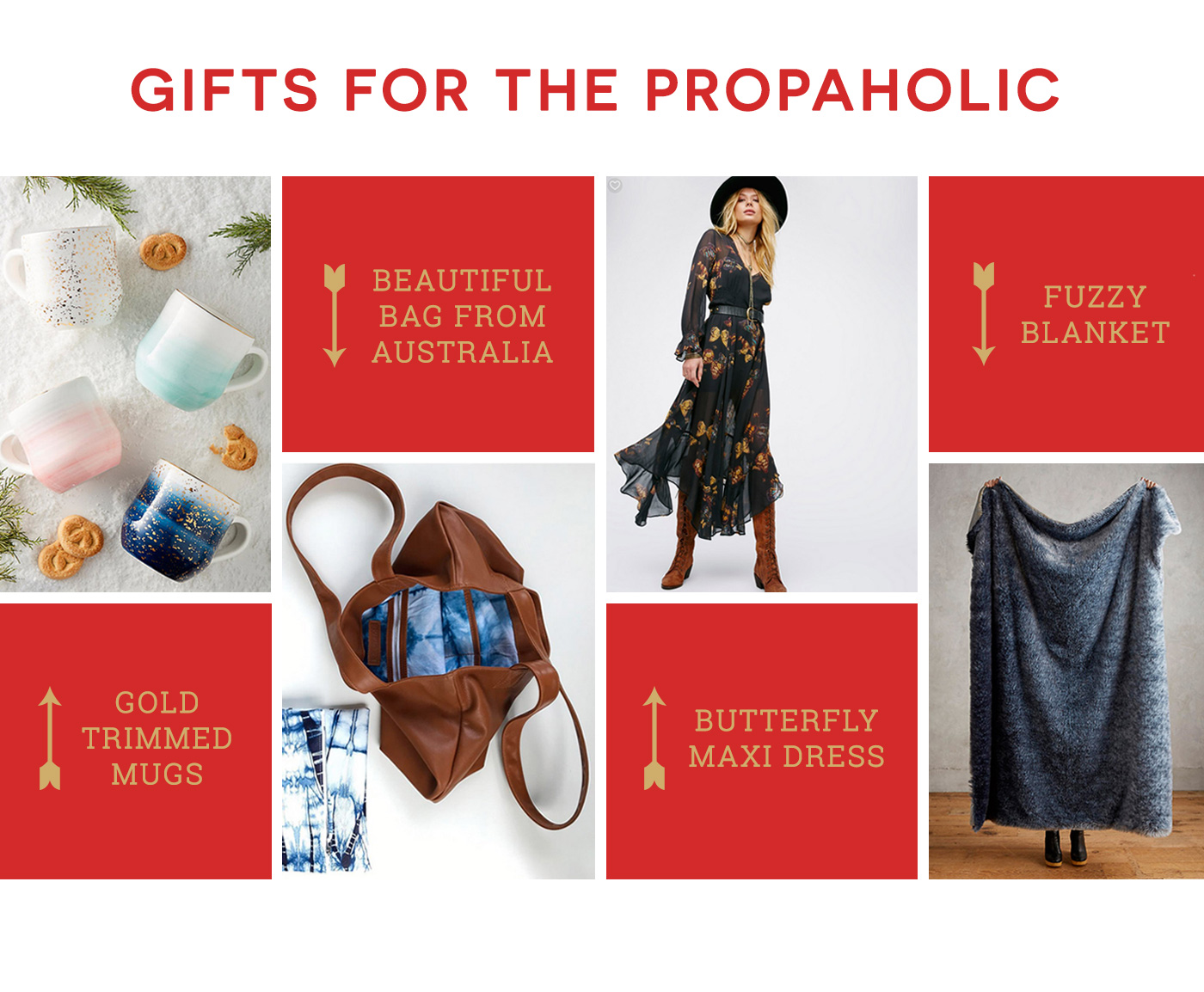 12 Dec

Gifts For Photographers

We're in the thick of our holiday shopping, and you may have noticed some of the fantastic deals we're running in the NAPCP Store this season. Today we have an amazing selection of gifts we think you'll love. NAPCP member Willy Wilson, of Life Unstill Photography has curated gift choices for every type of shutterbug in your life. She's handpicked everything from photo prisms to gorgeous volumes of images.  Be inspired by our gift guide, and sent it to a friend or family member!
Some items may require express shipping options for guaranteed holiday delivery.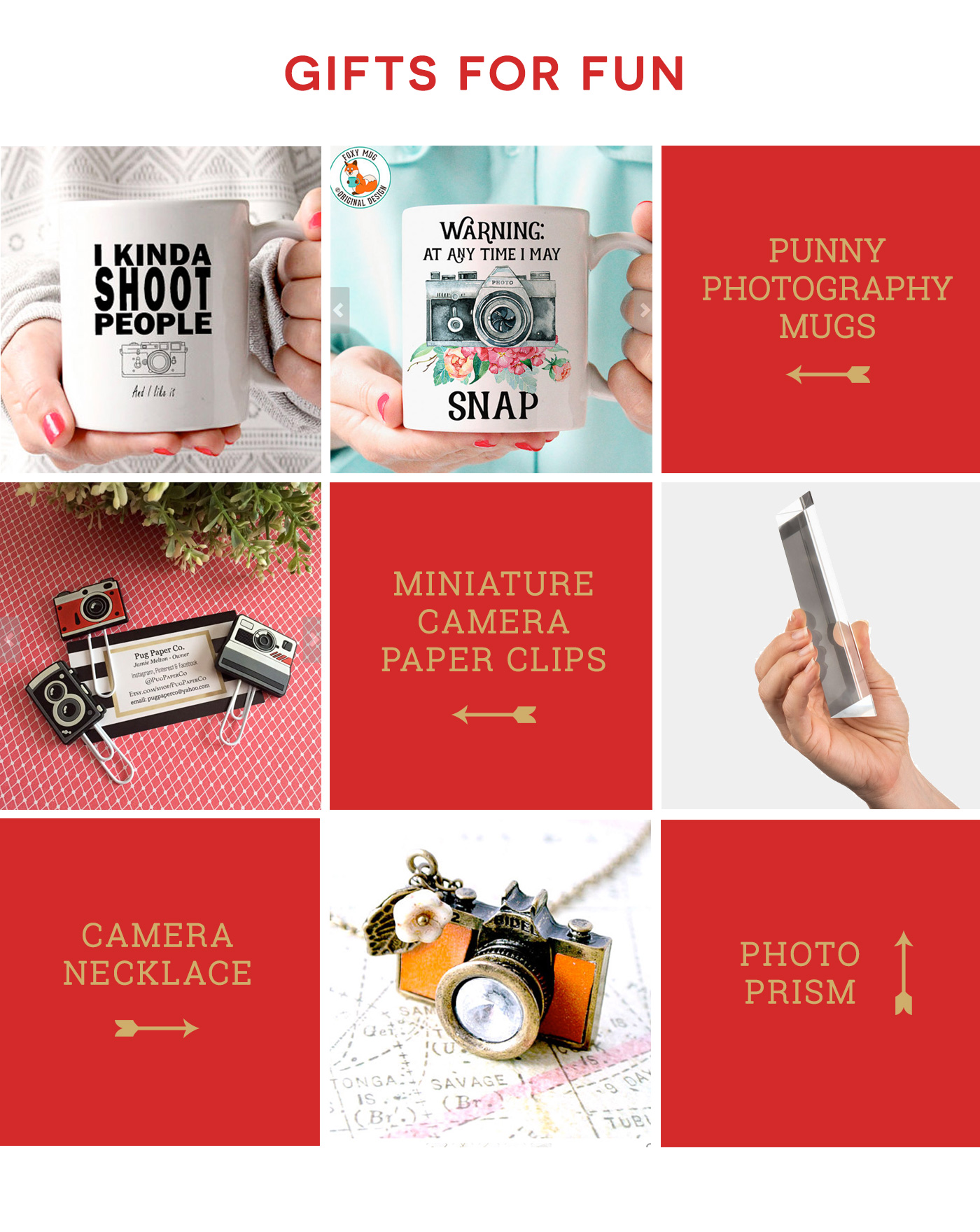 If you're looking for something inexpensive, or a stocking stuffer, anyone will love these adorable items.
Punny Photography Mugs: "I Kinda Shoot People" | "Warning"
Miniature Camera Paper Clips: These charming miniature camera clips can be used in planners, or simply in keeping organized. Starting at around $3/clip.
Camera Necklace: The camera charm necklace is a classic gift for any photographer. This one is unique in color and has the cutest little charms on the chain. $24
Photo Prism: The 6″ prism is becoming a popular accessory to play around with at a photo shoot. A fun and inexpensive way to take a creative turn.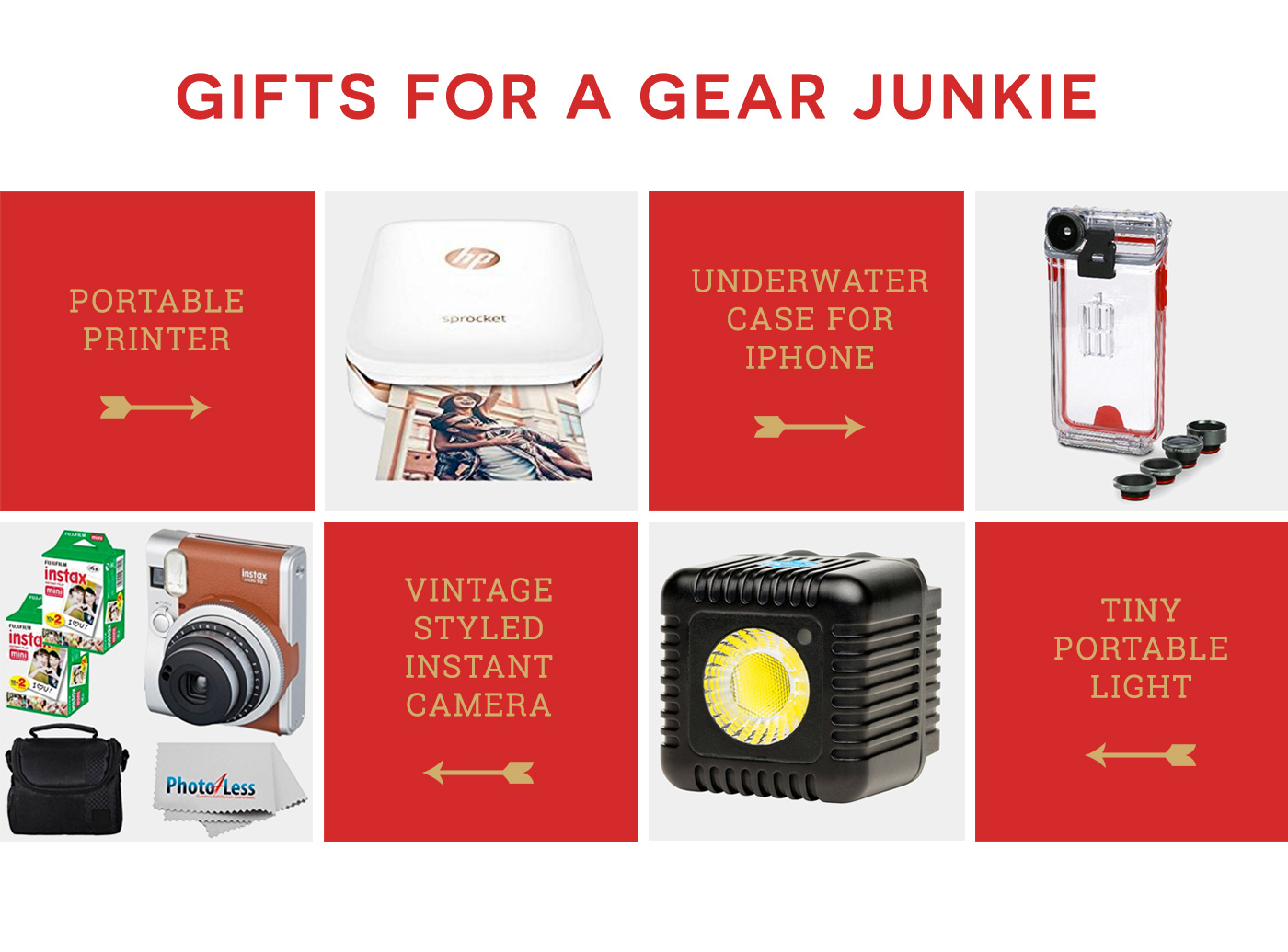 The gear junkie is always on the lookout for the latest technology to enhance their photography.
Underwater Case for iPhone: The Optrix by Body Glove kit provides underwater housing up to 30′ and several lens adapters to improve your range under water. A great starter kit for someone not ready to take a professional camera into the deep.
Tiny Portable Light: The Lume Cube is a small but powerful continuous light or flash. The light can be dimmed, the device can be used with any Bluetooth device, work underwater up to 100′, and is only 1.5″ cubed!
Portable Printer: HP's Sprocket portable printer is both fashionable and functional. Bluetooth connectivity means you can print anywhere from your (or your friend's) phone. A fun way to hang on to your memories.
Vintage Styled Instant Camera: This thing is so cute, we can't resist it. Adorable styling, and prints photos. What-what?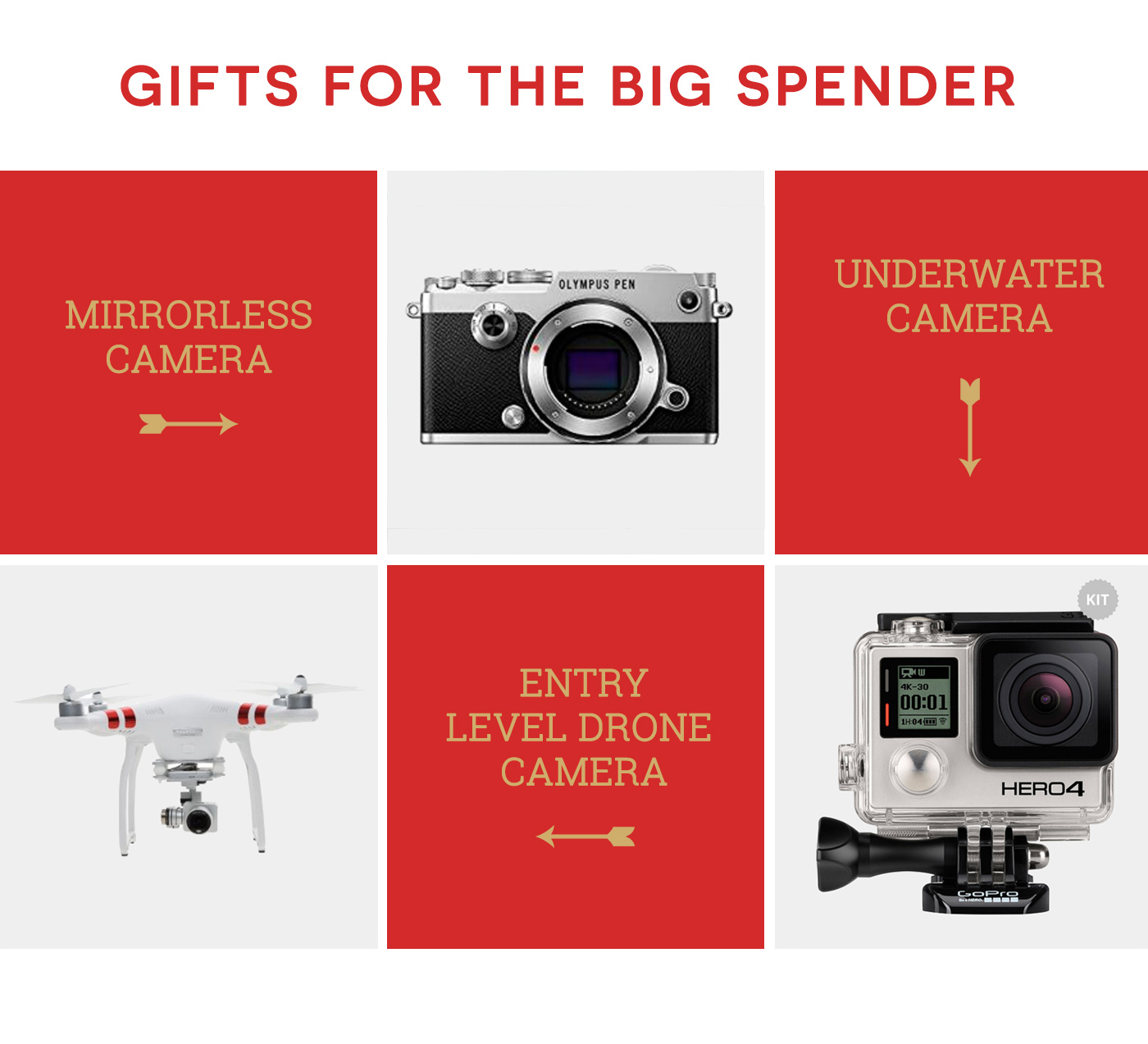 Photographers often choose to purchase necessities over things that would just be great to have (and up their game). If you're looking for a special gift for your partner or yourself, these are great options.
Mirrorless Camera: In-between the point-and-shoot and DSLR. Lighter in weight and lower in cost than most DSLRs, most mirrorless cameras have removable lenses, high resolution images, and create great photos. For the photographer who always has a camera on her shoulder, the mirrorless camera is perfect.
Entry Level Drone Camera: Take photography to the next level, literally, by choosing an entry level drone. This particular model is easy to learn, capable of video or stills, and uses your phone as the guide screen.
Underwater Camera: The GoPro kit provides both camera and underwater housing, and adds a video light — all at a reasonable price.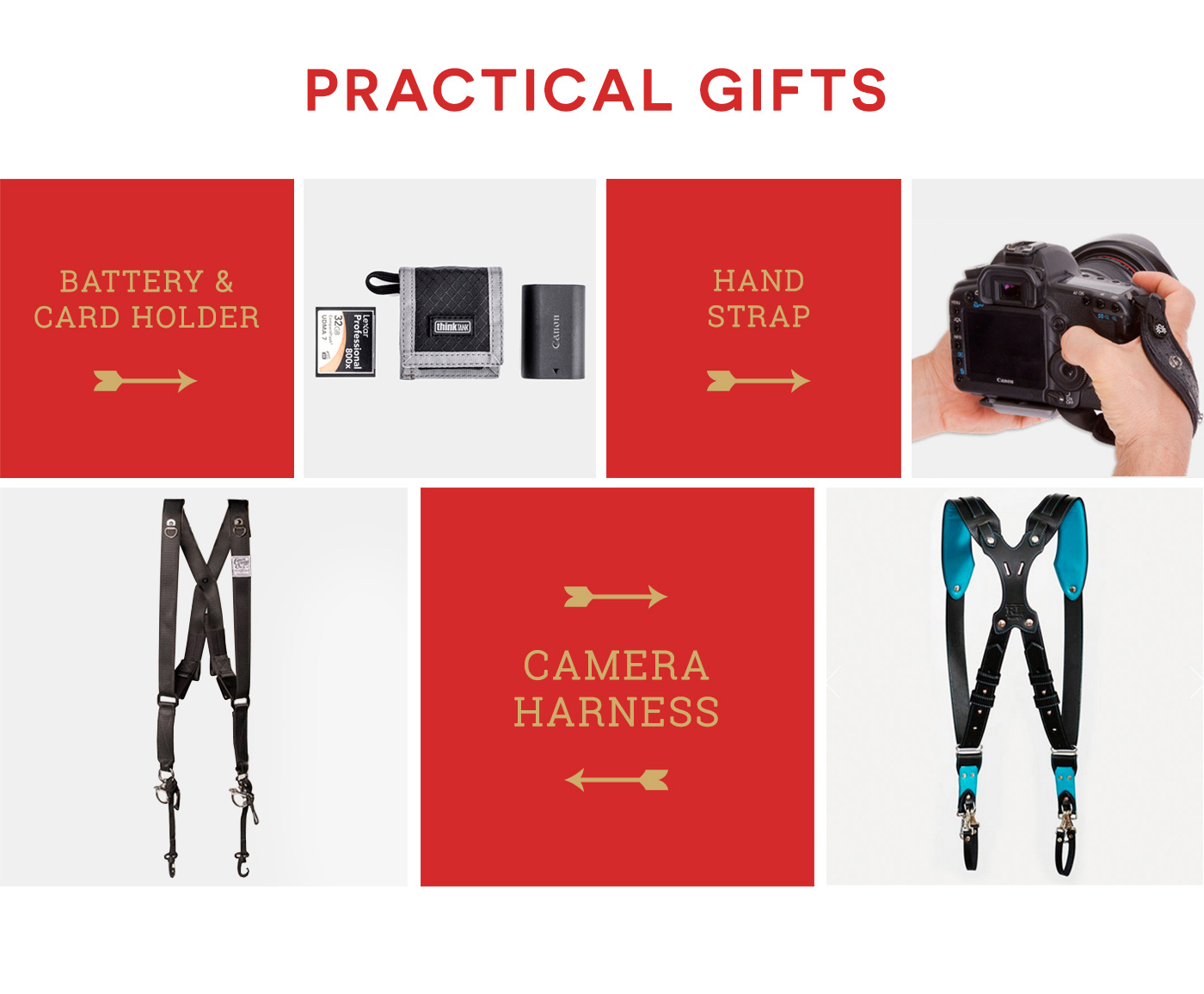 Here are a few items you can't go wrong with, when it comes to gifts for a photographer.
Hand Strap: Attaches around the back of the hand instead of the neck, and changes the distribution of weight. For the photographer who has hand soreness at the end of the busy season, this comfortable hand strap could be a game changer.
Battery & Card Holder: It's the little things that add the most value. This battery and memory card holder is as cute as it is practical.
Camera Harness: For photographers who are constantly on the go and swapping out lenses. The harness can be used with one camera and a lens, or two cameras. We love the Holdfast Moneymaker Swagg because it's less likely to cause chafing in the summer, when sundresses and tank tops are more popular with photographers. There's also the RL Handcrafts Clydesdale Pro, with lined and padded straps for all day comfort. And seriously, the black and teal is gorgeous.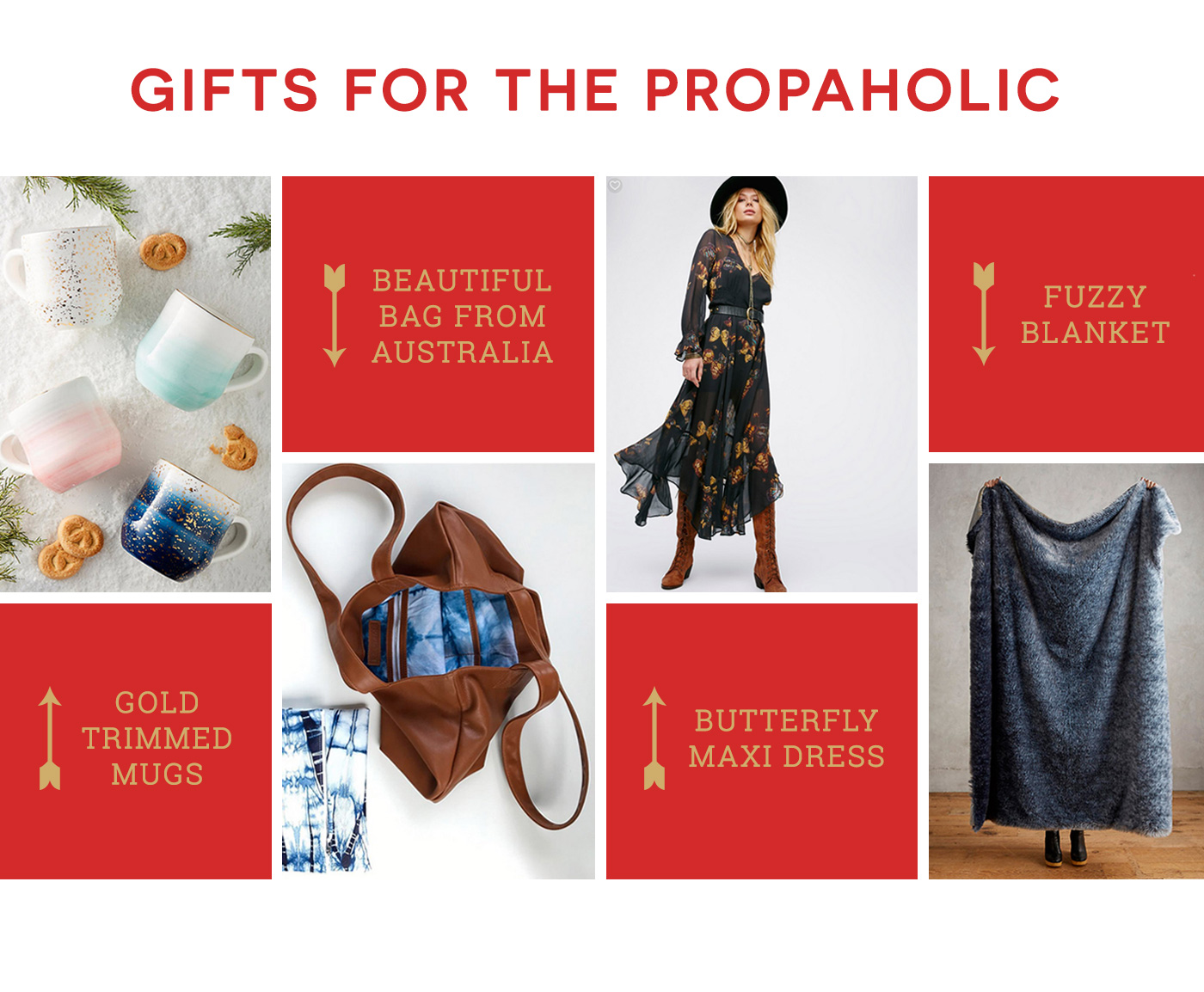 The propaholic can't resist beautiful things and is always buying pretties in the name of "using it as a prop someday". This photographer can rationalize anything from gowns (senior photos!) to kitchenware (food photography!). These gifts are wonderful for photographers who collect props, or anyone who loves beautiful things.
Gold Trimmed Mugs: This set of mugs from Suite One Studio are now available at Anthropologie. Imagine them with steaming coffee or being held by a model on a styled shoot.
Fuzzy Blanket: Blankets and throws are one of the easiest prop purchases for most family photographers. This one is fuzzy blue perfection.
Butterfly Maxi Dress: One thing about most of the maxi dresses from Free People is that they can transition pretty easily from boho chic to maternity gowns. This dress would stand out beautifully in a winter environment.
Beautiful Aussie Bag: This is a bit of a stretch in the world of props. But look at these bags! Artisan-made clutches, totes, and minis, all with hand-dyed leather and lined with shibori-dyed fabrics. They're so beautiful we can't handle it. Can you imagine these in a fashion shoot?!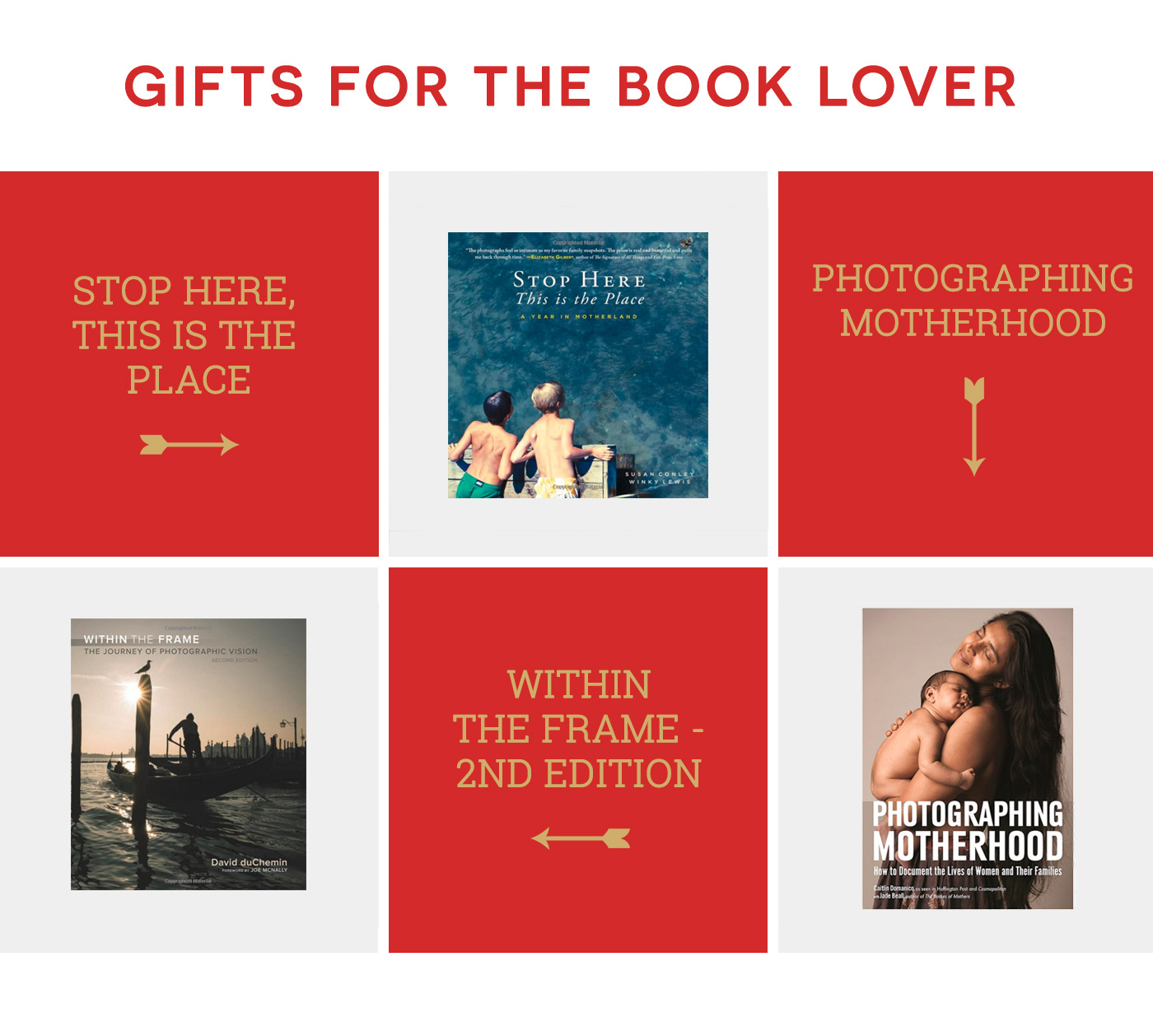 Photographers are visual people, so it should come as no surprise that we love photo books. Here are a few books that stood out this year:
Stop Here, This is the Place: A creative collaboration between a writer and a photographer. A lovely collection of photographs and connected stories.
Within the Frame – 2nd Edition: An updated edition of David duChemin's 2009 book, providing glorious photographs and aiming to help photographers develop their vision and chase intentionality in their work. This edition expands on the concepts in the original book.
Photographing Motherhood: Caitlin Domanico and Jade Beall's book is a practical guide to capturing the beauty of all stages of motherhood. From posing tips for groups to working in studio, an excellent addition to any family photographer's collection.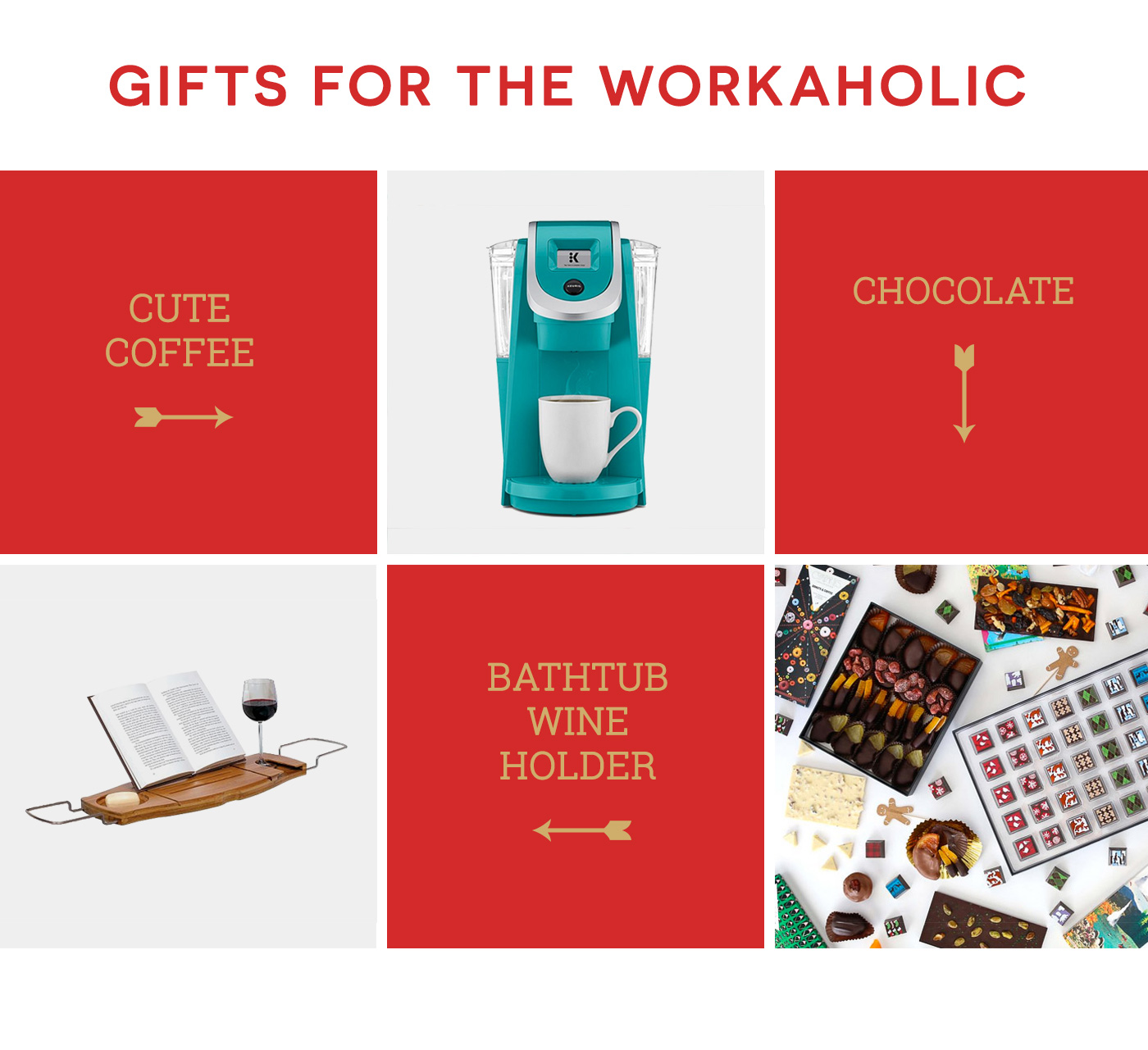 At the end of the year, most photographers are ready for a much needed rest period. After almost endless editing and 7 days a week schedules, what we need is a way to recharge.
Chocolate: You cannot go wrong with chocolates from Compartes. Gorgeous packaging, beautiful artisan chocolates, and unique flavor combinations. Prices range from $10 for an individual bar to $275 for a collection.
Cute Coffee (Maker): If your favorite photographer just wants all things to be pretty — how about this Keurig turquoise coffee maker? Pair it with a beautiful 'prop' mug from Anthropologie.
Bathtub Wine Holder: After a long day of shooting and editing, who doesn't want to soak in a tub with a glass of wine and a good book? Gift this bathtub tray with a bottle of wine and one of our book selections and you've got a fantastic gift for a photographer.
Massage: At the end of the busy season, every photographer would love a day to relax and recover from hours hunched over a computer. Nothing is more restorative than a massage. We've selected a massage at Ten Thousand Waves (Santa Fe, NM) … such a beautiful place.
Save
Save
Save
Save
Save
Save
Save