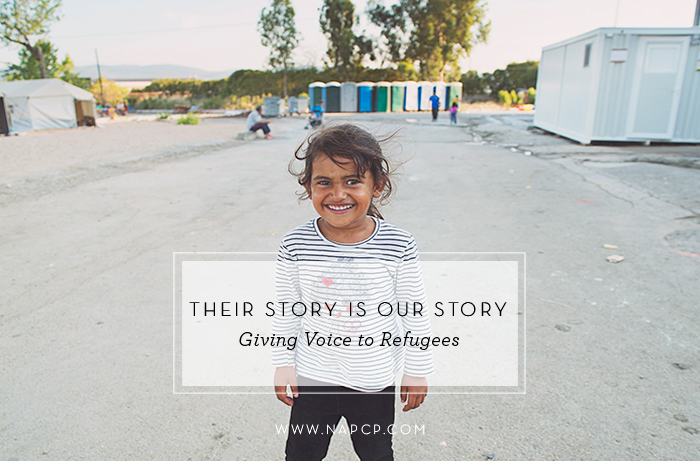 21 Nov

Their Story is Our Story: Giving Voice to Refugees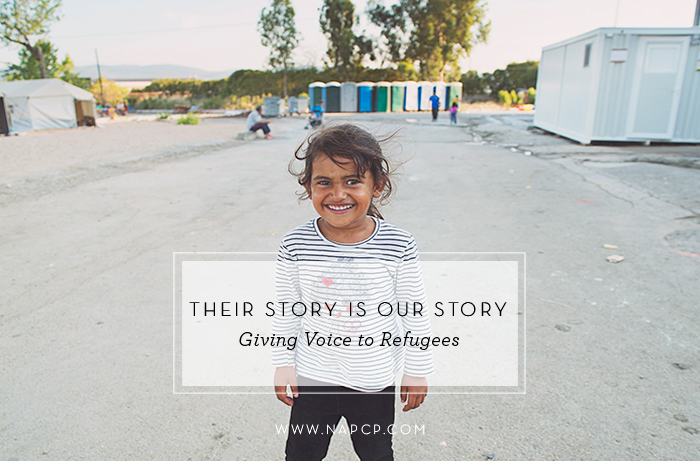 NAPCP member photographer Lindsay Silsby is from Arizona, USA, but lives in England with her family. She is a portrait photographer who specializes in families, and has a strong connection to the children who are suffering through the current refugee crisis. She hopes to bring further exposure to the challenges and needs of these wonderful people by creating portraits of them and helping to tell their stories.
Lindsay was kind enough to sit down with us and answer a few questions, and share some of the amazing people she met in Greece — along with snippets of their stories.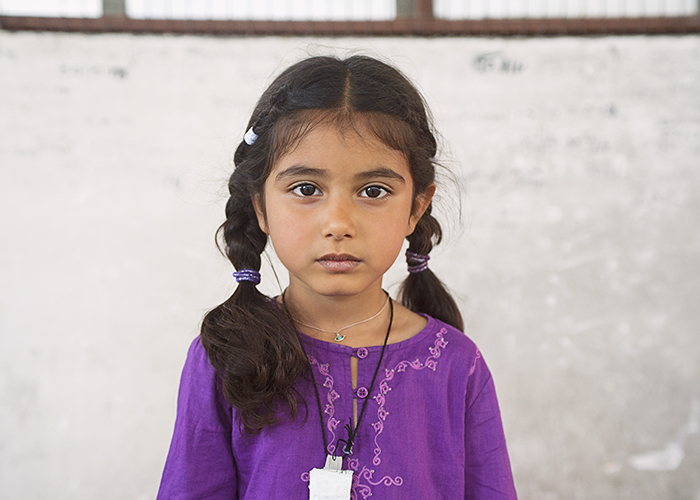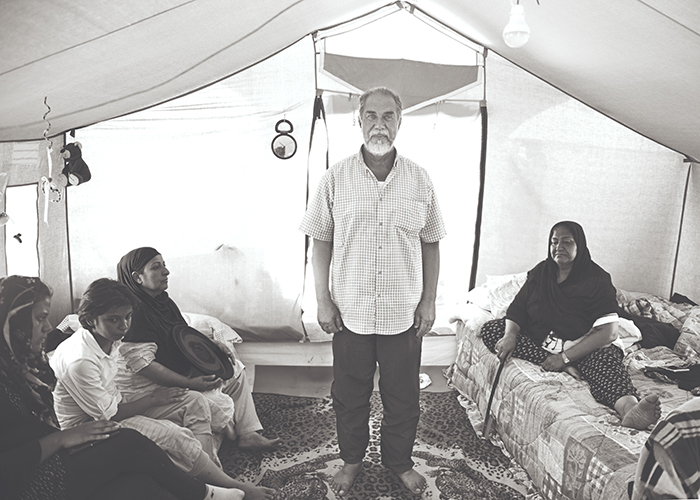 NAPCP: Tell us about this project and how you decided it's something you want to take on.
Lindsay Silsby (LS): Over here in the UK, the refugee plight is constantly on the news. I saw so many stories about the boats, and their crossings over mountains. I really couldn't stop thinking about it and what I could possibly do. You can only donate so many items or money, and to me it felt like it just wasn't enough.
Months later, I had a dream about going to photograph refugees (particularly the children) along with an old colleague Garrett Gibbons, who happens to be a filmmaker. I brushed it off– it was only a dream after all — but I could not get it off of my mind. My husband convinced me to get in touch with him, despite my worry of sounding crazy, just to see what he would say. Thankfully, Garrett loved the idea of somehow using our skills to help. Weeks into contacting group after group, no one seemed to be interested in what we could offer. A couple of Facebook groups and posts later, we were connected to two women: Trisha Leimer (our director), as well as our author of the group, Melissa Dalton-Bradford, who had been working in German refugee camps for several months. At the same time, Elizabeth Thayer, our painter, also contacted Trisha. We decided to combine all of our talents to "give a voice" to refugees.
We really want to create a way for refugees to be heard and seen in a way that most news stories don't present. Their lives, their struggle to get somewhere safe needed to be presented in a way that only art can do. One author has written, "Art has its own power in the world, and is as much a force in the power play of global politics today as it once was in the arena of cold war politics." Our organization really hopes to do that.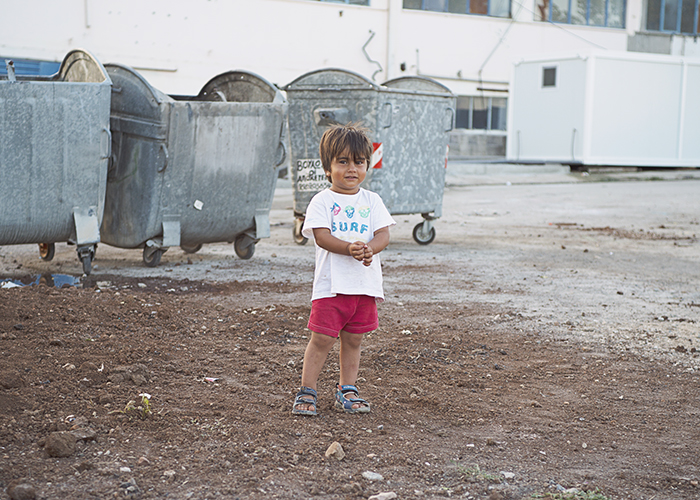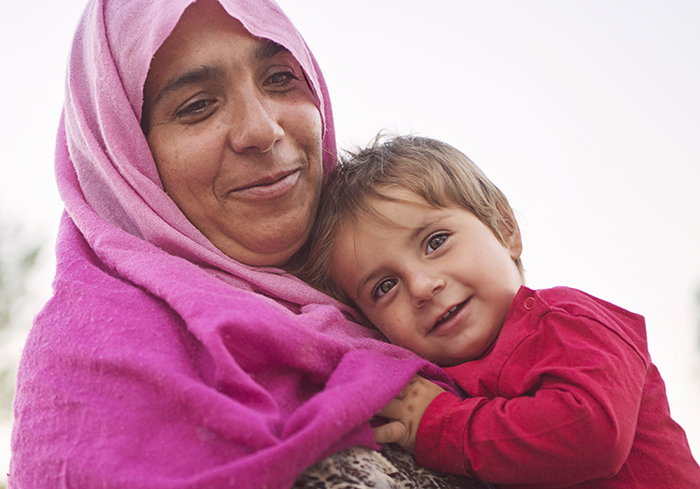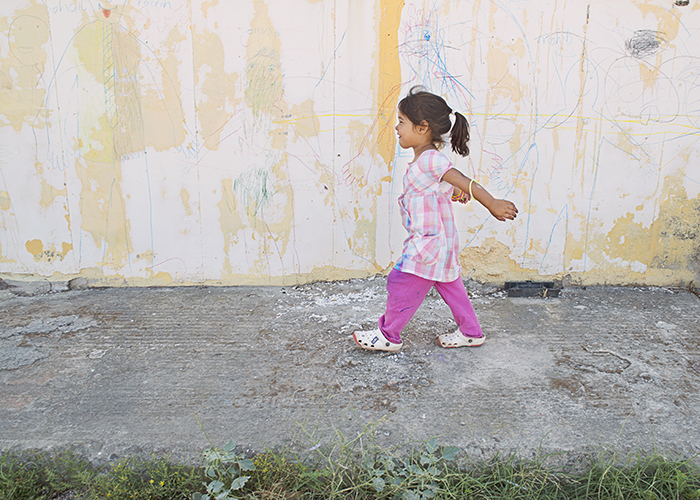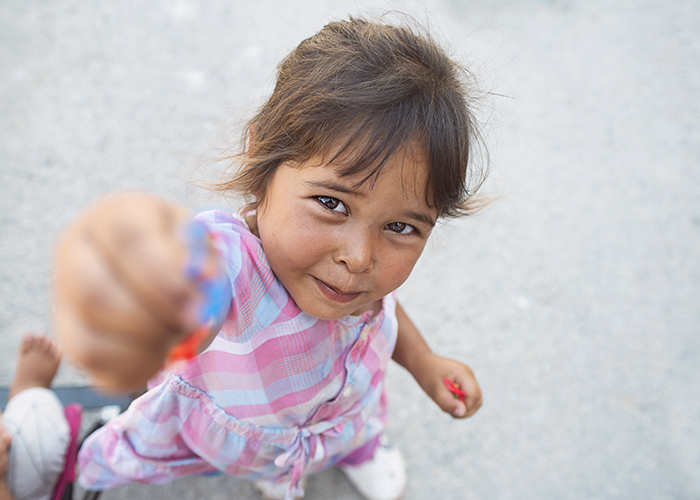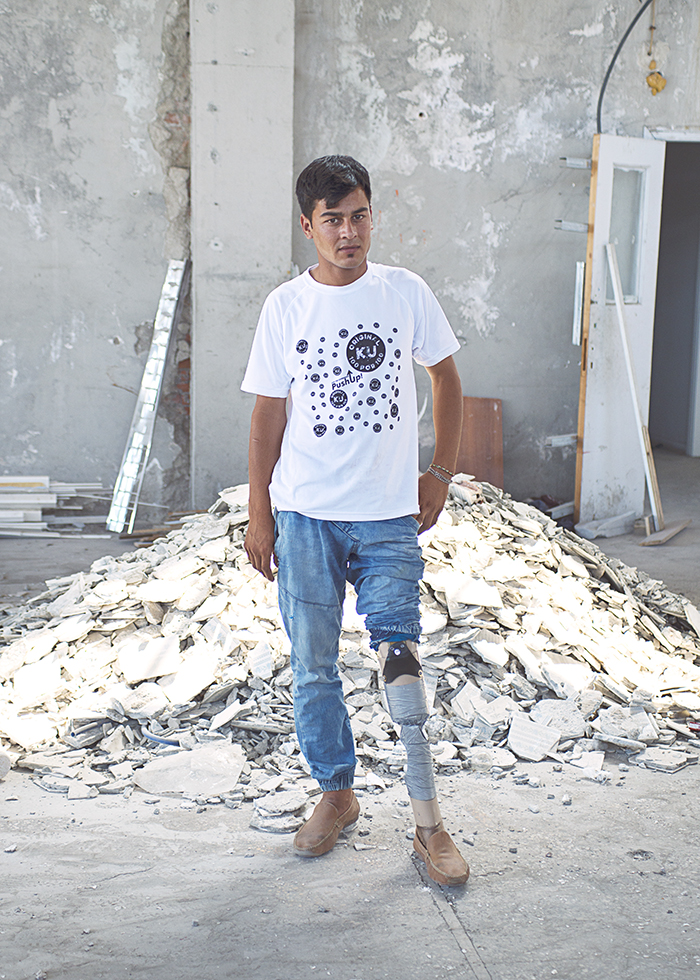 He watched his village destroyed by local militants, and personally counted 355 dead bodies, as he helped to pile his family, friends and community into a mass grave.
He left Afghanistan with a few family members, often carrying his young nephew on his back. He crossed a mountain range on foot, helping his young nieces and nephews along the way. While in the mountains, his plastic leg broke several times, so he repaired it using sticks and duct tape to continue forward.
I met him in Greece. He was friendly, calm, and loved by all in the camp. He is a natural leader, a mature and noble man with the wisdom of someone five times his age. Other camp members told us about all of the wonderful things he had done for others: He saved a young mother from a suicide attempt, had advocated for a camp member with leukemia to get the treatment she needed, and was protecting his five nieces and nephews who were with him in the camp. He is the embodiment of selfless service and sacrifice. He is quiet and confident, friendly and sincere.
Since we met, he gave his last 500 euros to a smuggler who brought him to France. He currently lives under a bridge in Paris, in a tent, with only a thin jacket and the clothes he wore when he left the camp in Greece. He says that food is scarce, there is no way for him to earn more money, and most of the refugees around him struggle to stay warm and sleep during the night.
Ali is truly noble. He is a survivor and a leader. He is calm in the face of peril, compassionate in times of tragedy. I am honored to have met him, and hope to see him find refuge soon. – Garrett Gibbons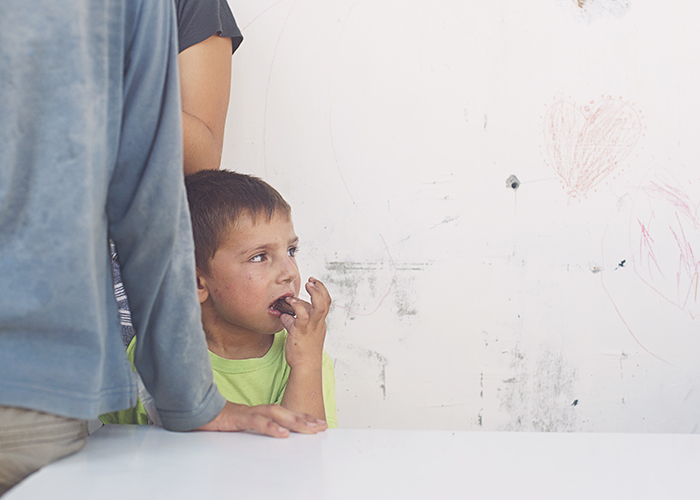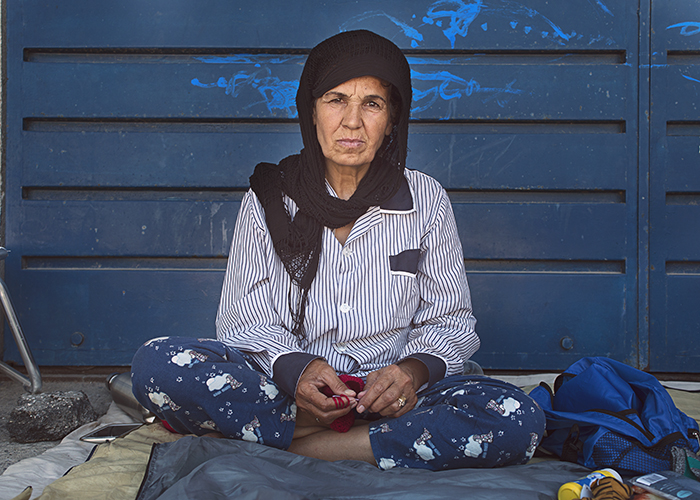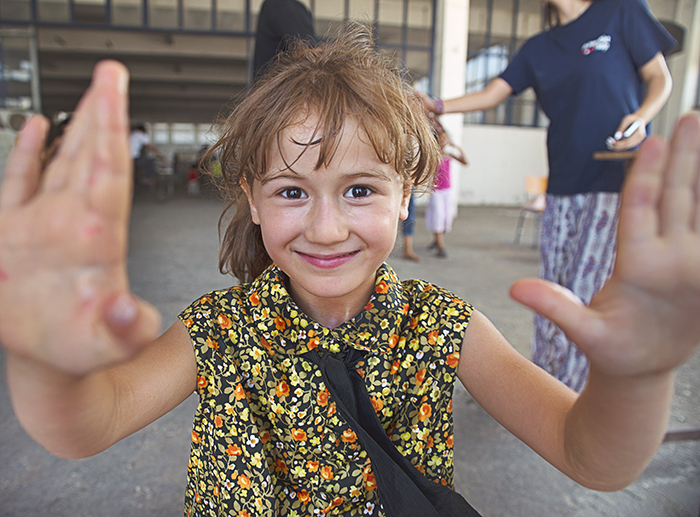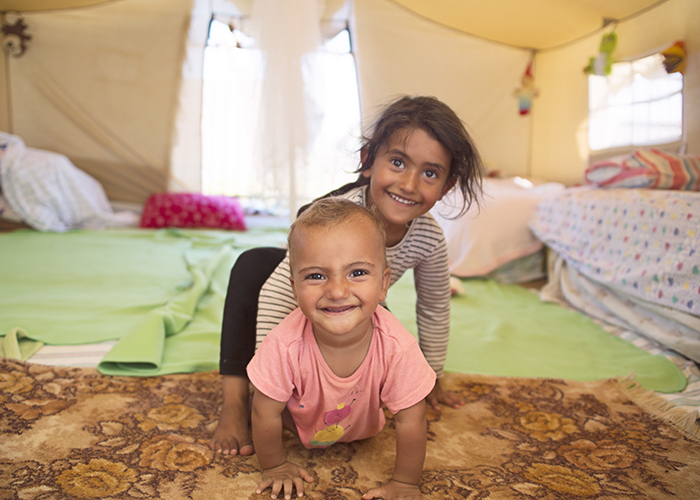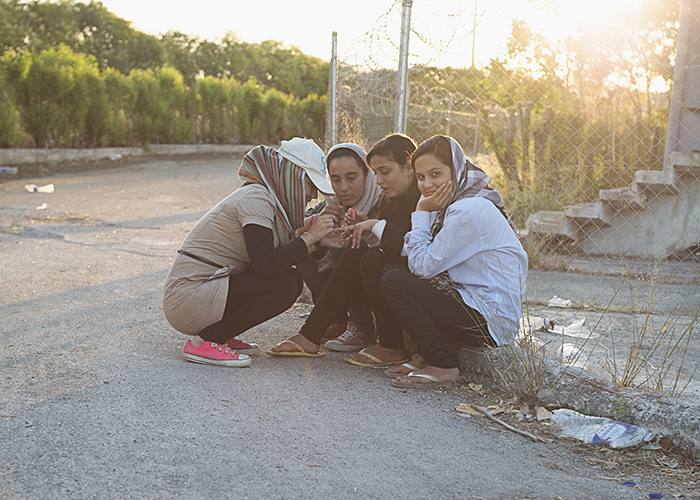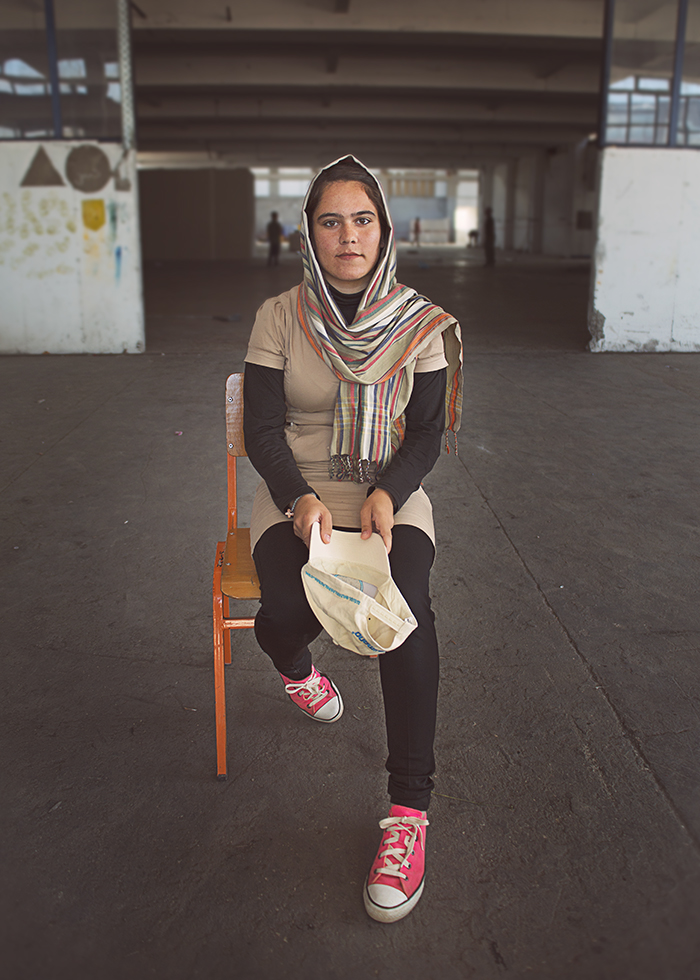 Certain cultures might dictate that a pair of "Chucks" are every teenager's rite of passage. As I stared at Firuzeh's shoes, I vividly remembered my first Converse All-Stars purchase. I drove in my own car to the mall with my friends where we bought lunch and shopped the entire day. My experience did not involve sifting through a heap of clothes in a hollowed warehouse under the summer heat of the Mediterranean sun. Not concerned with what is the latest in popularity or any rite of passage, Firuzeh simply searched for shoes that fit. She wants to be a doctor. She misses school and her grandparents "more than anything". – Lindsay Silsby
NAPCP: Is there a refugee story in particular that has touched you?
LS: Every person I met had a harrowing story. However, I related most to this mother: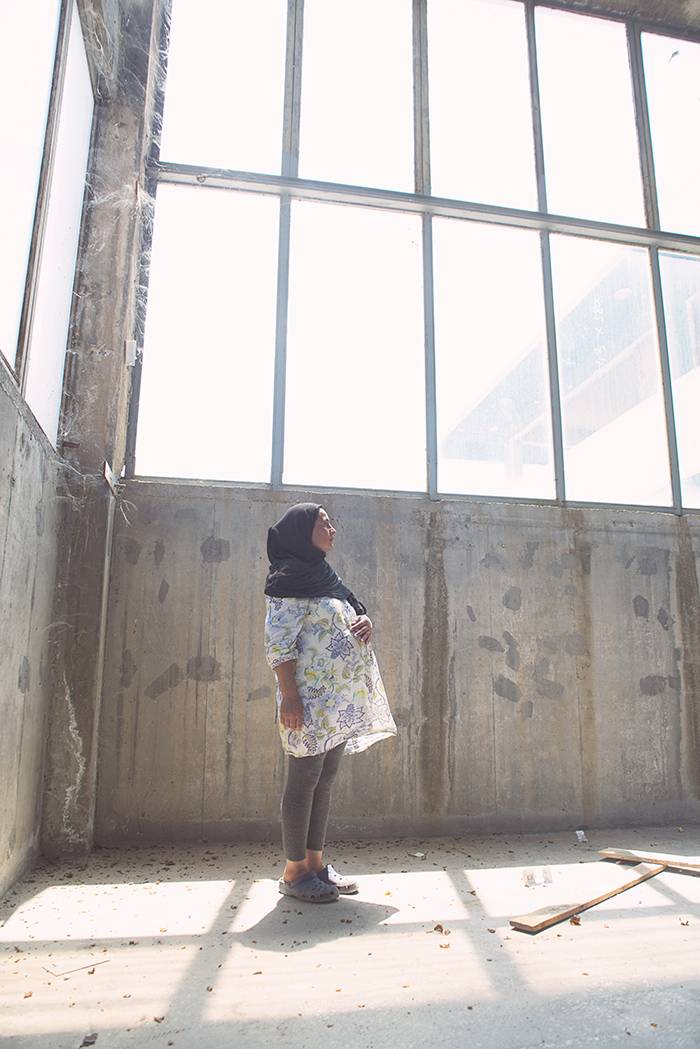 She and her husband told their story about crossing the mountains and losing their 3 year old son on the other side of the border — it broke me in two. She said, "We were crossing the border when the police came and split our group in two. Our three year old boy got stuck on the other side of the border. He was gone for two days before we could pay a smuggler to get him back to us. It was all the money we had; we were so afraid."
Pregnant, afraid, no money, no way of knowing if he was safe or being taken somewhere else by someone else. Imagine leaving your home and all you know because of bombs and life threatening circumstances, only to be further in trouble along the way. It's never ending for them.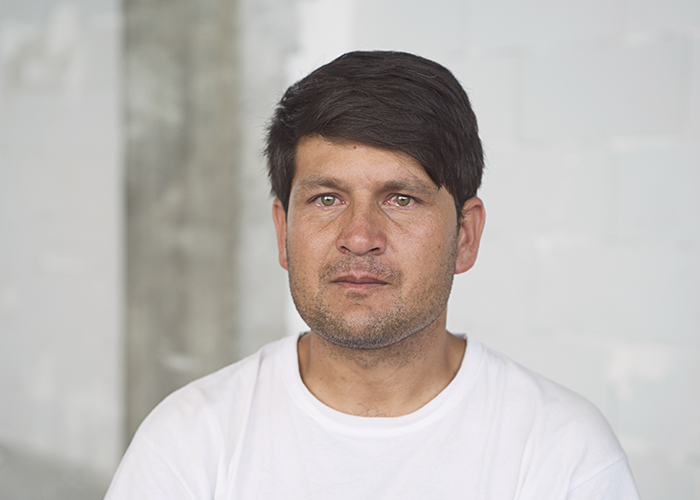 NAPCP: What do you expect from this project?
LS: We hope to give them voices. Our deepest desires are to change perspectives and attitudes toward their plight. We constantly ask the viewer, "WHAT IF IT WERE YOU?" We hope that each person will be touched by what they read, see and hear, which will move them to action. We hope that the viewers will do what they can, wherever they are, in whatever capacity they can. Everyone has something to give. A photographer has their eye, a painter has their brush, an author their words. Everyone has something within themselves that can help someone else. We hope our viewers find that and use it.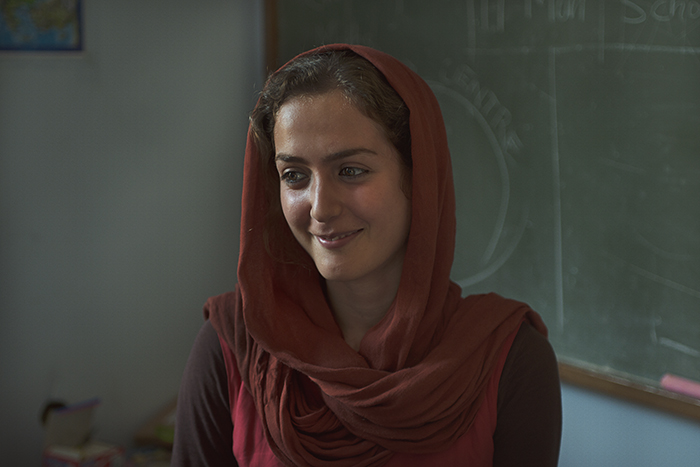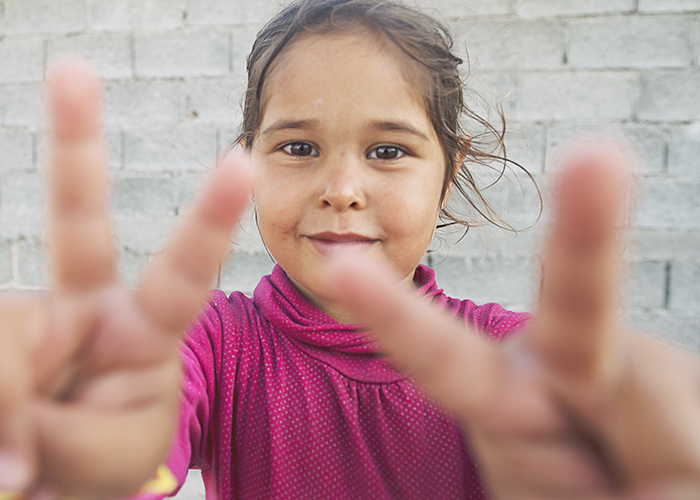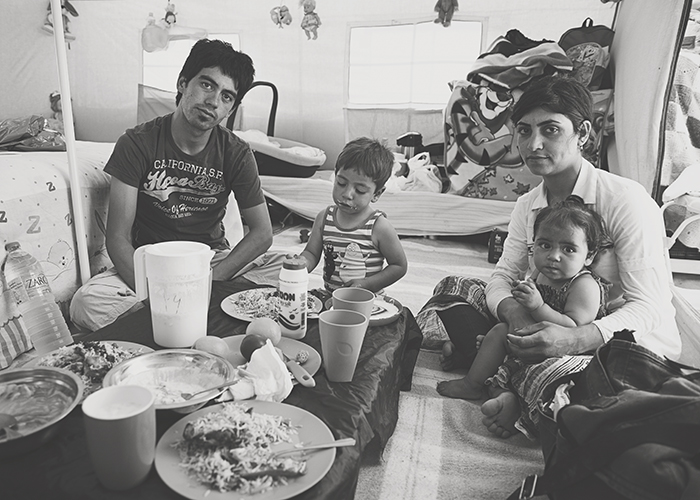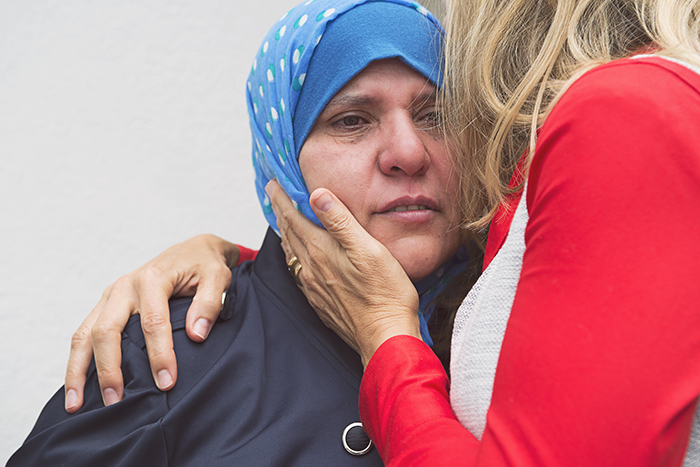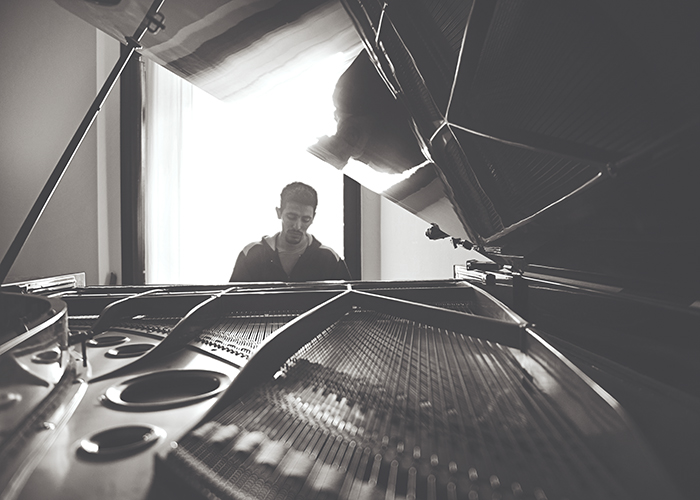 "Music makes us happy. Full of energy and full of lovely things in the heart, but it doesn't make anything for the stomach. In Yarmouk [a suburb of Damascus, Syria] we can't make anything for the stomach because we have 100,000 people [under siege]. [Here in Germany] I play piano all the time, on beautiful pianos. I played with the Berlin [Philharmonic], Stuttgart [Philharmonic], Hamburg [Philharmonic], Munich [Philharmonic] … It's a very, very big pleasure but I can't feel good. I talk about Syria and play music, tell the people my story, but it is not changing anything. I need to make hope for my family. We can change a little … maybe."
To hear more of Aeham's story click here, or here.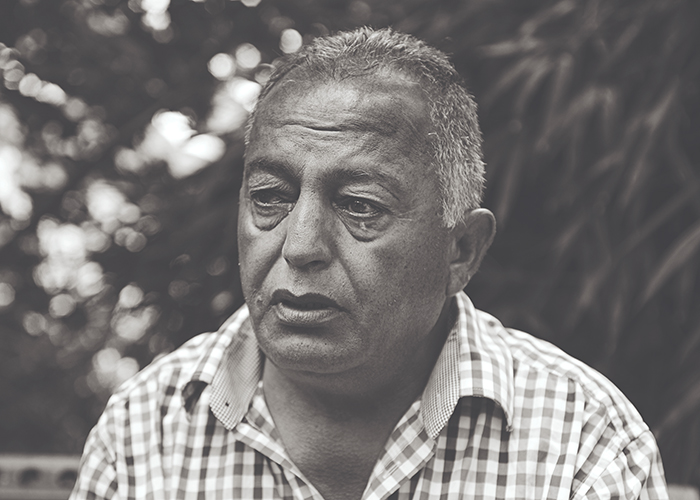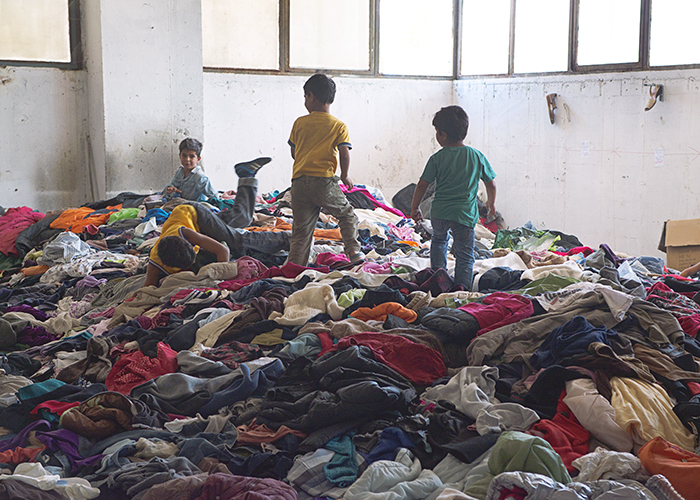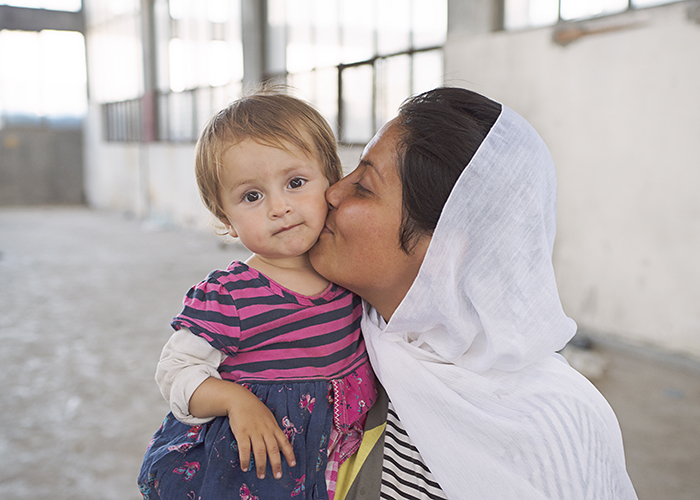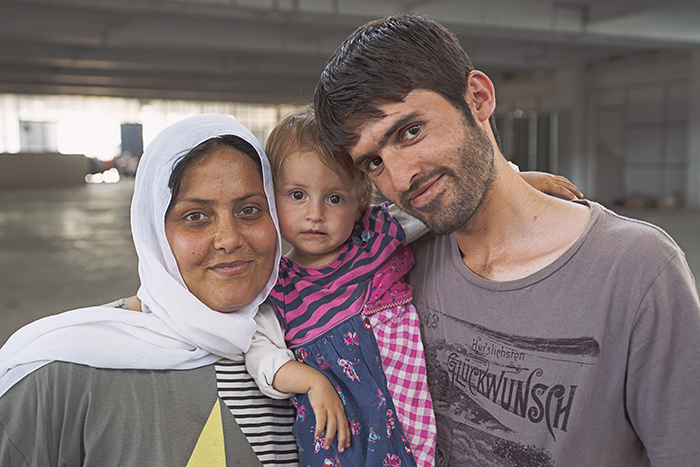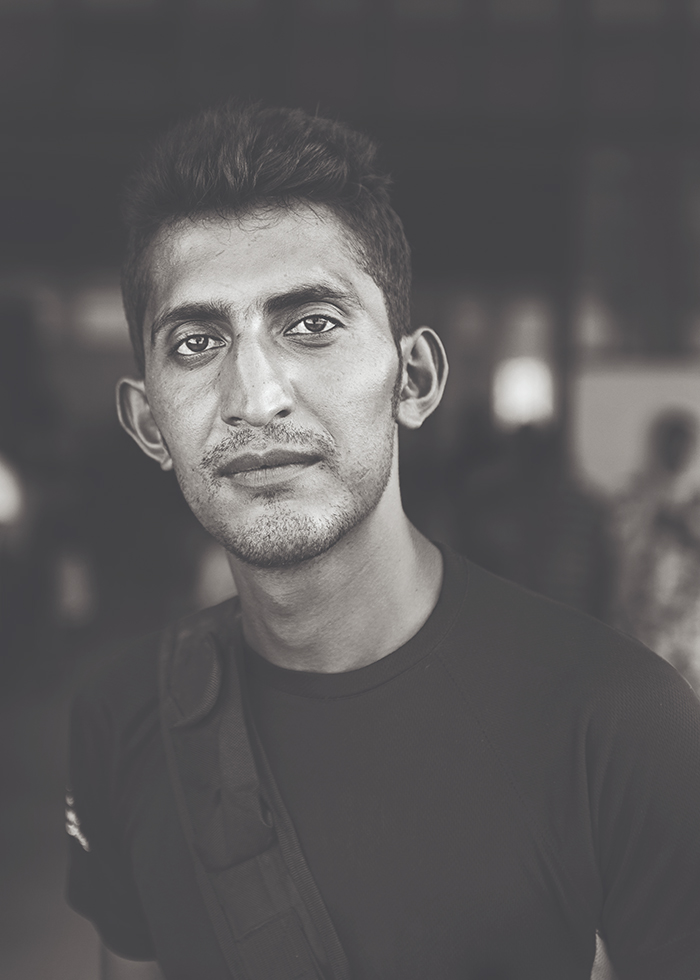 "I don't think we have any future here in Greece, but I know that I'll die if I stay in Afghanistan."
Jalil was 23 years old when he died from drowning last month in Greece. I got to know him during our three days in the refugee camp, where he and a few hundred other good people were waiting for some sort of news that would help them transition to a normal life. He was cheerful, extremely intelligent, and full of energy. He was a journalist in Afghanistan who received a death threat from the remnants of the Taliban who still control much of the country. His family decided that he should flee the country for survival. Because it currently costs about 10,000 euro to be smuggled from Turkey to Germany, his mother and sister decided that he should use all of their money and go alone. They are still in danger but they decided that they could more safely wait until he was secure and able to earn some money in Europe.
He escaped from the camp in Moria, Lesvos because it was so unsafe there. He said that fights were breaking out in the camp nearly every night. He found a hole in the fence at the camp and ran as fast as he could. Because he was a trained runner (he was once on the national track team of Afghanistan), he was able to outrun the police. He ran to the port and found a ship, and jumped on it as it was leaving. After arriving in mainland Greece he had 10 unsuccessful attempts to leave Greece and enter other countries in Europe. He was caught by Greek police, Serbian police, and Bulgarian police. He told me that he would try 40 more times, and wouldn't stop until he achieved his goal.
"God told me," he said in an intense whisper, "you decide what you want to do, and I'll help you do it. I decided that I wouldn't stop until I leave Greece, and I know that I'll get out of here without having to return to Afghanistan."
He described how many of the other refugees used all of their money to reach Greece, but now are stuck in camps and can't do anything to progress. They want to work, they want to support their families, but they are stuck waiting with little hope of progress. He said that Syrians are always the first to be accepted into the rest of Europe, because Syria is at war. "Is Afghanistan safe?" he emphasized, "People are dying from bomb attacks; how can we say that Afghanistan is safe?"
He continued, "How can we stay in Greece? There are so many people who have lost everything, and there is no work for any of us. We need to work to support our families. In Afghanistan I had everything, but I lost it. I didn't come here to enjoy Greece, I came here for my safety. But we learned that we're not safe here, either." "We're not animals and we're not criminals. We are humans. We thought there were human rights in Europe, and that's why we came." – Garrett Gibbons

Lindsay, from the bottom of our hearts, thank you.
For more information about the TSOS Refugee project, or to become a contributing artist, please click here.
Save
Save
Save
Save
Save
Save
Save
Save
Save
Save
Save